Home
/
Health & Science
Diarrhoea, dizziness, nausea, confusion... new signs of Covid!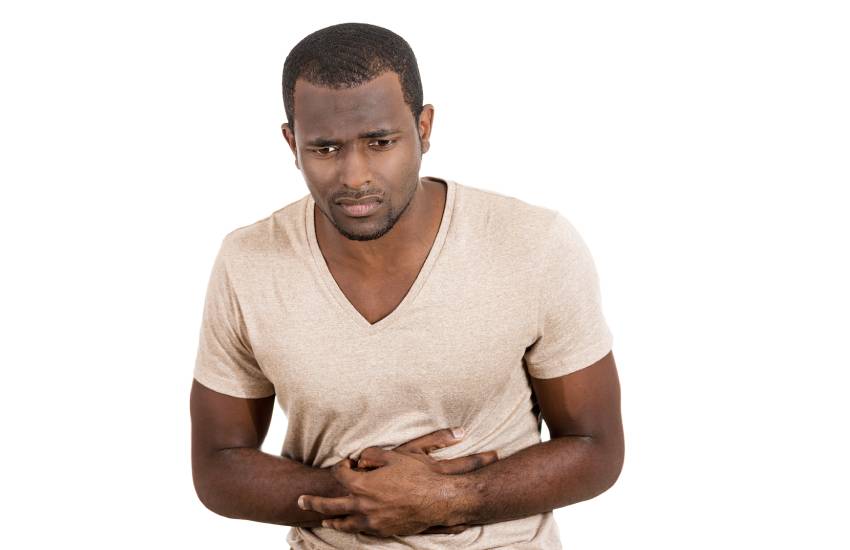 People infected with Covid-19 mostly experience mild to moderate respiratory challenges before recovering without any special treatment. But those with underlying medical conditions like cardiovascular diseases, diabetes, chronic respiratory illnesses and cancer are more likely to develop serious complications.
Their medical situations can be more severe, considering that the third wave of the pandemic is proving to be deadlier than the one that visited us a year ago.
"Kenya is firmly in the third wave of this pandemic," warns Ahmed Ogwell, the Deputy Director of Africa Centre for Disease Control and Prevention.
"We are in the third wave of this virus, and this wave threatens to erase all gains we have made as a country in the last year," said Health Chief Administrative Secretary Mercy Mwangangi.
With the presence of new coronavirus variants in Kenya and the possibility of the virus mutating, researchers are warning that new cases of infections might not show the previous signs of infection like common cold and flu.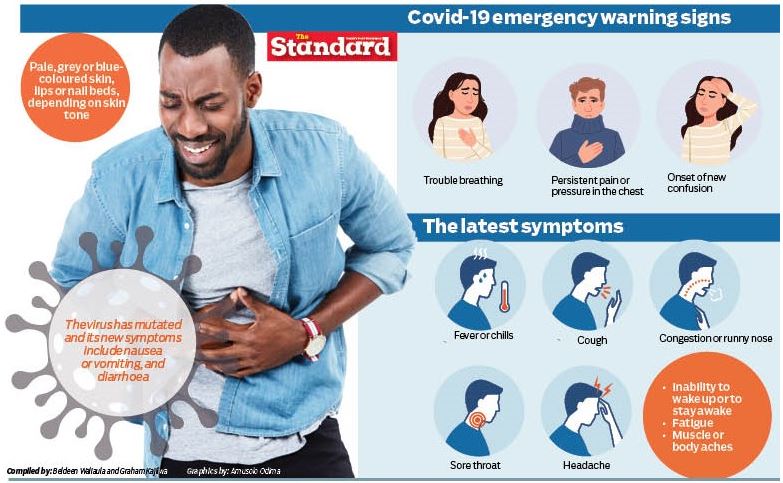 Kenyans, therefore, need to be aware of the current symptoms of Covid infection beyond fever, cough, and loss of smell.
Covid-19 patients now experience fatigue and weakness in the initial stages, accompanied by dizziness, nausea, malaise, loss of smell and appetite, sore throat, muscle, and body aches. These are the new symptoms that might signal that you require Covid-19 testing, according to the Centre for Disease Control and Prevention (CDC).
New cases of Covid-19 have also not experienced fever, as was the case before. So, friendly readings from thermo guns at the supermarket might not mean you are Covid free. Other early symptoms include headaches, congestion, runny nose, diarrhoea, and confusion.
The severity of the virus varies among different people, with some experiencing recurring symptoms. Some experience difficulty in breathing, chest pain, vomiting, and inability to stay awake, as well as pale skin.
These symptoms may appear from two to 14 days after exposure to the virus. That is why CDC advises a 14-day quarantine following exposure to the virus and if symptoms persist one should seek medical advice.
But during Covid-19 recovery process, patients might experience recurring symptoms alternating with periods of feeling better, varying degrees of fever, fatigue, and breathing problems can occur on and off until one recover.
But the most dangerous are the infected, but who are asymptomatic, and thus end up spreading the virus. This is why the Ministry of Health insists on wearing of face masks in public.
These new symptoms come on the coat tails of a looming third wave of the pandemic. This third wave is deadlier, spreads faster. That Kenyans appear tired of following Covid-19 public health protocols does not make matters any better.
It took Kenya seven months to record its first 1,000 deaths on October 29, 2020 – but it has taken just five months to reach the next 1,000, according to the Ministry of Health's recent figures.
Kenya's first peak was in July/August last year when the country reported the then highest fatalities (23) in 24 hours on August 1, just as the country was reopening the skies after suspension of international flights.
The next peak came in October/November, necessitating President Uhuru Kenyatta to revise the Covid curfew hours downwards by an hour to 9pm.
Suggestion by the Council of Governors that a lockdown be effected to prevent people from travelling upcountry for the December holidays was not heeded. Kenyans might be paying the price.
By March 21, at least 155 people had died from Covid-19. Up to 63 per cent of the deaths were recorded from March 15, during which 98 people died. The highest fatalities, 28, were recorded last March 19. Similarly, in this week alone, some 7,674 people have tested positive for the virus.
Dr Ogwell says this trend started morphing last January in Kenya, but the same is not the case in other parts of Africa, with most countries are still in the second wave.
"Continentally speaking, we have not officially began the third wave. The second peaked sometime in January and since then there has been a downward trend. But that is not the same if we look at the cases in East African region," says Ogwell.
He says generally, the waves are a result of people relaxing the public health measures. He says since the virus moves with people "engaging in environment that encourage transmission then the virus will go up."
We have lowered our guard, thrown all caution to the wind
There is no evidence of any variant driving the increase in numbers of new Covid cases, according to Dr Ahmed Ogwell, the Deputy Director of Africa Centre for Disease Control and Prevention.
"So far we have identified a small number of variants also found in the United Kingdom and South Africa, largely by travellers, but this is not a source of concern, as there is no community transmission," he said. "A variant becomes important if it is actively being transmitted in the community."
But the positivity rate from the latest daily updates has been almost four times the recommended percentage if a country is to declare the pandemic is under control.
Dr Ogwell maintains that new strains of the coronavirus are not behind the rise in cases in Kenya, but that the exact reason for the increase is not yet known.
"The exact reason why Kenya is on the third wave is something we are still studying, but our observation is relaxation of the measures put by the government," he said, adding that other African countries are not experiencing a third wave.
He added: "Viruses always mutate. If you went to a population they would be slightly different if you do full genomic sequencing."
He said the variants we are interested in are the ones that cause more trouble, severe illness, or are resistant to vaccination.
The World Health Organisation recommends a 5 per cent positivity rate maintained for two weeks as one of the signs that the virus is under control.
The country, in its daily updates, has now been recording a positivity rate of more than 20 per cent. The day the highest number of deaths was reported (28 on March 19) the positivity rate was at 17.5 per cent.
Health Chief Administrative Secretary Mercy Mwangangi says the number of those being admitted to health facilities with the virus has also been rising. More cases are as a result of reduced adherence to the containment measures. "We have lowered our guard and majority of us have thrown all caution out the window," she says.
Related Topics