Home
/
Your Home
How to use plates and patterns to stylishly decorate your home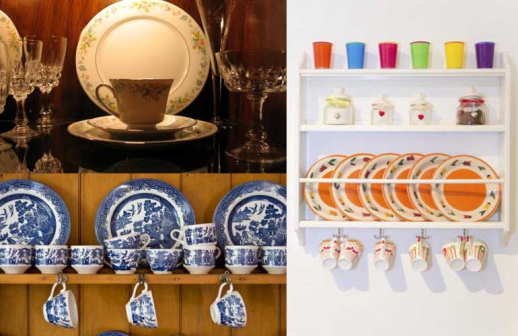 "Decorating is expensive" is a statement I hear so often as people give me excuses why they have not done the best to upgrade their living space décor. Yet this need not be the case. There are various ways you can improvise to give a room a face-lift and some character without removing a cent from your pocket.
Consider the lovely and expensive crockery you have hidden in that wall unit for years waiting for the perfect opportunity to showcase someday to some special VIP.
It's about time you started using it for your family members rather than saving it for special guests.
Secondly, before you gather the courage to use them, consider displaying the plates in such a way as to portray them as a piece of art either on a cupboard or on a wall.
In a cupboard or wall unit
Arrange your plates in a cupboard or wall unit, preferably with glass doors, in the upper part. Use the bottom part of the cupboard to store the rest of stacked dinner plates. Choose the select unique pieces for display at the top with glass doors.
Position the largest and most prominent pieces first, then find space for the rest. Using a complete set of plates is great to create harmony, unity and provide a theme using color and shape.
Arrange the dishes symmetrically to provide balance and make it pleasant to the eyes. To create an attractive display, dinner plates can be placed on a plate stand that leans on the interior back wall of the cupboard, which will help showcase their lovely patterns and shapes on the wall.
Consider layering of the plates for added interest. This is done by placing a smaller side plate in front of the dinner plate, which is not only space-saving but provides variance to your plate display.
To create contrast to the plate, you could place a tea cup and soup bowl at the front of the vertical standing plate for added interest.
If the cupboard has a centre that obstructs one's view of the plates, then position the plates a bit to the side so that they are visible once the door is closed.
Plates on a wall
If arranging plates in a wall unit cabinet is not your style, consider displaying plates on a wall. To avoid breakages, find a way to secure the plate on the wall without it falling off. Arrange them in an attractive display of odd numbers such as 3 plates by 3 plates to create a square display of 9 plates.
Plates can either be all the same or varied but have a unifying theme to create harmony.
Create a story with the plates. For example, you could place a picture of your mother at the centre and then surround it with porcelain side plates, which she gave you to constantly remind you of precious plates you received from her.
Related Topics