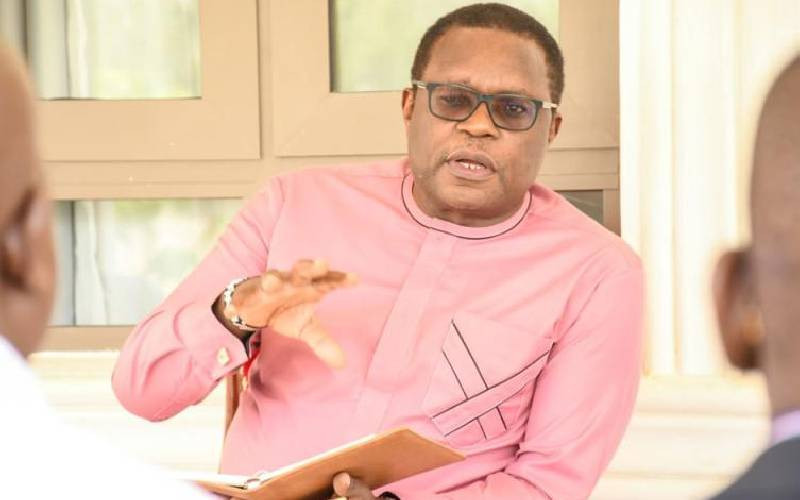 Bungoma Governor Kenneth Lusaka has ordered for fresh vetting of beneficiaries of the county scholarship programme and ward bursary fund.
Dr Lusaka unveiled new committees that will carry out the vetting and submit a list of deserving beneficiaries.
The committees constitute members from all the nine sub-counties in Bungoma county - Sirisia, Mount Elgon, Kabuchai, Bumula, Kanduyi, Webuye West, Tongareni, Webuye East and Kimilili.
The governor urged the committee to ensure a fair process to avoid irregularities witnessed in the past.
"We want to avoid repetition of mistakes done by the previous regime and that can only be achieved if this committees remain vigilant throughout this process and only award the scholarship and bursaries the deserving students," he said.
He said the task force report prepared by a team he formed earlier to audit scholarship and bursary programmes unearthed rot in the manner they were being implemented.
According to the report the 5th cohort of the scholarship programme was marred with irregularities that have prompted fresh vetting of the beneficiaries.
"The last cohort saw a drastic rise in the number of beneficiaries from 2000 to 8000, this was heavily influenced by politics and was not sustainable. We are already in the process of streamlining this through revetting of the beneficiaries," he said.
Lusaka noted that many well off parents including MCAs in the former regime, senior government employees, county staff, school principals, the police, and chief officers were among those whose children were benefiting from the scholarship programme.
"Following the education task force report, it was noted that the number of beneficiaries on the kitty list did not tally with the number of students in schools. Some of the Form Four students who had done exams and left were still getting scholarship," he noted.
The governor said there were also beneficiaries whose names were appearing multiple times on the list hence getting double funding at the expense of needy cases.
"Other beneficiaries on the list were already getting financial support from other sponsors like Equity Wings to Fly Bungoma High school scholarship kitty, Family Bank and KCB Foundation," he said.
Webuye West MP Dan Wanyama urged the county ward bursary and scholarship committees to share the beneficiary lists with the ward bursary kitty and the NG-CDF to avoid double funding and ensure deserving cases benefit.
"I strongly support the move by the county government of Bungoma for this noble idea but let us work with both the ward and the NG-CDF to ensure that beneficiaries won't appear on both lists," Wanyama said.
Lusaka urged residents to be vigilant and report any well-off individuals whose children are beneficiaries of the kitty.
Related Topics