Peter Muiruri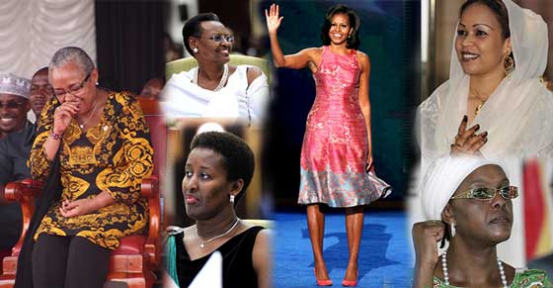 They are among the most glamorous women on earth. Millions watch their every move (quite literally), word and style. They are the most widely travelled spouses, clocking thousands of air miles as they accompany their husbands on their calls of duty. Welcome to the First Ladies' fast revolving world.
To some people, their lifestyles are full of opulence, wasting no opportunity to shop at the world's exclusive stores. To others, they are down to earth human beings involved in alleviating suffering among fellow citizens.
According to Derek Bbanga, a communication and image consultant, the first ladies must be aware of setting the right example since they too, like their husbands, will be closely watched by the entire nation.
"Gone are the days when their role was just to stand and look good beside their husbands. They must be aware of setting the right example since everything they do, the clothes they wear and even how they walk will be under public scrutiny," he says.
While their official duties may be hazy, men and women around the world have idolised and loathed them in equal measure. We take a look at some of the traits that create a following among the first ladies.
1. Good grooming: They are sharp dressers... well, they can buy any outfit they fancy. But owning an expensive garb does not necessarily make one a well-groomed individual. When it comes to elegance in dress and grooming, Michelle Obama, the 44th First Lady of the United States, towers above others.
She has appeared on the covers of international magazines numerous times than she cares to remember including Vogue, People, Essence, More and O, Oprah Winfrey's magazine. The first black woman to reside at the White House as First Lady has been a role model to many for her immaculate dress code.
READ MORE
2. Eloquence: First ladies are primarily not policy makers. However, their words carry a lot of weight and can inform national debate for a long time. As guests to many charity events, what they say can mean funding for a cause or its shunning. We look no further for an eloquent lady than the 2014 UN Person of the Year.
Our own Margaret Kenyatta has on many occasions chosen the right words to convey her feelings on the charity of her choice – the Beyond Zero campaign – through her clear, articulate voice. "My name is Margaret Kenyatta. I am a mother to three lovely children and can say without hesitation that it is unbelievably moving to hold your healthy baby in your arms. I will run to make a difference. I will run for the possibility of a healthy generation.
I will run to raise funds to increase access to better health care through mobile clinics. I will run to keep mothers and newborns alive. I will run because every mother should be able to hold her baby and take her baby home..." Who would not be moved by such words? As for looks, Maggie still looks fab at 50.
3. Intelligence: Angola's First Lady Anna Paula Dos Santos earned her first degree as a teacher from the National Institute of Education in Luanda in 1994, and later received a law degree from the Agostinho Neto University Faculty of Law. She met her future heartthrob while serving as a flight attendant on the presidential jet.
She is a champion not only for African beauty but intellectual qualities of the Angolan women. However, she has been criticised for a flamboyant lifestyle in a country where many live in abject poverty. But why blame her? After all, she is the wife to one of the richest men on the continent.
Anna Paula is in good company with Princess Lalla Salma, the Princess Consort of Morocco who has a degree in engineering as well as Aisha Buhari, Nigeria's First Lady, a cosmetologist and beauty therapist with a diploma in Beauty Therapy from Windsor, United Kingdom and a post-graduate diploma in the same field from France.
4. Resilience: In much of the 70s and the 80s, many countries in Africa were embroiled in political turmoil. Such were the circumstances in which Janet Museveni got married to Ugandan leader Yoweri Museveni.
Janet was exiled in 1971 when former dictator Idi Amin took over power. Between 1981-83, Janet and her children lived in Kenya before moving to Sweden. She came back to Uganda when her husband seized power in 1986.
Janet is one of the most politically active first ladies on the continent, having served as Member of Parliament for Ruhaama County, Ntungamo District in South-Western Uganda. She has been serving as the Minister for Karamoja Affairs. Never one to shy away from expressing her opinions, Janet stoked controversy when she declared in a meeting with bishops that the country has no time for gays: "If cows are not gay, then humans should not be gay."
5. Compassion: Nearly every other first lady has a social cause that she champions. This is no different from Rwanda's Jeannette Kagame. The tall and elegant lady has mobilised millions of dollars to help the less fortunate in a country that was engulfed in genocide a little over two decades ago.
Through her Imbuto Foundation, she has raised 200 million Rwandan Francs (USD261,000) to build homes for the genocide widows. She is the patron of yet another forum, New Faces New Voices that intends to raise Sh200m (USD2Om) for women in business. She has secured over 6,000 scholarships for needy students and mentored more than 4,000 girls on social, health and economic aspects. All this with a quiet demeanor while in the shadow of her more prominent husband.
6. Humility, grace: Tanzania, our neighbours to the south have a new first lady in Janeth Magufuli. Little has been heard about her in public circles neither are we yet to know the cause she will take during her husband's presidency.
It is noteworthy that as her husband served as a minister in President Kikwete's cabinet, Janeth was an environmental teacher at Mbuyuni Primary school. Incidentally, this is also the school where Salma Kikwete also taught. Former colleagues and students interviewed last year by Tanzania's Citizen newspaper depict a humble lady who shunned the limelight. "She is cooperative, punctual, humble and hardworking," they said. Fruit vendors in Kinodoni miss the lady who would freely shop for fruits in their stalls. Going by her husband's mantra, it just might be 'kazi kwanza' for Mrs Magufuli.
7. Support, loyalty: This is supposed to be the first role of any first lady. However, no one exemplified it more than former US First Lady and current presidential contender Hillary Clinton. She stood by her man during the infamous Monica Lewinsky scandal that nearly got the president impeached. Bill lied to her and the entire country in 1998.
"Why did you lie to me? she wrote in her memoir, Living History. Americans asked: Why doesn't Hillary leave him?" After her supportive role, Hillary's ratings rose and she was described as "strong, intelligent, brave, loyal and good." As 67-year-old Hillary eyes the highest political office in the world, will Bill Clinton be termed as the first husband?
8. Family values: To first ladies, their families rank first. They are wives and mothers. Any affront on this institution is likely to elicit direct indignation from the lady of the house, especially in Africa where children of top leaders are rarely seen in public.
In Kenya, former First Lady Lucy Kibaki was known to publicly defend her family whenever it was under threat from any quarters, however mighty. According to Bbanga, first families will always be in the limelight long after their fathers leave office hence the need for their setting the right example. "If a president comes to power with young children such as the Obamas, people are always interested in how much they have grown. Their lives become a matter of national importance," he says.
9. Proactive: Chad's President Idriss Beby's reign has been characterised by chaotic, violent scenes. Yet, the First Lady, Hinda Deby is such a beauty in her flowing saris and scarves that even his opponents have been forced to acknowledge her stunning looks.
Yet, it is not the look that she is well known for. Hinda is perhaps one of the most proactive first ladies. According to the Washington post, "she has replaced his (Idriss) son as his stenographer, taking notes on legal pads with her henna-stained nails," said the president. "She helps advise me with every single decision I make."
10. Modesty: When it comes to opulence, none beats the extravagance of Grace Mugabe. She likes all the good things in life and will stop at nothing to shop for Louis Vuitton handbags as the country's economy heads south earning the title 'The First Shopper.
Giving her company are Swazi King Mswati III's 13 wives, children and maids who have no qualms chartering a plane to take them on a world tour. How can we fail to mention the drama around Cameroonian First Lady Chantal Biya and her volumnous hair?
In a previous African leaders' summit in the US, The Washington Post had this to say: "The Africa summit is officially underway, which means one very important thing for the District: The first lady of Cameroon's hair is here." On a continent that is home to 75 per cent of the world's poorest countries, need we say that we need less of?