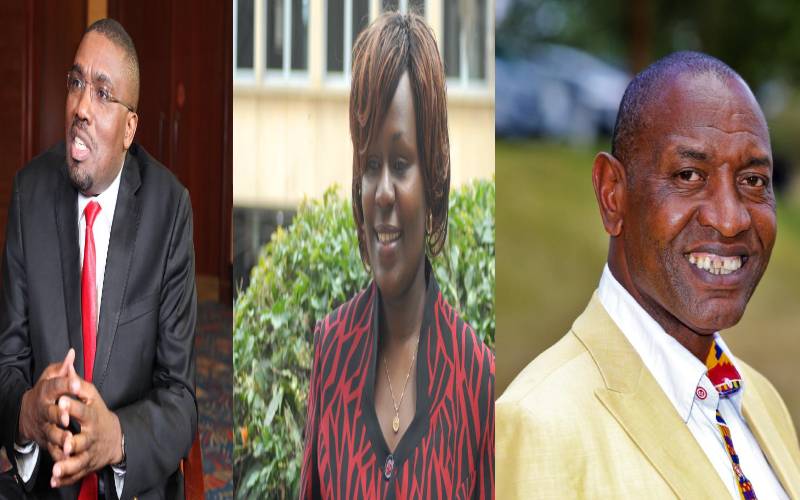 Three political heavyweights are locked in a do-or-die duel for the Nyeri senatorial seat.
First Nyeri Woman Representative Priscilla Nyokabi is vying on a Jubilee Party ticket, two-term Mukurwe-ini MP Kabando Kabando is running on Narc-Kenya party and former chairperson for Mathira National Government Constituency Development Fund (NGCDF) Wahome Mwangi is vying on a United Democratic Alliance ticket.
The three have the backing of top politicians nationally. While Ms Nyokabi is in President Uhuru Kenyatta's Jubilee, Mr Kabando is eyeing the ticket of Martha Karua-led party, and Mr Mwangi is riding on Deputy President William Ruto's UDA.
Ms Nyokabi holds a Bachelor of Law degree from the University of Nairobi and served as Woman Rep between 2013 and 2017. She was unseated by Rahab Mukami, then appointed to serve as commissioner in the National Gender and Equity Commission.
She plans to ride on Mr Kenyatta's campaigns in the region. Kabando who joined politics in 2007 also has the ear of the president. This probably explains why he will be using the ticket of a party affiliated to Azimio. Mr Kabando holds a master's degree in political science from the University of Nairobi.
Mr Mwangi, also known as Wamatinga, a software engineer is a beneficiary of a negotiated democracy initiated by Dr Ruto to avert internal wrangles.
He also enjoys a close relationship with Mathira MP Rigathi Gachagua, who made him the NGCDF chair and UDA county coordinator, a position he has since resigned from.
Although the three hopefuls are in parties associated with political bigwigs, they are determined to be the peoples' watchdog and ensure monies to the county government are utilised properly.
Nyokabi said she brings knowledge, expertise and experience having served as a member of the budget committee in the National Assembly.
"I understand the vertical sharing of resources between the national and county government and horizontal sharing among 47 counties through the county revenue allocation Act. I understand the formula and will engage actively to ensure the county gets its rightful share," she said.
If elected senator, she pledged to move pro-devolution laws particularly in health to allow hospitals keep and spend their funds to enhance service delivery.
Being one of the few women contesting for the Senate seat, Nyokabi said it is a major plus to her since she will use her multi-tasking skills to listen to priorities of the electorate.
Mr Kabando said he will promote unity of purpose, lobby for development programmes from the government and non-state actors. He said he is the most skillful and qualified on matters legislation.
"My record in oversight and promoting public interest matters, opposing ill governance, is well known. I'm skilled in the science and art of political leadership and that is what Nyeri County needs right now," he said.
He promised more engagement with the Senate, the County Assembly and national and county government to clarify and prioritise the Nyeri agenda by holding regular forums.
He said Narc Kenya party leader Martha Karua is indisputably an iron lady whom he is comfortable working with politically.
Mr Mwangi vowed to agitate and protect residents' development and human rights in the Senate. He promised to rally behind Ruto's agenda for the country and Nyeri County.
Related Topics