Chef Ali Mandhry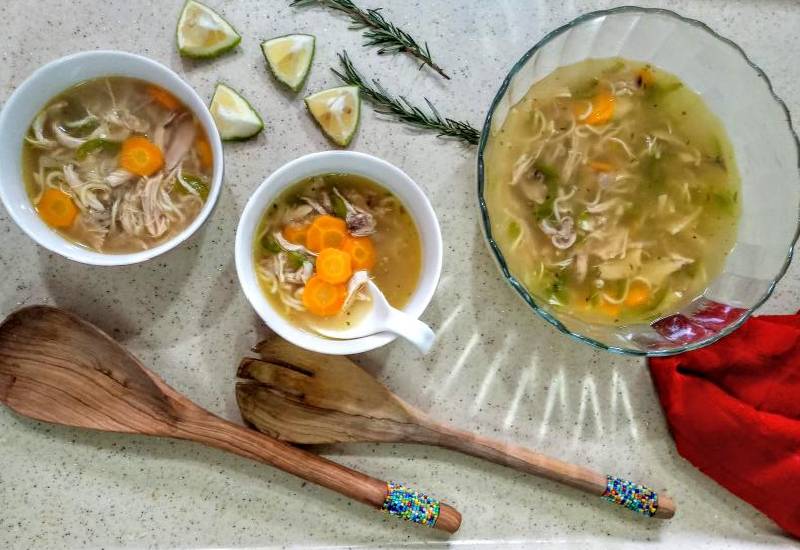 Chicken soup is not only a great source of good fats, proteins, vitamins and minerals, it can also provide some much-needed warmth during the cold weather.
It is also known to act as an anti-inflammatory and relieves congestion. Add some noodles to the soup and you'll have a filling snack or appetizer.
What you'll need:
1 whole chicken
2 litres water
2 cloves of garlic, minced
1 packet noodles
1 onion, sliced
1 sweet pepper, diced
2 carrots, sliced
1 tablespoon butter
1/2 teaspoon black pepper
1 chicken bouillon cube
1 teaspoon chopped rosemary
2 tablespoons vinegar
Salt to taste
What to do:
In a medium pot over medium heat, put the water with some salt, pepper and garlic.
Bring it to a simmer and then add the chicken. Boil the chicken until it is cooked.
Remove the chicken and put the broth aside. Remove the skin from the chicken and then use a fork to shred the chicken and debone it completely. You only need the boneless shredded chicken.
In a separate pan over medium heat, add the butter. Once the butter is melted, add the onions, carrots and sweet pepper. Sauté until soft and translucent.
Now add the black pepper. Mix well and then crumble in one chicken cube. Continue to sauté.
Add the reserved chicken broth and then bring to a simmer. If you wish, you can add 1 extra cup of water before adding the shredded chicken.
Now add in the noodles and let them cook. Adjust seasoning with some salt.
Add some chopped rosemary and vinegar and cook for another 5 minutes or until the noodles are cooked.
Serve with a slice of bread or just as a meal on its own.