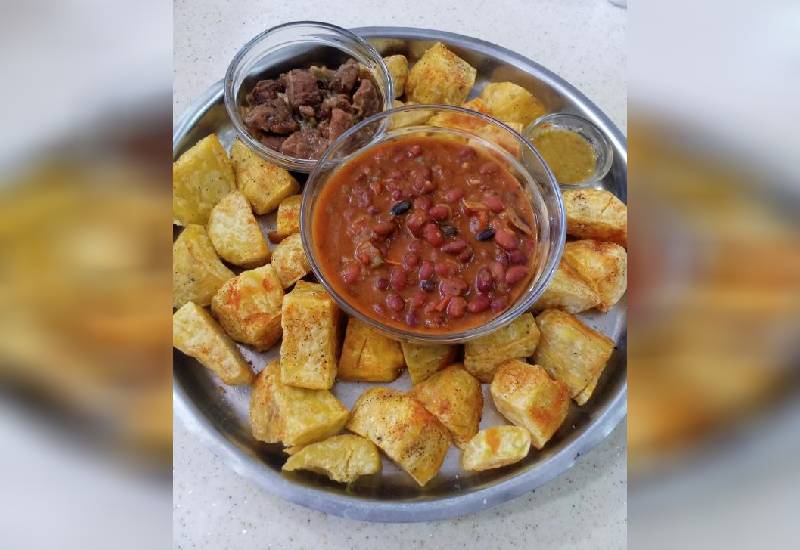 Maintaining a healthy diet during pregnancy is important as the body needs additional nutrients vitamins and minerals. Today, let's make a complete meal for an expectant mother.
We will cook sweet potatoes which are rich in beta-carotene, a plant compound that is converted into Vitamin A.
We will also cook beef, an excellent source of high quality protein, and from the legume family, we will have red kidney beans, an excellent plant-based source of fibre, protein, iron, folate and calcium. This delicious meal is a treat for the whole family.
Fried sweet potatoes
What you'll need:
3 large sweet potatoes
Salt to taste
Paprika or cayenne pepper
Oil for frying
What to do:
Peel and cut the sweet potatoes into cubes and boil them until soft.
Deep fry them until crispy on the outside and moist on the inside.
Remove them from the oil and sprinkle some salt and paprika. Set aside.
Red kidney beans
READ MORE
What you'll need:
1/2kg red kidney beans (boiled)
2 onions, sliced
1 tablespoon oil
1 capsicum, sliced
1 tomatoes, diced
2 tablespoons oil
1 teaspoon black pepper
1 teaspoon curry powder
50g tomato paste
1/2 cup tamarind extract
What to do:
In a pan over medium heat, add the oil and onions and sauté until soft.
Add the capsicum, and then the spices and continue to sauté until fragrant.
Add the tomato and cook until mashed.
Add the tomato paste and cook until thick.
Now add your boiled beans and tamarind extract and bring to a boil.
Add in one cup of water, adjust seasoning with salt and cook for another 10 minutes or until thick.
Beef, wet fried
What you'll need:
1 onion, sliced
1 sweet pepper, diced
1 teaspoon garlic ginger paste
1/2kg beef, cubed
1 teaspoon black pepper
1/4 cup vinegar
What to do:
In a pot, add all the above ingredients. Let the beef marinate for about 1 hour.
Place the pot over medium heat and then add in three cups of water.
Bring to a boil until the beef tenderises.
Once soft, continue to cook it until almost all the liquid has evaporated.
Serve the sweet potatoes with a side of the beans and beef wet fried beef.