Kennedy Gachuhi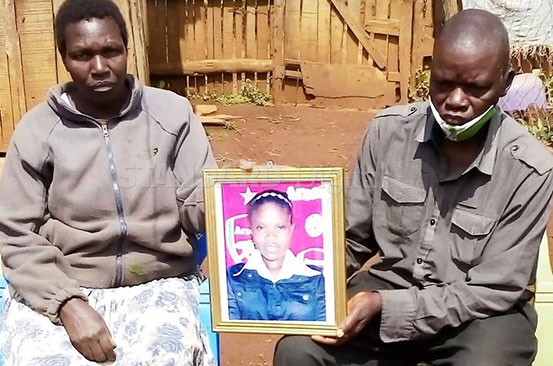 A family in Elburgon, Molo, is in distress after their efforts to have the body of their daughter flown back to the country from Saudi Arabia failed.
30-year-old Alice Awuor, a mother of two, is said to have died two months ago in Jeddah, a city in the Hejaz region of Saudi Arabia, where she was working as a house girl since January this year after quitting her job as a hairdresser in Nakuru town.
Awuor's father John Tindo said they learnt about his daughter's death through an international agency, which facilitated her overseas travel with a promise for greener pastures.
She had complained of non-payment and mistreatment by her employer forcing her to seek financial support from her friends to return home.
"It was on June 15 when the agency called informing us that my daughter had died. They promised to have her body brought back in a few days, but this has now turned into months," said Tindo. After the news hit the village, neighbours poured into the home to condole with the family hoping the burial would take place in a few days only for the wait to turn into months.
Tindo explained that his daughter had informed them that her life was in danger after she requested to be sent back home.
"After she told me about the threats, I informed the agency only for them to call me back two days later saying she had died," said Tindo, who broke down, clinging to his daughter's portrait. The father of 10 explained the challenging journey in engaging the agency to establish the cause of Awuor's death and bringing back her body.
"At first they told me to wait for three days when a postmortem examination would be done to pave way for her body to be released. After three days they gave another excuse that there was a challenge securing an airplane," said Tindo.
He described this as a lame excuse, saying despite the pandemic, cargo planes had not been affected by the ban on international flights in and out of the country.
The family in July demanded to have a physical meeting with the agency, which is domiciled in Nairobi, but instead they gave them a wrong address and never showed up. The agency would later inform them that the body would arrive in the country once passenger flights resumed. Kenya Airways resumed international flights on August 1.
"It is clear now that there are things they are hiding. They have been too economical with the truth. We were never informed what the postmortem examination found. They have made us live in denial on whether my daughter is actually dead or not. She could be undergoing torture," he added.
Since the news of Awuor's demise, Tindo has not known peace in his heart as he struggles to come to terms with reality.
Awuor's mother Mary Wambui explained that despite resumption of international flights, the agency has not been open on the matter, giving them varying responses to the same questions at different times.
"It has been one lie after another. They either request for a few minutes to call back or decline to pick my calls. They never make efforts to inform us of any progress unless we call them," said Wambui.
The family is now pleading for government intervention to have the body of their daughter flown home and allow them a chance to bury it. The deceased had two children aged 14 and 15 in Grade 7 and Form One.