Home
/
"I was married off to a 68-year-old man at 12 years who beat me everyday"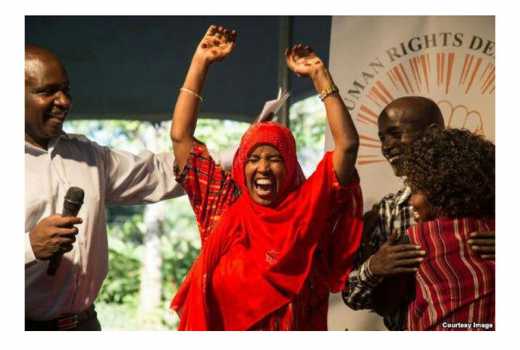 As the world celebrated International Women's Day yesterday, Rahma Wako, a human rights defender, earned her place among heroines through her own struggles. Ms.Wako, who lives in Kiamaiko, an informal settlement in Nairobi largely dominated by the Borana and Burji communities, took it upon herself to bring change to her community after she was married off as a child and mistreated by her husband.
The 42-year-old helps to stop rights violations, specifically against women who suffer gender-based violence, early marriage and female genital mutilation - common practices in her community.
"My community largely believes that a woman is her husband's property and has no voice of her own. I see it in many of the young girls here, and I know how the story ends. I do not want that for them," she said.
Today, Wako has also earned a seat on the Borana Elders' Committee after surviving years of hurdles in secret support of women's rights. She also won the Best Human Rights Defender Award of 2016, given by The Netherlands, and the Mathare Heroes' Award.
"I have rescued at least 29 girls from early marriage. In other cases, the girls themselves declined help for fear of the consequences," she said.
Wako sells roasted groundnuts and coffee for a living but devotes most of her time to helping the community. Her tough life, she said, taught her to be selfless.
Dropped out
"I was married off to a 68-year-old man when I was 12 years old. I dropped out of school to take care of a man I barely knew and start a family with him," she said.
The mother of seven said she persevered regular physical assaults and emotional torture as every time she gave birth, her children were taken away.
"My husband beat me every day. He beat me so badly that I still wonder how I survived, but even after the beatings, he would demand babies from me, which I gave him religiously," she narrated.
"But I never got to be with my children. After every delivery, my mother-in-law would come and pick them and my husband would make me pregnant again."
Wako gave birth to her first children - twins - in 1988 aged 12. When the babies were three months old, her husband's mother took them away and she got pregnant immediately after. At 13, she gave birth to another set of twins, who were again taken away, and she got pregnant again.
"The pain was too much. My religion equates contraceptives to killing so the beatings went on, and so did the pregnancies. I did not have a say in my home; the rich old man had settled my bride price," she recalled with pain written all over her face.
When she couldn't take it anymore, Wako ran away one evening, after another thorough beating. All she wanted was justice. She headed for the Makadara Law Courts and sought the judge's attention. That move led to her redemption.
Husband's arrest
"The judge ordered my husband's arrest and asked him to bring back my children. Then I immediately asked for a divorce, which I was granted," she said.
This was the beginning of her woes, but it was also the beginning of her course to helping other women seek justice.
"A neighbor hosted me in her house, where I hid all day from the wrath of my community. At night, we came out to brew alcohol. But when I was almost due (to give birth), I gave up that life. I started visiting schools and the teachers gave me two hours to talk to girls aged between 10 and 15," she said.
Kennedy Chindi, Wako's colleague, said she has been resilient and very tactical in approaching the issues affecting her community.
"Rahma is stronger than she speaks. She has been threatened several times and her house burnt. She has been excommunicated and victimized but she never relented. Some days, she borrowed bus fare to take girls to rescue centers in Kajiado," he said.
Today, Wako has many ambassadors in her community who work with her to help defend the rights of women.
Related Topics