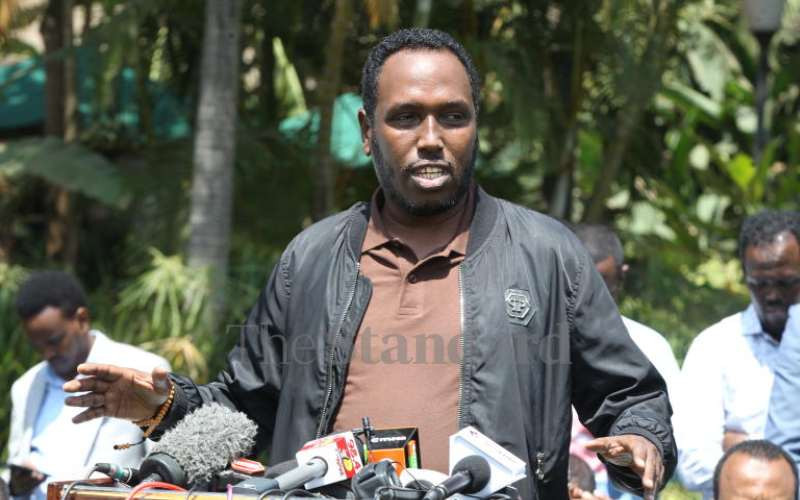 Barely three months in office, the Kenya Kwanza government is in the eye of the storm after one of its MPs Salah Yakub (UDA) lifted the veil on a plan to scrap presidential term limit, through a constitutional amendment.
At the same time the first time MP is seeking to have the presidential age limit set at 75, a suggestion that was viewed as an attempt to lock out ODM leader, Raila Odinga who is already 77 years.
Although Yakub is now the target of criticism, and has been disowned by his party and dismissed by the opposition as a daydreamer, he insisted that the information he divulged to the public is the truth and will soon be debated in Parliament.
"Of course, the party cannot say that is the official position but it is the truth. I was speaking in my personal position as MP. Just wait for it, the debate will come to Parliament," said Yakub.
Yakub was contradicted by UDA chairman Johnson Muthama who attempted to put out the fire, arguing that the MP's statement was his own and does not represent the position of the party.
"As a party, we stand for open democracy and we remain supportive of the two-term presidential limit and no ongoing discussions to scrap it," said Muthama.
The 2010 Constitution sets the presidential term limits to two. It does not set an age limit.
National Assembly Majority Leader Kimani Ichung'wa and his Senate counterpart Aaron Cheruiyot echoed Muthama's statements, saying the party is only concerned with reviving a struggling economy.
"We are focused on people issues on how to get our economy back on track. We have no time for sideshows," said Ichung'wa.
"The Fafi MP's proposal is well within his right Kenya is a democracy and freedom of speech and thought is cardinal to it…," tweeted Senator Cheruiyot.
ODM chairman John Mbadi said that such plans cannot succeed in the country. He claimed that they do not believe such a proposal should be a subject of discussion because the country has matured democratically.
"The proposals will not go anywhere. It is retrogressive, primitive and not strategic at all," said Mbadi.
"I would like to see what the Judiciary says about such attempts," he added.
Nyando MP Jared Okello said the talks of extending the presidential term limits is a distraction from the problems Kenyans are facing.
"Such talk of extending the presidential term is inspired by greed. The Executive wing is not even fully constituted and they have started talking about extending presidential terms," he said.
Mr Okello said the proposal to cap the presidential age limit at 75 was aimed at locking out Raila from the political equation in future.
"Their plans cannot see the light of day. The one person they fear is Raila and that is why they are also talking about age limit of 75 years old," said the MP.​
But some UDA MPs read mischief in the debate, with MPs Julius Ruto (Kesses) and David Kiplagat (Soy) arguing that "those behind it are out to incite Kenyans against Kenya Kwanza administration."
Nandi Governor Stephen Sang said presidential term limit has worked well for the country and there was no reason to remove it.
"Those behind the debate have not been named and I suspect those peddling it want to incite public emotions for selfish political interests ahead of 2027 elections," said Ruto.
The Kesses MP maintained that the Kenya Kwanza coalition has more pressing issues affecting Kenyans and that constitutional amendments are not part of its focus.
"We obey the Kenyan Constitution the way it is. If anyone has made statements contrary to this, then it is hot air, excitement or personal issues," stated Kiplagat.
Gatanga MP Edward Muriu, said: "I sit in the Justice and Legal Affairs Committee of the National Assembly. I am also UDA secretary of legal affairs committee and I can confirm without an iota of doubt that we have no such plans."
At the same time, Kiambu Senator Karungo Wa Thangwa said the proposal "can only be equated to wild goose chase". "No Mt Kenya leader would support such an idea because we want to welcome fresh ideas after every five years. I doubt the president would support such a move since he is keen on service delivery."
Murang'a Senator Joe Nyutu and Mukurweini MP John Kahuchia also disowned the proposal, saying they have never had a sitting to discuss the same and those claiming otherwise must have been sent by our political detractors to make the president look bad in the eyes of Kenyans.
Nakuru Town West MP Samuel Arama, and his Gilgil counterpart Martha Wangari opposed proposal terming it unconstitutional and retrogressive.
"We have more urgent issues to legislate and debate on other than term limits. We have challenges in the education sector, health and the biting drought which should be a priority," said Ms Wangari
Belgut MP Nelson Koech said plans to scrap the presidential term limit were ill timed and unnecessary.
"Removal of the presidential term limit is off, unfounded, unnecessary and ill-timed. It will not happen now nor in the near future. The focus of true leaders is on service delivery and I believe ten years is a lot of time," said Koech.
During relief food distribution in Garissa County over the weekend, Yakub told locals that together with other legislators, they are debating term limits.
The proposal however, would require the proposer to garner a two-thirds majority in both Houses, as well as a simple majority of Kenyans in a referendum.
Constitutional lawyers Bobi Mkangi and Abdikadir Mohamed who were drafters of the 2010 Constitution said Kenyans have always been in support of term limits especially with their history under the one-party state.
"Kenyan wanted to do away with an imperial president and one of the key components of that was an unlimited term limit," said Mohamed.
- Reports by Judah Ben-hur, Erastus Mulwa,Harold Odhiambo, Titus Too, Ndung'u Gachane and Kennedy Gachuhi
Related Topics