Home
/
Parenting
Mother inspires as she helps her special needs son skate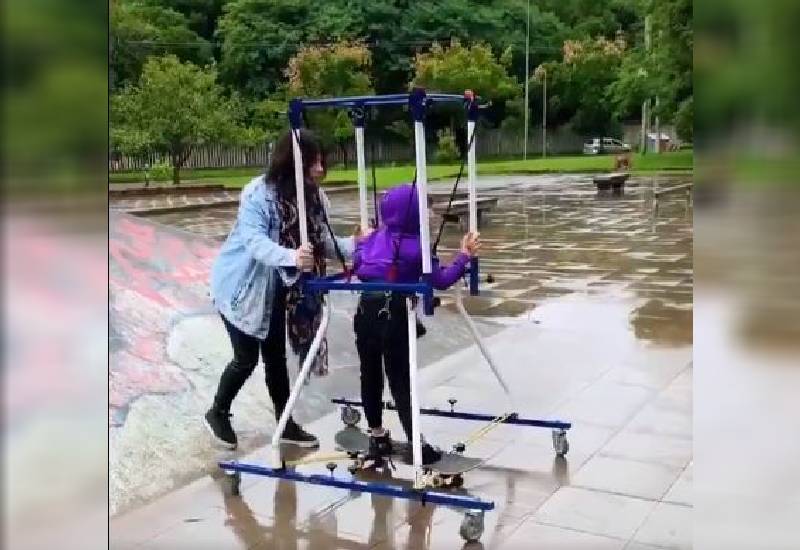 Nothing beats a mother's love; the sacrifices and extremes they endure to ensure we are happy and comfortable cannot be likened to anything, literally. That is why when this mum decided to improvise a skateboard for her special needs on, we all couldn't help but applaud her and encourage every mum out there to continue scaling walls for their dear ones.
The video clip, now with over 5.5 million views, has warmed hearts as the mother is captured helping her son with cerebral palsy skate as his condition cannot allow him to skate without assistance. She is not only putting effort to help him with the actual skating, but she is also the brains behind the advanced machine that made her son's dream come true.
According to a post shared by @RexChapman on Twitter, the mother designed the support machine to help fulfil her son's dream of skating.
"Her son has cerebral palsy, but he's always wanted to skateboard. His mom fashioned this machine for him so he could do exactly that. Moms, bruh. That smile." Rex shared.
In the video, mum and son, all smiles, are captured in a heartening moment as she pushes him around on the skateboard while he firmly clinches on the support.
Netizens were amazed by the mum's gesture as some took the moment to share videos of their own children with special needs pressing on and conquering milestones. Here are some of the moving videos:
Wow. Lennie has cerebral palsy too and is learning to play the piano against the odds. He sends this guy a tune with love and solidarity ???????????? pic.twitter.com/vsyhPjUVor
— Lennie's Tunes (@TunesLennie)
July 1, 2020
-- the person with a combative attitude who always wins. #KidsDeserveIt #kids pic.twitter.com/8phicH7qA3
— Chetan agarwal (@Chetanniketa)
July 1, 2020
And first time a cute kid heard something then his reaction- his son scared and hug from mom then he feeling something extraordinary (touching to heart) such mother and her kids always have a best relationship in world pic.twitter.com/W4oJoEfBE8
— Chetan agarwal (@Chetanniketa)
July 1, 2020
My brother has severe cerebral palsy. And that is exactly the kind of mother we had. She moved Heaven and Earth for him and my sister, who is congenitally blind. Never wanted them to feel different or left out. The mother in the video personifies true compassion!
— Dr. Jimmy: "Every day, a new Trump shitshow" (@DrjimPhifer)
July 1, 2020
Mother's love ?? is so deep, they will do anything to put a smile on their child face. Much love ?? to MOM!
— Kevin "Abdul Haqq" Stephenson (@KevinHaqq22)
July 1, 2020
Have you ever cried on public transport?
Related Topics