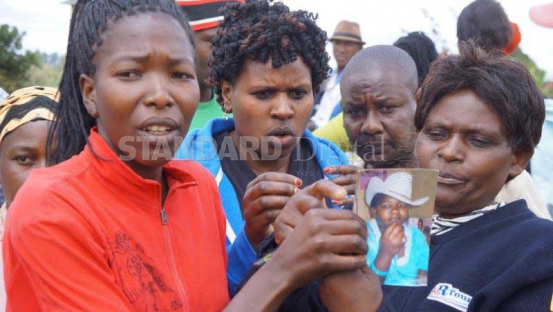 The body of a man who killed his two children and wife has been recovered.
Police say Erastus Kibage Mwangi hanged himself in a lodging in Kutus, Kirinyaga County, where he fled after killing his family in Muthure village in Wangige Kabete, Kiambu County.
The decomposing bodies of the three were discovered on Friday, and police suspect Mwangi murdered them on Saturday last week and locked them inside their house before running away.
The bodies were found after neighbours questioned the landlady identified, Teresia Ndung'u, about the foul smell coming from their house.
Neighbours said they became suspicious that something was wrong after realising the house was surrounded by a swarm of flies.
Ms Ndung'u told the Sunday Standard that she instructed one of her workers to climb the wall of the balcony and peep into the house.
"They realised the smell was coming from the house. When they peeped through the window to check inside, they started screaming upon seeing the bodies. We then called the police who came and broke the doors," the landlady said.
Neighbours said the 30 year-old Grace Njeri, her 11 year-old daughter Joy Wangare and five year-old son Maxwell Wachira went missing on Friday last week.
Phone off
Jane Wanja, a neighbour, said she last saw the woman last Friday, adding that efforts to get her on her mobile phone bore no fruit.
"I tried calling her mobile phone but it was out of reach. I wanted to know from her if they had moved houses since I had not seen her for a while. This is so sad. I have lost a very close friend," she said.
The woman's body was found in the sitting room, a knife on her hand. Her body was said to have had wounds on the chest and head. Her two children had deep head injuries.
Residents are yet to come to terms with the deaths since everything seemed normal and family had not had a troubled past.
"We are yet to comprehend what happened. The family always seemed happy and we never heard them fight," said Purity Wangui, a neighbour.
Kabete Officer Commanding Police Division Joseph Ongaya said the three were killed using the steering rod of a vehicle that was found in the sitting room. Investigators found blood stains on it.
"The bodies of the slain family members had injuries on their heads and chests. They had started decomposing. They had been left on the sofa set in a sitting position" the OCPD said.
He said the police had launched investigations but so far evidence pointed to Njeri's husband, who was a matatu driver.
The bodies were taken to PCEA Kikuyu Hospital Mortuary for postmortem.
Related Topics