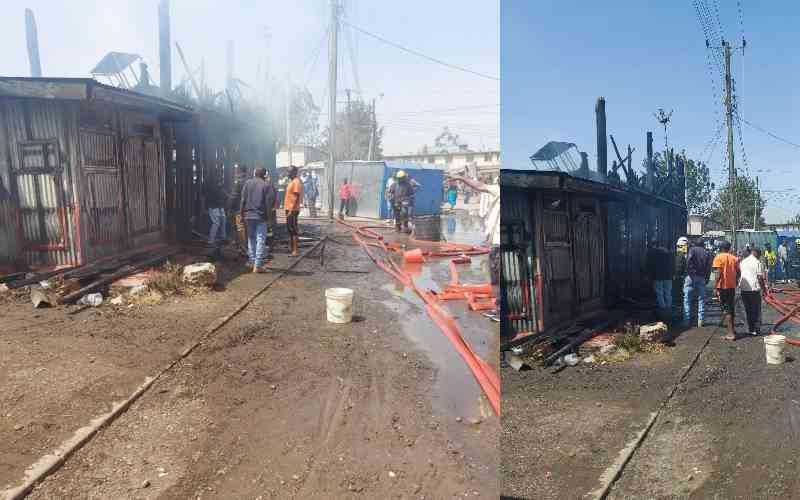 Hundreds of traders and revelers at Maringo shopping centre in Nairobi's Makadara Constituency are counting losses after fire gutted several business premises.
The 1pm incident is said to have happened after strong wind blew fire from a burning bush to one of the Makuti buildings before it spread out to the entire shopping centre.
Henderson Amulele, Ward coordinator in area MP George Aladwa's office said although firefighters tried their best to put off the fire, it had spread to a large area damaging property.
"We were just standing beside the road when a strong wind blew the fire which fell on the Makuti bar. Before we could realise what damage it could cause, the entire shopping centre was on fire," Amulele said.
According to him, a contractor was burning some bushes that he had cut on a school fence just adjacent to the place.
"The contractor has been pruning the school fence in preparation of opening next week. So today he had collected the bushes he had pruned and decided to burn them just next to the fence which is so close to some mabati structures. There are some dry vines that had grown on top of trees that caught the fire before the wind blew it," he said.
Amulele said the fire spread out to some residential buildings but residents moved swiftly and salvaged a good number of properties.
Jogoo Road police came in handy and prevented rowdy youth from looting what had been salvaged.
He said several residential houses, shops and entertainment premises had bee affected in the incident.
"Right now we are just assessing the damage before a comprehensive report is filed and handed to the authorities," he said.
Related Topics