Peter Oduor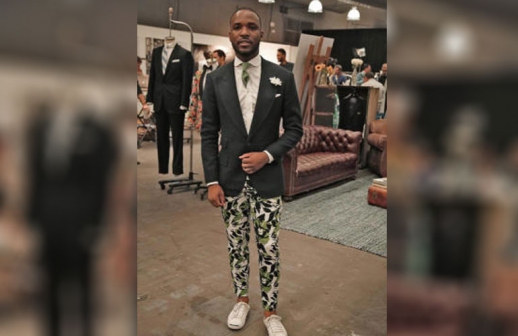 Narok New Yoprk City's creative director and fashion designer Zedekiah Lukoye aka Zeddie Loky has a chat with us.
ALSO READ: #FashionTips: Five easy ways to rock your white tees
To start off, do clear this up; are you Zeddie Loky or Zeddy Lukoe or Zeddy Lukoye or Zedekiah Lukoye? All those names are floating around in reference to you.
Zedekiah Lukoye. My friends call me Zeddie Loky. Some people get the pronunciation right and miss the spelling, it is allowed, since it all adds up to being the same person.
In several of your interviews that I have come across online, you are referred to as a fashion icon. In your heart of hearts, do you think that you have done enough to warrant that title?
One thing I've learnt is that businesses are built off relationships and references. To be referred as a fashion icon, that humbles me. In my heart, I'm passionate about what I do, and I think that's what inspires people and makes them feel connected to my work or style. A title like that comes with hard work and the spirit to inspire.
In those same interviews, they say you were born in Nakuru and that you mostly operate from New York or is it Boston? What, memories do you have of Nakuru?
I was born in Eldoret, started tailoring in Nakuru and now I operate from NYC. I've been to Boston during Boston Fashion Week but that's about it. I have a lot of memories of Nakuru. I can fill an entire page with them, but the best for me, are working with cool friends and learning from each other.
How did you get into the fashion industry?
ALSO READ: #FashionTips: How to make your jumpsuit look classier
I can't really date it, I always feel like one is born with a gene of what they become, all it takes is nurturing your gifts and talents when you realise them and being passionate. I think I realised mine while growing up in Eldoret, selling second hand clothing, developing interest in dressing up and eventually learning how to tailor jeans in Nakuru and that drive to a certain extent is still with me.
Most people have 'big breaks' or circumstances/ situations that make their careers. Did you have one of those?
We all get lucky in life at some point. Especially, whenever we've worked hard and are ready for the next level and an opportunity comes along, it's up to us step up. I'm grateful to all the opportunities that have come my way.
Nakuru — Kenyatta Market — New York. That is your growth on paper...
That's the reality. Nakuru-Kenyatta Market-NYC, NY is the Mecca. For me I've been able to learn so many things inside the fashion industry in NY and I feel blessed that I've been able to sharpen my design eye and understand design in greater depth.
New York is a big deal for people across the globe and to be amidst the best of the best and getting a chance to work in your field of interest... For me this was a dream come true, as cliché as that sounds. Being around well-dressed, enthusiastic and experienced gents is a humbling feeling.
Is there a way through which your approach to fashion and work as a fashion designer (your designs, the clothes etc.) help you (and others) remember your (or their) past?
ALSO READ: #FridayFashionInspo: Juggling nursing, interior design and fashion, Lynn Shazeen is goals
I can't say much about remembering the past, but I meet people who have bought my designs and most of them are happy to say, "Aye, I still own a pair of this or that which you made for me." That's something I think; keeps me going, keeps us connected.
Narok NYC and your work as a fashion designer and your place as a significant player in the fashion industry give you a spot in shaping contemporary modern culture. Being that culture props both individual and collective identities, what identity, especially for men, do you think your work brings out?
Fashion and trends change very fast, every minute. Narok NYC focuses on stylish custom suiting, well fitted and hand crafted. The wearer brings their own style.
In your view, between shoes and clothes, which one maketh the man?
Shoes are the foundation to any man's wardrobe.
And which one between the two do women respond to the most?
I think women will respond to who you are as a man and what you stand for, style is an ice breaker, I think. I was at an event one time and a girl said, 'I like your shoes'.
You have dressed actor Michael K. Williams of The Wire. How is he as a man?
Michael K. Williams is a cool dude. Great to always run into him at events and at such times he'll be like; "Meet my Kenyan boy, guy makes some great suits. This dude is official." Then he'll show off his Maasai beaded belt. Great actor, very humble guy.
And still on those who you have dressed, which one is more fulfilling; dressing celebrities or dressing ordinary people?
I work with a handful of people and I treat everyone equally, be it a celebrity or ordinary client.
As an expert on fashion matters... what three mistakes do most men make when picking or wearing suits?
• Closing the second button on a two button suit.
• Fit is key; some people don't get the fit right, either the shoulders are off, length or sleeves.
• Clip bow-tie, men should learn how to tie a bow tie properly.
Personal Information
Year of birth: 1989
Education:
Primary- Union Primary School
High school - St. Paul's Lubinu
University - TAPEV School of Arts
Relationship status: Dating
Sports: Basketball, rugby and soccer