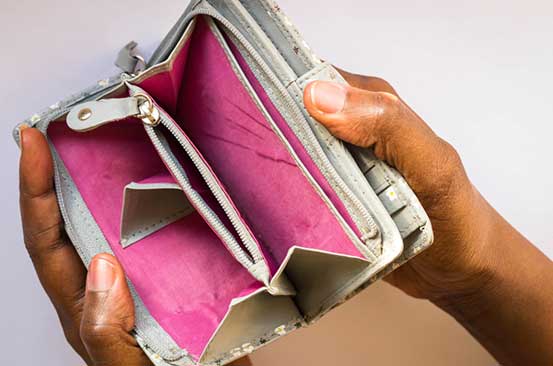 There is nothing truly glamorous about being broke. Ask me.
It affects different areas in your life from your mental health to your physical health.
There are times when life circumstances limit your chances of success and other times, brokenness comes as a result of bad decisions.
In reality, life isn't entirely about money. There is a lot of value in appreciating good health and the small joys of life. At the same time, having enough money is extremely important because you can't afford basic necessities when you're always short on cash or flat out broke.
The wisest decision you can make is figuring out how to escape the trap of brokenness.
Use these tips to motivate you.
Not having a job is one of the root causes of brokenness. Many people spend time searching for the perfect job, meanwhile missing out on all the great opportunities that come with having a job in the first place.
In fact, you don't have to get a job you necessarily love. As long as you're earing an honest living and not taking part in unscrupulous activities, your efforts won't go to waste.
Practice discipline
So many people have jobs but how many are actually able to keep one a few months or years down the line? Some even already have good jobs but their problem is that they don't want to adopt good habits like saving.
Your mentality has a lot to do with how successful you'll be. So, once you secure the attitude of discipline, you'll be able to make better choices and even save the little you have. In the long run, you'll realize that those small changes make a difference.
Think outside the box
Think about something that you love to do. You can have a steady income on the side, while at the same time have something that is sustainable for the future. Look into your talents for example and find a way to generate income from it.
Another approach is to find ways you can revive your business in a new, refreshing way. Write down all the different new ideas you have and work your way to the top.
Do a financial diagnostic
It's also important to sit down and really find out where things went wrong. When you're honest with yourself and accept that there's a problem, you already have the issue half way solved.
It could be that you made some unnecessary purchases like a car when you weren't ready for it or maybe you moved into an apartment that you can't afford. These types of situations will always drain your wallet to a point where you barely have anything to save.
You should find out exactly where things went south so you can find a solution.
Start with small goals
Start eliminating some of the things that are holding you back. An example is to get yourself out of debt first so that you're able to move on. From there you can start small with short term goals and progress to long term goals. Enough discipline will definitely allow you to achieve your goals faster.
Keep your mental health in check
People often look at financial causes of brokenness. In many cases, you'll find that people are dealing with issues like depression which causes them to constantly make bad financial choices whether they make good money or not.
Some of the common things people do include impulse shopping to cushion a certain pain in their life or even spending money on drugs and alcohol.
If you're not okay emotionally and mentally, some of your judgements will become clouded which can keep you trapped in brokenness.