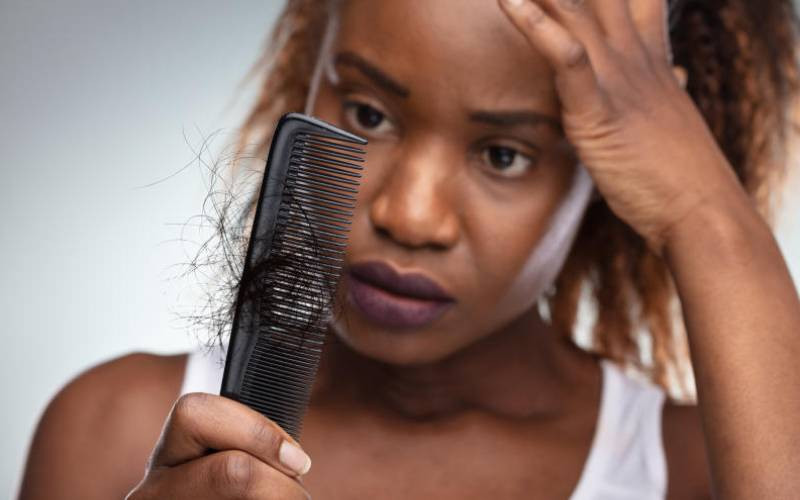 It can be quite a shock after enjoying healthy luxurious hair during pregnancy, only for it to fall out after having your bundle of joy.
Post-delivery, estrogen levels rapidly drop and a result of that is hair loss.
Luckily, this isn't a permanent thing so you can breathe a sigh of relief. It won't last forever and the good thing is that it eventually grows back on its own.
Meanwhile, there are some things you can do to make sure your hair is at its healthiest state possible. These are five solutions that might work for you if you're experiencing this problem:
Eat a balanced diet
Eating healthy is the solution to many of the common problems we face. And since there is no special oil or treatment that's specific for this problem, the best thing you can do is to supply your body with the nutrients it needs.
These essential nutrients will help nourish your scalp and hair from within, which will help grow your hair back healthy and strong. You certainly won't find them in fries and sodas so, commit to a healthy diet right away.
Keep up with hair treatments
Protein and conditioning treatments are like medicine to your hair. To have healthy hair we need to do them often and now that your hair is in a fragile state, it needs them more consistently.
You can easily find some basic treatments at your beauty store or supermarket. If you like, you can even use some basic home ingredients, but make sure you do your treatments at least every two weeks if possible.
Be very gentle with your hair
There isn't a time when being rough with your hair is recommended. We should always be gentle whether we are combing or using other tools.
Right now you need to be extra, extra gentle to prevent more breakage because your hair is weaker. Use wide-toothed combs or your fingers to comb through, don't braid tightly or do tight buns and basically, handle it like a new born baby.
Minimize manipulation
Even if you're gentle, you can end up further weakening your hair by doing too much all the time. You might have been used to handling your hair a lot but at this time, your hair needs a break.
You should avoid doing things like constantly brushing and applying gel, and minimize use of heat. The best option to let your hair recover is to do a simple, loose protective hairstyle.
Avoid using harsh chemicals
Harsh chemicals like relaxers, are only meant to be used on hair that is in a healthy state. Your hair might be generally healthy but, you never know how these harsh treatments could affect your recovery journey.
It might be best to put a pause on the products until your hair is strong again. You can try protective styling meanwhile if you have relaxed hair and you're due for a retouch.
Related Topics