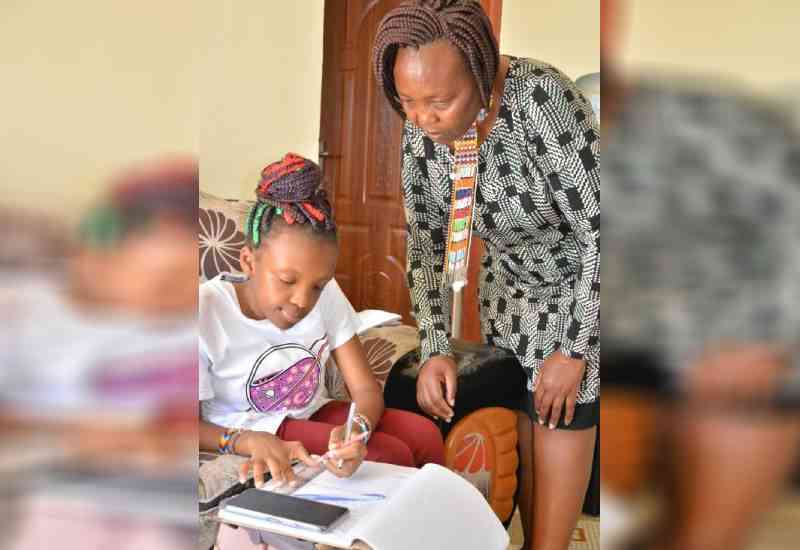 For the family of Marion Nashiku, an employee with the Nakuru County government, theirs has been a life of pain, fear, prayers and unending visits to hospitals.
Eleven years ago, Nashiku, who is based at the county offices in Naivasha lost her second-born daughter Claire Wangui to a rare disease called Scoliosis. The daughter, who was 11 years old, was undergoing surgery in India when she developed complications and passed on.
And as fate would have it, her third-born daughter, Clara Waithera has been diagnosed with the same rare deformity and requires an urgent operation to correct it.
Scoliosis is a condition where the spine twists and curves to the side and it can affect people of any age, from babies to adults, but most often starts in childhood.
The cause is unknown and it inhibits growth. It can be treated through collective surgery targeting the twisted section of the spine.
According to documents from Dr Fazal Akil from Kenyatta National Hospital (KNH), the teenager has severe congenital hyper-scoliosis that requires collective surgery.
"It is uncommon for us to undertake a complex scoliosis like this one and I am, therefore, referring her abroad for treatment," he said in medical documents.
Ms Nashiku wonders why the condition has affected her two daughters, adding that no other person in their family had suffered from such a condition.
Dr Simon Wanyoike notes scoliosis can be genetic. He says that if detected early, the condition can be treated without any operation adding that at an advanced stage, several collective surgeries are needed.
"If one sibling has this condition, it's highly possible that another one could also get it but this can be addressed if detected early," says Dr Wanyoike.
He adds that the condition in the affected patients inhibits the growth of other body organs mainly the respiratory organs and hence, the need for surgery.
Ms Nashiku said the condition had affected the family emotionally and financially as they sought treatment for the condition
Speaking at her home in Naivasha, she told of their pain as they moved from one hospital to another seeking treatment for the 16-year-old, who wants to be a medic in future. "She has dropped out from school, she has to lie down while reading and she is too small for her age," she said.
The mother of three said that she was yet to come to terms with the death of her second born adding that the same condition on her third born had left the family on its knees.
"My daughter requires Sh8 million for the urgent collective surgery in India, an amount we cannot afford and we hope we shall get support from well-wishers," she said.
But Waithera remains optimistic all would go well, adding that learning alone in the house had adversely affected her life.
She said that she was looking to live a normal life adding that the condition had affected her physically and emotionally. "My older sister passed away due to the condition and my prayer is that I will undergo a successful surgery and end up being a cardiologist in future," she said.
Related Topics