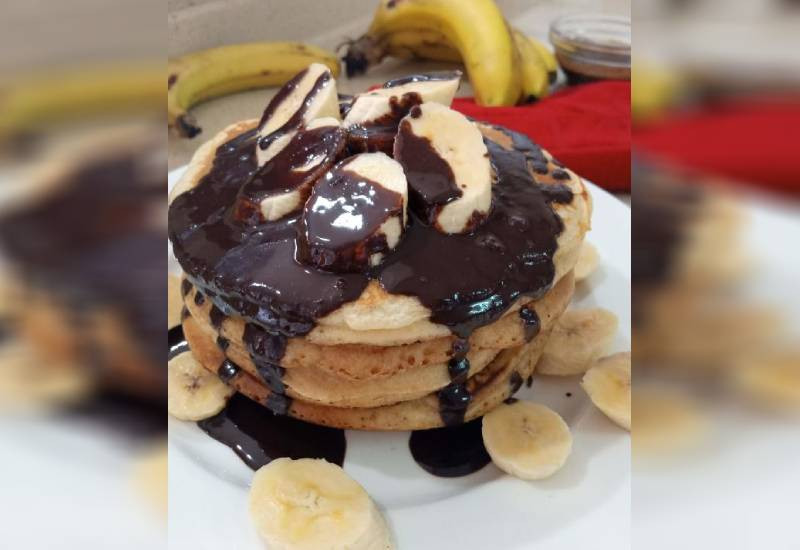 These banana and chocolate pancakes will brighten up your morning and breakfast. They are easy to make and fun for the whole family.
WHAT YOU WILL NEED:
1 1/4 cups white flour
1 cup milk
1/4 cup sugar
Pinch of salt
1 heaped teaspoon baking powder
1/2 teaspoon cinnamon
1 teaspoon vanilla
3 whole eggs
3 bananas
Juice of 1 lime
300ml chocolate sauce
WHAT TO DO:
In a medium bowl, add the eggs one by one. Beat the eggs with a hand whisk until fluffy.
Add in the milk and continue to whip until the mixture is combined.
Add in the flour, little by little. Continue to whip until the mixture is nice and thick.
Add in the sugar, cinnamon powder, a pinch of salt and vanilla essence. Continue to mix.
Add one heaped teaspoon of baking powder. Mix well until combined and set aside.
On the other hand, cut the bananas into thick slices. Squeeze lime juice on the slices so that they don't discolour.
Place a non-stick pan over medium heat. Put a teaspoon of butter, then use a ladle to pour the pancake mixture on the pan.
Flip the pancake after 1 minute and continue to make the rest one by one.
Once the pancakes are cooked, arrange them on a plate and coat each layer with bananas and chocolate sauce.
Related Topics