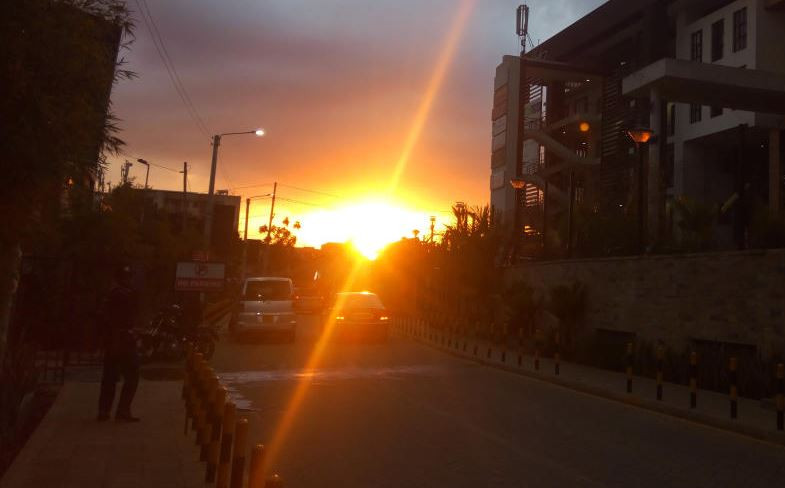 Have you ever taken time out to look intensely at sunset wall prints? They are amazing and irresistible, are they not? Try it. You will be surprised at how something so emotionally influential could have skipped your mind.
I discovered this natural phenomenon by chance – looking at the sunset intensely. Before then I would look at it whenever an opportunity provided itself without much thought.
One day, I was travelling to Isiolo from Meru, and dusk was setting in. As we took the detour to Isiolo at the Meru-Isiolo-Nanyuki junction, I noticed beautiful hills rolling into each other to form a wall in the horizon.
Ahead was an endless open two-way winding road with a rolling landscape bordered by ageless acacia trees and shrubs.
I turn to look at the side mirror, and the images captured by the mirror are the most beautiful marvel that I have experienced in the recent past.
The images resemble that of a classic painting of rolling hills with the sun casting its yellow-like golden rays upon the rolling hills and the vast grasslands that are dotted with grazing cattle, goats, and camels adding to the cast, long shadows across backlit tuffs of grass. I turned around to the source of the image mirrored in the side mirror.
I was awestruck by what I saw.
Sure, many times, I have watched the sun come down, but what was right before my eyes was a completely new phenomenon that wobbled the tiniest nerves inside me.
I asked the driver to slow down, and as he did so, I felt like I was going through "a slow-motion" kind of savoir-faire. Then I knew sunsets are stunningly captivating. In front of my eyes was a real sunset – not one that an artiste had created. I had never seen one like this before.
I took an intense look at the evening sun as it cast long shadows, kissing the ground as the slanting rays of the setting sun gave a warm orange tinge to the sky and bringing out the most wonderful embrace (yes, a sunset brings out your creative and artistic nature into play).
At that moment, I realised why sunsets are said to influence emotions in a different way, including how we relate to people.
The driver also seemed to be taking note of this magnificent phenomenon, as he slowed down, and parked the vehicle at a safe spot, expressing that for the first time, he too was taken aback by the effect of the setting sun.
It took me about five minutes to take in all this.
From that experience, I have taken every opportunity to experience the wonder of sunsets during my adventurous escapades. No one sunset is the same as another, and this is one item that you cannot tick off your bucket list.
Since then, I have watched beautiful and amazing sunsets at conspicuous places such as the glorious River Kacheliba, the celebrated Taita Hills, majestic Mt Kenya, Lake Ellis, Lake Kivu (Rwanda), Goma's own 'Swiss Alps' (DRC), Mida Creek, Hell's Kitchen, the sun-bathed beaches of Mombasa and rooftops.
If not out on an adventure, I will be at my home in Ngong faithfully following a majestic sunset rolling over the seven Ngong hills.
Sometimes, these sunset moments are captured with colleagues, friends, and family. I love the drives, where when the sun is setting, I take a slow motion like drive, or if engaged in an activity, I drop whatever I am doing to capture the moment.
Oftentimes, I will capture the moment through the lens. I have learnt that the colour, and pattern of each sunset are unique and different.
Activities planned around the sunset are called sundowners. Before I was captivated by the Meru-Isiolo-Nanyuki sunset, I never considered these moments special. Now I cherish them.
Sundowners seem to embody the sheer power of an utterly romantic point in time. Just like love at first sight, a sunset will astound you, tremendously leaving you speechless and if for only a moment, slowing down time.
I have developed a liking for reading about sunsets. According to psychological research, physical exposure to sunsets yields long-lasting satisfaction and relieves stress. It helps clear your mind of all that is going through it.
Sunsets have given me proof that endings can often be beautiful whenever I am stuck in a rut. Sunsets are a reminder of how beautiful things can be; I never take too long without watching a sunset.
Some moments are made of gold and sunsets, and I am yet to find a sunset that I do not like. Earth gives us this gift every single day of our lives. Get out there and accept this altruistic, enchanting present!
Related Topics