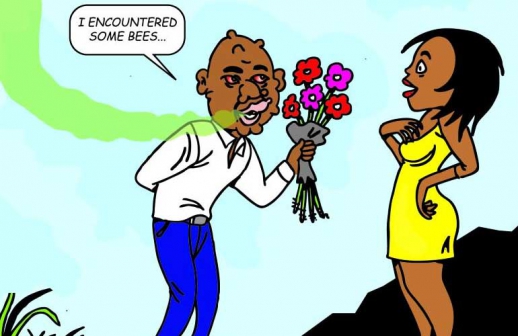 I once had a boyfriend called David. My friends and I had nicknamed him, 'Pupil Kalewa' because of the number of times he showed up at my door step staggering with his pupils settled on one side of both eyes as if he was snooping on something or someone!
Those are the instances he would make the 'R' in my name silent and knock on my door and window simultaneously in the wee hours of the night shouting "Happy Valentine's Beeeeeyyyyyl!" with a withered rose flower he normally picked from God-knows-where. That was when I still believed love is blind.
I would gladly open the door, usher him in, help him on the sofa and apologise on his behalf for letting him walk in the dark all alone. All this while, his pupils maintained their positions either on the left or the right regardless of which side I was sitting on. He would also twist his lips to face the direction his pupils were facing as he spoke but I still found him handsome.
My close friends would wonder why exactly I stuck to this man who became dramatic whenever he consumed alcohol. Let me tell you today, David knew how to make a woman feel loved, at least when he was sober. One night, he carried me to my room after I fell asleep on the sofa and tucked me in bed, wrote me a sweet note and put it by my side table before leaving quietly for his house. Yes, he left; I know you were probably waiting for me to talk about some panel beating or something of the sort. Not today my friend, I am in the holiest of all moods.
What else would a woman wish for if she could get all this love from one man? I reciprocated by playing the best wife of all time. I actually regret ever playing wife to David, he wasted a part of my heart that I could have been putting into use right about now as I prepare to become someone's wife. Anyway, that aside, one week after being romantically carried and tucked in bed, I was having a good time with my girlfriends in my house as we had our lunch when we suddenly heard someone screaming outside.
I used to live in that part of town where screams were a daily occurrence and so we did not pay much attention to it until we realised whoever was screaming was shouting "Majiyaaaaani" instead of "Majiraaaanii". Who else silences the 'R' in his words when drunk apart from my David?
READ MORE
We rushed out only to find him rolling on the ground next to my landlord's garden. He had forgotten to pick his withered rose flower from wherever and so when he got to our compound, he went for the flowers in my landlord's kitchen garden where he was immediately attacked by bees.
They hadn't stung him much but by the time we got him into the house, his face started behaving like an amoeba taking different shapes every ten minutes. All this while, his pupils and lips took their respective positions as we administered first aid on him. That, my friends, is how our little lunch date with my girlfriends came to an end as they walked out warning me about David.
That evening, he was the most romantic man, calling me all the sweet names and promising me a huge wedding at the beach. As usual, I forgot all about his drinking problem and played a good wife sponging his face with warm water every 30 minutes.
I guess I had given him my all that evening that by the time night fell, I figured out it was his time to give back to me. I pretended I was asleep on the sofa and patiently waited for a déjà vu. Indeed, it happened, he carefully carried me from the sofa but this time our destination wasn't anything to write home about.
I am still nursing the fracture he caused me after our fall then started shouting, "Sowwwyyyy Beyyyyl" with his pupils and lips in their respective positions. He is one of those exes I do n