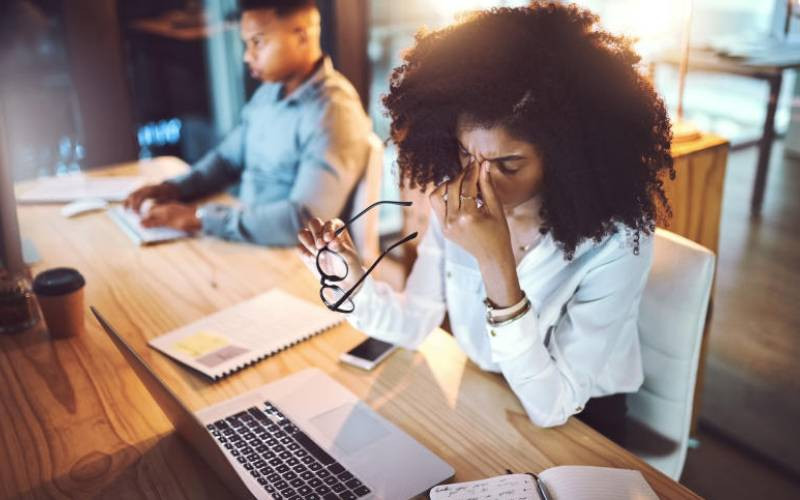 Once you feel you have reached breaking point chances are you emotionally exhausted. Consider it as a feeling of being tired and drained due to stress build-up. This stress could be triggered by anything literally.
From raising children alone, grief after the loss of a loved one, lack of control over your life, and living with a chronic illness to low job satisfaction.
We all go through stress but when it is too high it causes problems. This triggers an emergency response in your body to release adrenaline and your heart starts racing, you begin to sweat or experience rapid breathing.
The mood-stabilising hormone, serotonin, gets used up or starts running low. This makes it difficult to bounce back to your normal self and you become emotionally drained especially if the stressful factors have been prolonged for a long time.
Usually, chronic stress gets worse when you have no one to turn to. Lack of support leads to loneliness, hopelessness and emotional exhaustion.
Unregulated thoughts and certain behaviours can lead to negative feelings and bad emotional responses, further increasing stress. At this point in your life, the last thing you want to do is use drugs, alcohol or sex to cope.
But how do you know you are emotionally exhausted? The short answer is, it varies from person to person. Some of the physical symptoms you need to look out for include headaches, weight change, change in appetite, fatigue and heart palpitations.
When you start to have difficulty concentrating, memory loss, lack of drive, forgetfulness and brain fog there is a likelihood you have mental symptoms. Emotional symptoms on the other hand are taxing on your mood. You will become more cynical and pessimistic than usual.
You will experience increased irritability, anxiety and loss of motivation to socialise or even perform simple tasks. That alone signifies that your emotional gauge is at zero.
You will also notice a change in your sleep patterns. You will either be oversleeping or not sleeping at all. And if you do not watch it, your relationships may start to suffer because you will be unable to connect with others, cope with challenges or communicate effectively.
It is at this point that you need to take urgent action. If it means taking time off work, do so. Create healthy routines starting with what you eat, what time you go to bed daily and staying fit. Strive for a work-life balance. Listen to your body and know when to stop working.
Schedule fun activities and have things to look forward to every day like a hot cup of cocoa while you watch TV or read. Find ways to manage your stress and if you are unable to do so alone, consult a medical professional for help.
Related Topics