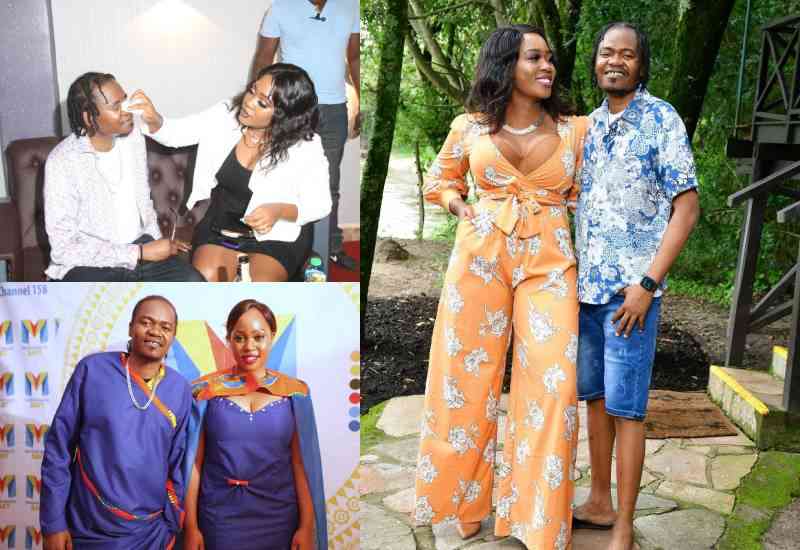 In the early 2000s, every other radio or TV song was Jua Cali's.
There was Bidii Yangu in 2006, and Kiasi that same year. And in 2008, there was his smash hit Kwa Heri, where he featured the RnB sensation, Sanaipei Tande. And these were just a few of the chart-topping tracks he released.
The hip-hop artiste, born Paul Julius Nunda, is undoubtedly a legend on Kenya's music scene.
When his wife, Lily Asigo speaks about him, she slightly blushes. It's clear that she is still smitten more than 10 years into their relationship.
"His Instagram bio says 'Proud husband'," she says.
"I feel like I have opened him up since coming into his life. And of course, he has done the same for me."
"We've been together for over 10 years, and have been through a lot."
But before diving into her role as a life partner and wife to the legendary rapper, Asigo talks about her own passions and projects.
She has a thing for the arts. Since primary school, she has been acting, and in secondary school, she frequently participated in drama festivals.
Even though she studied hospitality at university, Asigo's career took a different path.
She has fully gone the TV way, having acted in two Kenyan productions, the 2010 series Higher Learning and Noose of Gold around the same time.
Now, she is the executive producer of her own show on YouTube; Fix It Safari with Lily Asigo.
"'Fix It Safari' is a show where we let you tell your story and take you through the healing process. So far it has changed me as a person because you find guests who have gone through something that is similar to what you've been through," Asigo says, adding, "I have cried with guests, I had to go through therapy so as to get a better understanding of my guests."
She says she is passionate about the project, adding that it is a huge responsibility to hear peoples' life stories and air them out to the world.
"It is so dear to me, and I take it seriously. I don't want to play with people's lives or stories. We hold your hand literally. We have professionals on board for the different needs of our guests. It will be on YouTube; we have been bulk-shooting since January."
Asigo is also an investor in the beauty industry, having founded a self-titled line of beauty products in December 2018.
She looks back at her school days in amusement, recalling that her love for beauty was evident even way back then.
"When I was in primary school I used to shave my brows and draw them. Even in high school, I would do makeup. One day my biology teacher asked me if I was allowed to 'paint' my face," she says.
But other than her diverse business and career interests, Asigo is a mother of three.
She describes herself as a fantastic mother, and a blessed one.
"I love my boy Evans and my two girls Doreen and Abby," she says.
And before she was all this, Asigo was also a Jua Cali fan, just like the rest of us. In fact, she says that it started that way and has continued the same way, as she is still his biggest fan.
"I'm always at the very front cheering him on. In fact, he says that he gauges the crowd's mood using my reactions. If I'm excited he knows it's a great performance," she says.
But it hasn't always been easy - she says that she wouldn't want to paint a picture of roses as the couple, just like any other, have gone through ups and downs.
"Already marriage has its tribulations, but it gets worse when you are with a celebrity," she says, adding, "It's not easy to date a celebrity because you cannot do what normal couples do. It comes with the territory so I understand."
Dealing with women who openly express their love for her husband is a skill she has had to learn over the years.
Before she would angrily confront the women, reminding them that Jua Cali is married, but nowadays, she opts out of worry and anger and instead turns to prayer.
"I used to do that up until I realised that I'm not happy because my life is revolving around my husband; what people are telling him? What is he doing?" Asigo says.
"I came to a point where I decided to focus on what I loved, and my career. Then everything about my husband, I fight my battles on my knees."
The actress and entrepreneur says she prioritises making her home a safe space, offering peace and comfort to her husband when he needs it.
When the lovebirds met, Asigo was working at a boutique while Jua Cali was working late nights performing at concerts.
"I would be at night shift and he would be outperforming- so my son was raised by so many house helps, just because we were busy chasing careers. I eventually decided to quit for the sake of taking care of our children," she says, adding that her husband was supportive of her decisions and plans.
"He is very supportive. That's why I don't mind sitting back sometimes and letting him take the lead," she says.
Related Topics