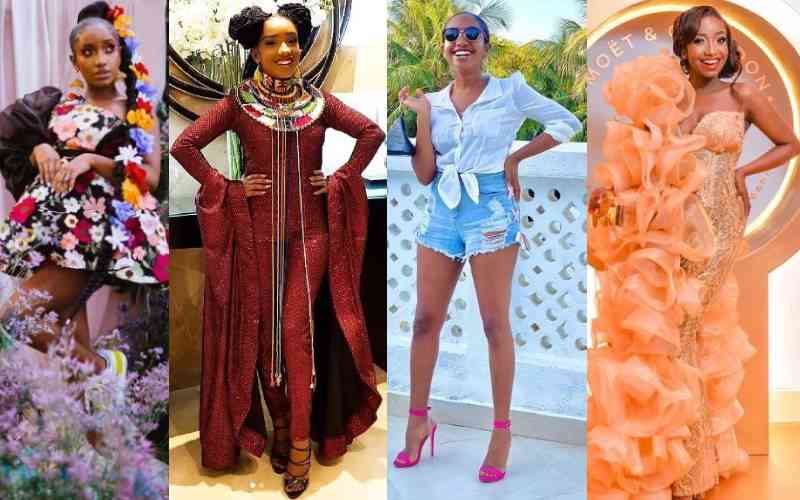 The gorgeous Anita Nderu has been around for as long as we can remember. She's an OG celebrity who has worked hard to establish herself in the media and fashion scene.
Although she's no longer in the mainstream media, she's still an amazing content creator who travels the world doing what she loves. She recently got married and became the new wife/mum in town and the best way to describe her is as someone who only brings good vibes.
It's easy to spot her vibes from the smile she always rocks, but it's hard not to notice that she has great taste in fashion. Her style is so versatile and unique that it's impossible not to want to emulate it because she always understands the assignment:
Statement gowns
When Anita shows up in a gown for an event, you will know she has arrived! She loves to express her creativity in the gowns she wears so she will almost certainly have really cool iterations in the designs.
She has had on gowns with interesting pearls and extra sparkles too which lets her bring out her fun personality, love it!
Fabulous maternity style
People are letting go of the idea that maternity wear has to be boring and we are definitely in support. We're no longer seeing outdated maternity dresses because you can actually still be stylish and confident.
Anita mastered the art of maternity style in her own way with some unique outfits, especially during her baby bump photoshoots. In one photoshoot she wore an African-inspired beaded gown and she killed it. Very few people can pull that off, while pregnant, and yet she did. Classic!
Bold swimwear
If you're looking to give your swimwear collection a makeover, you could really get some inspiration from Anita. She already loves bright colours that exude life in her outfits and, she brings the same colourful vibe to her choice of swimwear.
She has rocked a Jamaican flag-inspired bikini while she was in Jamaica, a cool lemon print one-piece in Zanzibar and even a bright blue one-piece in Lamu. She knows how to radiate happiness when she's chilling by the poolside or on the beach and you can too.
Standout hair accessories
She also loves to give her outfits a little bit of pizazz with hair accessories. She can easily complement her outfits with these interesting pieces whether she's doing a more traditional African look, a modern look or even a mix of both worlds.
She shows us that we can be as extra as we want and play around with our own unique style with our jewellery collection.
Fun casual wear
Whenever Anita is having a chilled day hanging out with her friends, she might wear graphic tees and jumpers with a cool print, overalls and even trendy jeans paired with sneakers.
She loves to wear dresses but when she feels like bringing out her cool tomboy side, she pulls it off.
Related Topics