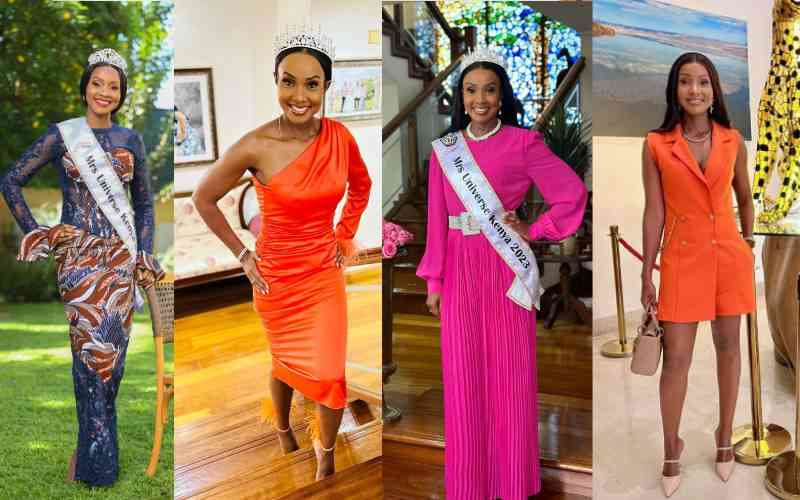 Milkah Mukami is the reigning Mrs Universe Kenya 2022-2023. She is a certified mediator and founder of the Milka Mukami Foundation, an organisation that seeks to help the vulnerable in society.
She is a board member of Amani Communities Africa and co-director of the Women Regional Network, Kenya.
HOW DO YOU DESCRIBE YOUR FASHION SENSE?
My fashion sense is iconic and timeless. As much as I love beauty, trendy classics and well-tailored dresses take the day. I am a timeless, elegant, classy kind of girl.
WHICH MATTERS MORE TO YOU; FASHION OR STYLE?
I am more concerned about my style. Fashion comes and goes but style is who you are. Anyone can buy fashion but style is authentic.
HAVE YOU ALWAYS BEEN CONSCIOUS OF YOUR LOOK?
I have always been conscious about my dress. I am that girl who asked her dad to buy her lipstick when she was eight years old. I have always loved to look and feel great. Every day is a blessing. Celebrate it with an awesome outfit.
WHAT IS THE SECRET BEHIND THE DRESS AND YOUR BODY?
I love my body as it allows me to wear different styles. The secret is to get the right cut and fabric. When a piece of clothing is well-tailored, it can suit any body type. It is paramount to get the right fit. I love dresses since they flatter my slim silhouette. However, I am a firm believer that every woman is beautiful and can look amazing in different styles so long as they get the fitting right.
WHAT DO YOU CONSIDER WHEN CHOOSING WHAT TO WEAR?
I love colours. I always trust my gut. When I try out different clothes, there is that one dress that will spark the little girl inside me, or the queen reigning in her kingdom, or the boss lady or the royal friend. Outfits speak to me and I choose them based on how I feel that day. Sometimes I also consider the weather, event or special colour schemes.
WHAT IS THAT ONE ACCESSORY THAT A GIRL MUST HAVE?
I would never leave my house without my handbag. It is the best accessory a girl could ever have.
WHERE DO YOU GET YOUR DRESSES FROM?
My dress collection spans high-end designs, local designers and tailors and boutique vendors. I shop everywhere there are beautiful dresses.
Related Topics