Home
/
International Day for Action on Women's Health: Why women's health matters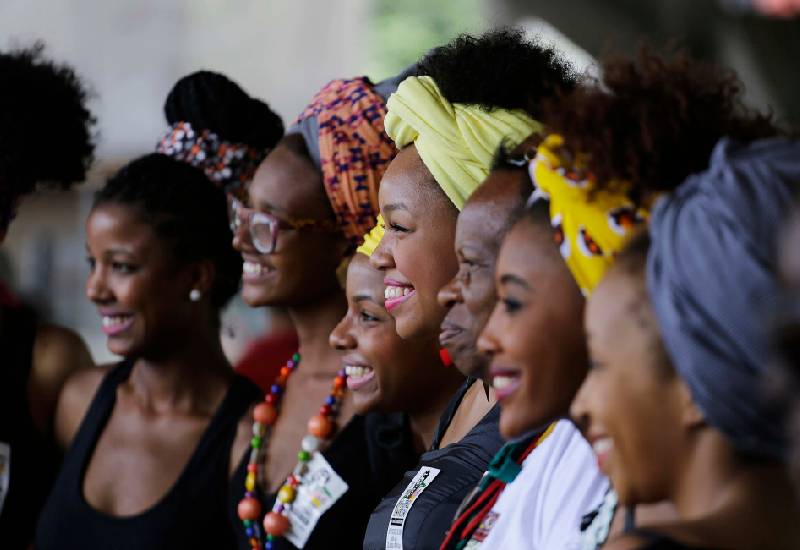 From time immemorial, matters women's sexual reproductive health were discussed in whispers. From childhood, for example, girls were brought up thinking their monthly period are not to be discussed.
The discomfort around matters menstruation can be dated back to primary school days where girls hid their sanitary pads in their sweaters or sleeves. Rather than speak of them, they would euphemise them as bread slices with jam to stop boys from guessing what they were talking about.
Educational sessions on reproductive health did little to cure the stigma as boys would be told not to go anywhere near where they were being held. The sessions would end with the organisers, usually manufacturers of sanitary pads, giving out free packs to the girls.
These girls are now grown women who are still not comfortable talking about their menses. On Twitter using the hashtag #WomenHealthMatters, a user tweets that, as a child, she always wondered why they showed sanitary pad advertisements with blue liquid. In her opinion, this made the stigma around menstrual bleeding worse.
Since the Covid-19 pandemic began, so much around women's health has been brought to light; gender disparity, infringements of women's rights to life, health, and making decisions about their bodies.
During the early days of the pandemic, so many gender-based violence cases were reported. Most of these cases were intimate partner violence, where the woman was always the victim.
This was catapulted by the Government's restrictions to control the spread of the virus by closing schools and encouraging people to work from home.
According to Government data, 45 percent of women and girls aged 15 to 49 have experienced physical violence and 14 percent have experienced sexual violence. Many cases are not reported to authorities and few women get justice or receive medical care.
Data from Healthcare Assistance Kenya shows that, from January 2020-December 2020, 373 cases of defilement and 105 cases of rape were recorded. Among them only two men reported the violence, indicating that men are still ashamed of reporting violence they go through.
Apart from gender-based violence, women have also experienced discrimination while seeking birth control services.
Access to safe abortion has also sparked a lot of debate. Religious leaders, and some parents saying that if abortion is allowed then the number of women terminating pregnancies will not be managed, while pro-abortion team says that when it is allowed then the government will have correct data and prevent botched abortions.
Early this year, US president Joe Biden reversed abortion restrictions which previously prohibited the US government from funding NGOs engaged in abortion services and counseling; that which champions legalisation of abortion or expand abortion access also known as the Global GAG Rule or 'Mexico City Policy.'
Now Kenya can benefit from the reversal as funding will boost reproductive health and HIV/treatment and care.
Nelly Munyasia from Reproductive Health Network Kenya, said that "lack of funding contributed to a lot of backstreet abortion cases. A lot of fetuses were found in the rivers, girls have been dying due to botched abortion and this can be remedied by getting the right information."
Munyasia added that lack of funding made the organisations to stop outreaches, an action that affected access to reproductive health.
"With Biden's reversal, we will be able to bridge the gap between those who need reproductive health services and health facilities since we will be able to provide outreaches."
Biden also instructed the US health department to consider removing Trump-era restrictions to a domestic family planning programme for low-income Americans known as Title X which saw tens of millions of dollars stripped from any health centres that offered or referred patients for non-elective abortions, like Planned Parenthood.
Going back to religious leaders and parents. This team has also played a big role in preventing young girls from accessing birth control services.
The debate around teenage pregnancies and use of birth control among teenagers has always sparked a heated debate among different groups of people.
One group arguing that if teenagers are allowed to use contraceptives, their sexual escapades will be on the rise, while the second group debunks the thought saying that young people are already sexually active, advising them to abstain will not bear any fruits so the best option is sensitising them on the usage of birth control to prevent unwanted pregnancies.
Teen pregnancy cases are reported daily. This begs the question should they be allowed to have access to contraceptives or should they learn on the "job "by being teen moms?
Some of these girls are ostracised by their communities, they end up on the streets or living with people who take advantage of them.
Response shelters are a necessity, Makueni County is among the few counties to have GBV response shelters in Kenya, other counties need to follow suit.
Also, the justice system needs to pull up their socks, since justice delayed is justice denied. Their communities that choose to settle out of court matters defilement and rape. The family of the victim will be given money or livestock then the case is settled forgetting the mental health of the victim.
Related Topics