Home
/
General
Seven ways to avoid overeating at night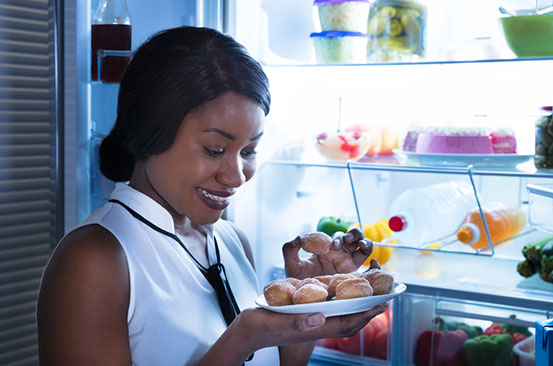 I'll be the first to confess that I'm a binge eater. After a long day I like to reward myself by sitting in front of the TV with my favorite snacks watching my favorite series.I know most of you do the same.
However, this is not a good way to end the night and also, it's not good for your health.
It's important to watch what you eat before going to bed. What you eat before going to bed has a great effect on our quality of sleep as well as sleep patterns.
Also, it's the quickest way to gain weight and invalidate all that workout you have been doing. It is very hard to just ignore your favorite junk food but you can always look for a healthier alternative.
The worst thing about snacking especially while watching TV and eating your favorite meal is, you end up eating more than you should.
To stop this, I had to do some digging on how to avoid overeating at night and this is what I found out.
Don't eat while watching TV
One way to finish all your snacks is by eating while watching your favorite show. I know the joy of being in your comfy pajamas and a blankie and a bowl of snacks with your favorite series on but it's doing you more harm than good. You will end up going through a whole week's snacks in a couple of minutes because of the distraction.
Eat more fiber
The key to consuming less food is consuming more fiber. Fiber rich foods such as whole grains, fruits and vegetables are a great way of keeping you full for longer and reducing your appetite and cravings. Ensure that your dinner has more fiber rich foods. Great sources include beans, nuts, oatmeal and apples.
Drink water
Water is a great way of reducing hunger pangs and filling you up. Consuming water before your meal will reduce the amount of food you consume. This is because it will make you feel like you are full and it's also a great way to detox.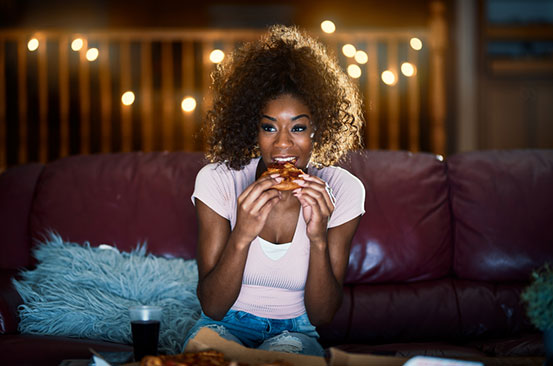 Switch to healthy alternatives
For people like me who have an obsession with junk food, switching to heathier alternatives such as vegetable salads and sandwiches is a great way to limit how much junk goes into my body. They are more filling and I honestly don't think I can eat a lot of salads.
Mind your portions
Using a smaller flat plate than usual is a great way of limiting how much food you will serve yourself. There is so much you can put in one plate so this is a great way of tricking yourself to consuming lesser portions. You will also notice that you don't need as much food to be satisfied.
Avoid junk food
Once you start consuming junk it's impossible to stop yourself. It might easily end up being your dinner. And because junk food is oh so delicious, you will end up going through a bag or two of chips and downing it with a couple of glasses of soda. And to be honest, this is a really unhealthy way to end your evening.
Sit at the dining table as you have your meal
Having your meal away from your screen is the best way to limit how much you consume. The worst thing is eating while on your phone or watching a movie. You will end up eating more than you need just because you are distracted. Take some time out with family and enjoy a meal at the dinner table like we did not so long ago.
Related Topics