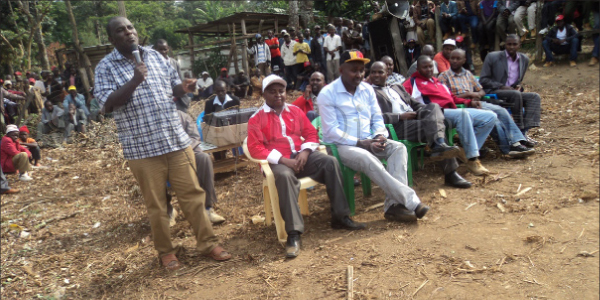 George Kariunga addressing miraa farmers, traders & exporters at Athiru Gaiti in Igembe South. INSET: The Ward Rep for Antu-betwe-Kiongo, outside Meru County Assembly. [PHOTOS: TITUS MURIITHI/MERU]
By TITUS MURIITHI
MERU; KENYA: A member of Meru County assembly who comes from a miraa-growing zone has said that he might soon get married to a fourth wife and bring forth more children in an effort to prove that miraa (khat) does not make men impotent but rather it makes them more active in love matters.
George Kariunga who is the Antu-betwe-Kiongo ward representative in Meru County said this recently during in a county assembly session and repeated it when he was addressing miraa farmers, traders and exporters at a market within the region where most of the herb exported to England comes from.
"All manner of lies and unsubstantive innuendoes have been peddled against miraa. The worst of all is that it makes men impotent yet in miraa growing areas we've the highest birth rate," said Kariunga.
Impotence
"In miraa-growing areas our forefathers who chewed it used to marry three to four wives and they could bring forth many children," added the ward rep as he supported a motion to constitute an ad hoc committee to investigate miraa cultivation, harvesting, packaging, transportation, marketing and chewing.
"If miraa chewing can cause impotence in men, then why do we have the highest birth rate in Meru County?" asked Kariunga as he further supported the motion on the herb that has been outlawed in Britain.
Kariunga further said that he is married to three wives and he has about 15 children whom he's brought forth despite the fact that he's been chewing miraa as from the age of 15. He says very soon he could consider getting married to a fourth wife and sire more children to prove that the herb doesn't make men impotent.
Not familiar
"Those talking of miraa making men impotent don't know what they are talking about. I've been chewing miraa since when I was 15 years and up to date and I am married to three women with whom I've fathered 15 children. Soon I may get married to the fourth one and sire more children to prove that Miraa doesn't make men impotent but rather it makes them more active in bed and satisfying to their spouses," he said.
Joan Theuri, another ward rep in the same county, said miraa has no negative effect on those who chew. Speaking during the same session, Ms Theuri, the ward representative for Athwana ward, said she once tasted miraa and it did cause any effect in her body.
"I've tested miraa and it didn't have anything negative on my body. Those saying it can have effects on those who chew it are not familiar with it and they had better ask men from our place where we grow it," she said.
During the consultative meeting attended by farmers, traders and exporters at Athiru Gaiti area in Igembe South, Kariunga repeated his words and caused much laughter when he asked if men from other places are hired to come and sire children with women who come from miraa growing zones, if at all chewing the herb makes men impotent.
Campaign
"I'd like to ask all women in this meeting and in Nyambene area as a whole if there is a day when men from other places have been hired to come and sire children with you on the behalf of men like ourselves who come from this region and chew miraa," asked Kariunga amid laughter from the crowds who had gathered during the meeting.
The ward rep challenged women to come out and say miraa had no negative effect as their spouses are active in love matters and they've been able to father children normally, like other men who don't chew Miraa. "I request our women to come out strongly and tell the world that miraa has got no negative effects as their spouses satisfy them with their conjugal rights and they've fathered them normal healthy children just like men who don't chew it," said the Ward Rep as he advised women to support the miraa campaign positively during the meeting.
Related Topics