Home
/
Hair
Tips on how to nurture your daughter's natural hair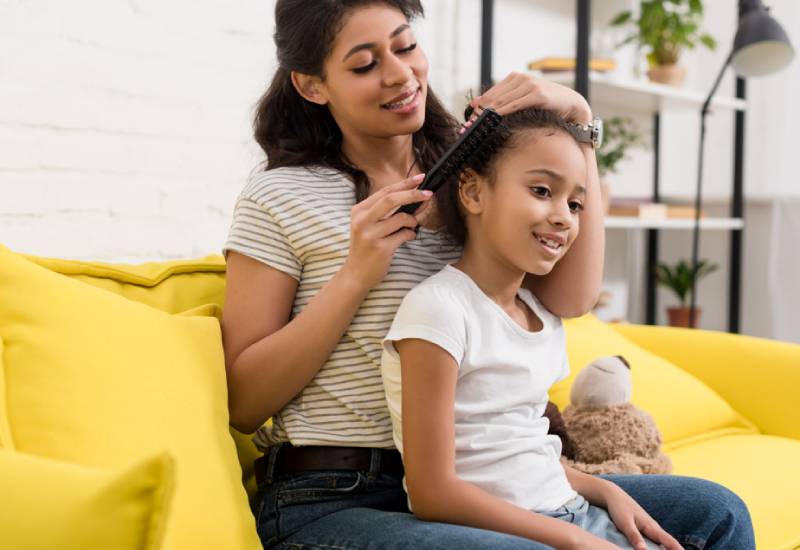 Children are prone to more hair damage than adults because they are more playful and sweaty. This is without forgetting how unbothered they are when it comes to their hair catching dirt or sweat.
It is up to you as a parent to help them care for their hair. You will need to wash, style and even show them how to sleep while having natural hair.
Currently, taking your child to the salon to get their hair done is impossible and you may be stranded on where to start.
All in all, maintaining your child's hair shouldn't cost much. All you need is patience and consistency and you are good to go.
Here are some easy ways that can help you care for your child's hair:
Wash regularly and detangle
It is in a child's DNA to play and get dirty. You cannot have them locked up in the house all day or have them sleep all night without sweating, as a result their hair is bound to accumulate oils and dirt.
Wash your child's hair regularly and with shampoo. This helps to rid the hair of oils that accumulate over time that will block pores and this will block moisture from getting to the hair follicles. This is what causes the hair to be dry.
Remember to condition your child's hair as well to help keep it healthy. While at it, go for the more natural conditioners, like avocado products, that are more child friendly.
Conditioning is important as it helps to remove sweat and dirt that accumulate on your child's hair that a shampoo might have not penetrated through. You should consider washing your child's hair at least once a week.
After washing, you will need to detangle your child's hair. This can be a really tricky and painful process. Do not yank or pull their hair.
Use a wide toothed comb to slowly detangle the hair. Comb through sections to avoid missing parts and while you are combing ensure to comb down to the hair's full length.
Do not comb through your child's hair when it is dry. This will be really painful and may cause breakage.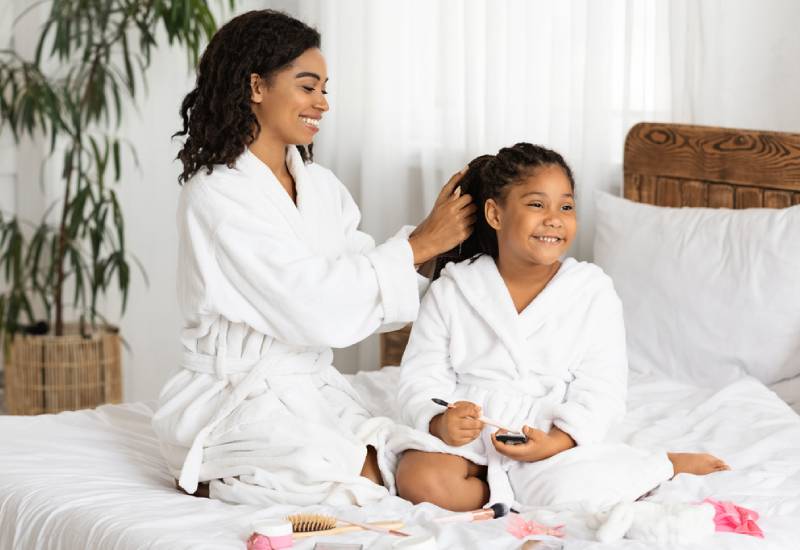 Always moisturize
Children are vulnerable to damaged hair since they can't care for their hair themselves. Most children do not know how to sleep, they end up rubbing all the oil on pillows and sofas meaning their hair will always feel and look dry.
You can use water to moisturize their hair or use moisturizer oils and to seal it off, apply coconut oils or hair foods. Be wary of those ends, they dry up faster than other parts of the hair. Ensure you apply enough oil.
Tuck the hair
Since you cannot take your child to the salon to get their hair done, you have to play that role. You may not know how to plait hair but you can at least tuck it into knots.
Combing the hair everyday can cause breakage since your child's hair is still fragile, tucking the hair can help it go for weeks without detangling, which will make your work much easier than when you leave it wild.
Be careful while handling the hairline. The hair may be soft on the edges, do not make the knots too tight to avoid pulling the hair too much.
Also when combing, remember to trim the hair to get rid of split ends and dead hair. Split ends causes hair breakage. At night before going to bed, you can tie a scarf for them to help hold the knots in place.
Be Gentle
Children can be a handful. From their complaining to restlessness, you may be doing the best you can but will never see the impact.
Do not come guns blazing when it's time to do your child's hair. Be gentle and more so patient. Do not yank their hair or wash with hot water, this will likely damage the hair. Take your time and maybe take advantage of the moment to bond with them.
Related Topics