Home
/
Girl Talk
Girl code: Listen, don't turn your home into a prison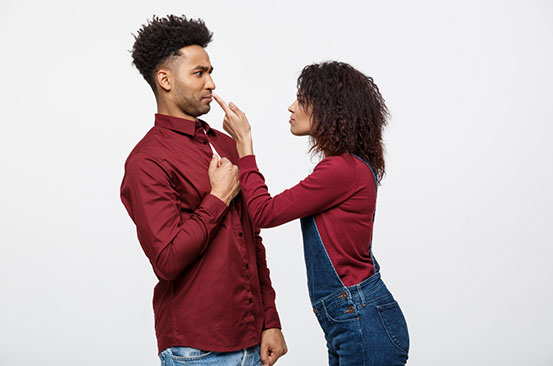 Today, let's have a talk. I have noted with concern that some of us are making life difficult for their significant others. I know we all will say no one should interfere with other people's relationships. Honestly, it's none of my business but shall we talk anyway?
Now, some of us may have been created with a bit of jealousy in us especially when it comes to our partners and this is understandable. What I don't support is how we utilise this 'jealousy' that is part of us. I have seen how some suffer in the hands of an extremely jealous partner. For instance, I know someone who cannot pick calls after he gets home because the wife will start throwing tantrums. This man clearly tells us not to call him once he is home because it would result in 'World War III'. We have equally been warned not to even reach out during an emergency. If this man happens to pick your call while in the house, he will whisper, "Why are you calling me at home?".
Now, these people have lives outside falling in love. They have relatives, friends, business associates and many more. Their lives cannot revolve around you. You could be the spouse, the legal one for that matter, but you seriously need to set your partner free to lead a normal life. These same people even control where their partners go whenever they want to take a break from the house. You will hear them even suggesting to their spouses where to go for a drink. Worse still, they will tag along. Nothing is more annoying than a partner who tags along even where they are not needed. If your partners are going out to meet their friends, give them that chance to unwind and just be themselves. No need to tag along only to start whining and frowning all through.
Remember that before you met your spouse, you had a life. Before you had a baby, you had a life. Let not your life solely revolve around your spouse. It's this habit that makes you get cut off from your friends and family. You might not realise it on time but people around you will slowly start keeping off and, before you know it, you're on your own.
We all should try and live a balanced life. Each relationship is important. The relationship between you and your siblings, your friends and your family all need some percentage of attention. Try and balance everything so that your life is well coordinated. Don't get me wrong, I am not telling you not to love your spouse. In fact, love her unconditionally but don't let that love deter you from embracing the other relationships around you.
I know of partners who have even taken it upon themselves to decide for partners which relative they should or should not talk to. Some have totally cut their partners away from reality. Let me tell you one thing, cutting your beautiful self from the world is only good while it lasts. However, it takes only one experience to jolt you back to reality.
I once dated this man who asked me to drop all my friends. I was young and naive and confidently dropped them one by one. Before I knew it, I had not a single friend and my life heavily depended on this man. It was all rosy until we broke up! That is one period of my life I wish to forget. There I was heartbroken with no friends. The ones I previously had all kept their distance because I cut them off. From then on, I realised the importance of all relationships in this life. Today, I give each relationship the attention it deserves.
Marriage will not stop me from seeing my friends nor going on vacations with them. Motherhood will not make me stop booking myself into hotels for a weekend of fun. Above all, my husband will not put an end to any of my friendships be they with women or men. Once you decide to put a ring on it, carry trust with you. Don't go dictating to me on how to use my phone. It is my phone and a mobile one for that matter so I will carry it wherever I go.
Let your partners be. They are adults, they know what they want and when to stop. Let's not be bullies in the name of 'caring spouse'. It's one thing to take care of your partner and another to bully them. If you're the victim, stand up and speak! You have the right to be happy and if something is eating up your happiness, by all means, speak up. Don't go freaking out and playing robot to your spouses.
When you feel they are crossing the red line, direct them back to their boundaries. Don't imagine you can live your lives on an island of two. Depression will finish you.
Related Topics