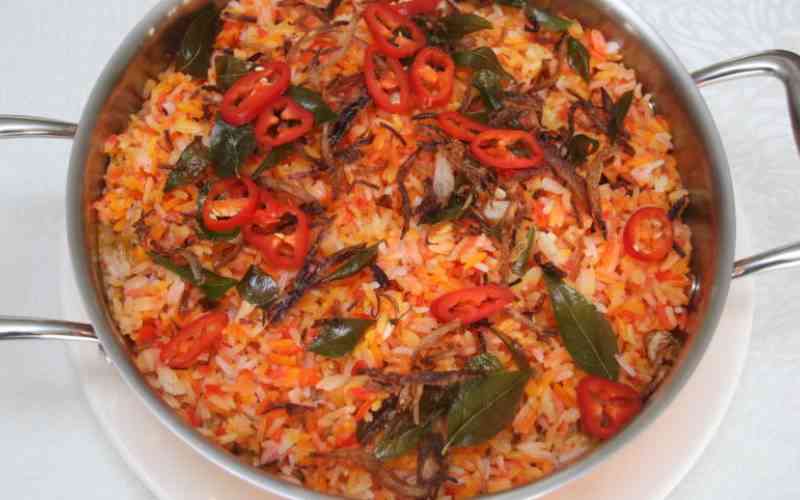 The history of chicken biryani is as rich as the taste and aroma it imprints in your memory, replacing all the meals you thought were your favourite. Its name, biryani is derived from the Persian word birian which means fried before cooking.
Where the dish originated from still remains a misery as different theories keep circulating from Indian traders to Mumtaz Mahal, Shah Jahan's queen, who ordered cooks to prepare a balanced diet dish (biryani) for the soldiers.
In as much as anyone can cook biryani, a plate prepared by Swahili or Muslim hands remains undisputed. Let's prepare to transform our cultures as we learn how to make this colourful dish.
Ingredients:
2 Cups of Basmati rice
1 Kg of chicken
1 Cup plain yoghurt
3 Large onions
5 cloves of garlic
1 Tablespoon of crushed ginger
Cooking oil
Salt
¼ Tablespoon of Cinnamon, Turmeric and Cardamon powder
½ Tablespoon of cayenne pepper
1 Tablespoon of Garam masala, Coriander, Paprika and Cumin powder
10 cardamom pods
5 dry bay leaves
10 cloves
Water
Melted butter
Yellow food colour
Instructions:
Heat cooking oil in a sufuria and add the sliced onions. Sauté until golden brown, remove then set aside.
Rice:
In a different cooking pot, put four cups of water and add cardamom, bay leaves, cloves and salt.
Wait until the water has boiled to add your basmati rice. Let it boil for about 4 minutes or until 80 per cent cooked. Sieve then set aside.
Chicken:
Marinate the chicken with one cup of cooking oil, plain yoghurt, crushed garlic, crushed ginger cinnamon, turmeric, cardamom, cayenne pepper, coriander powder, garam masala, paprika, cumin powder and salt.
Cover with a cling film and put it in the fridge for at least one hour. Once the time is up, transfer it to a cooking pot and cook it over medium heat for about ten minutes.
After the chicken is ready, sprinkle the onions and chopped coriander. Add the rice on top and pour on it melted butter and yellow food colour to achieve the biryani colour. Cover with aluminum foil and a lid then let it steam on low heat for 20 minutes.
Related Topics