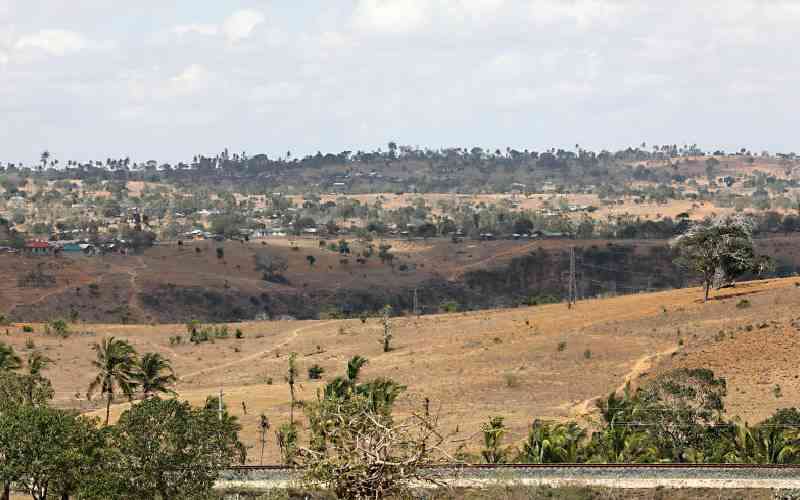 Construction of the multi-billion-shilling Mwache Dam in Kwale County has been postponed countless times, causing anxiety among residents.
The Sh25 billion multipurpose dam has been delayed by land disputes and compensation concerns for five years now.
Although the contractor, Sino Hydro Corporation and Engineering of China, signed the deal in 2018, construction is yet to start. This year alone, the project has been postponed at least twice.
As the contractor plans to break ground in January or February next year, locals have heightened lobbying for 70 per cent of jobs, pointing to continued friction even in the new year.
Some residents blame politics for the delay of the dam as negotiations for compensation have dragged on for years.
The project is expected to supply water to Kwale, Mombasa and parts of Kilifi. Kilifi and Kwale counties are some of the regions hardest hit by drought and famine.
The proposed dam is located 22km west of Mombasa city which faces an acute shortage of clean water. The port city has a supply of 42,000 cubic metres per day against a demand of more than 200,000 cubic metres.
When complete, it will cover 2,600 hectares under irrigation in Kwale County, according to Coast Development Authority (CDA) Managing Director Mohamed Keinan.
Dr Keinan said CDA was currently rehabilitating the Mwache Dam catchment area ahead of construction.
Last year, the government set November 1 as the start date of the project but it was pushed to February 15 this year and then a month before the elections.
In January, the then Water Principal Secretary Joseph Njoroge announced that government would launch the construction on February 15 as 75 per cent of persons affected had been compensated. This failed.
Project technical engineer Simon Mwangi blamed the delay on land acquisition issues.
In 2015, the government secured $176 million (about Sh21 billion) from the World Bank as part of the Paris flagship project to build resilient water systems in global cities, but this marked the start of a long wait for construction to begin.
The project was mooted in 1995 by CDA at the Mwache River gorge in Fulugani village in Kasemeni ward to address the water crisis in Kwale and Mombasa counties.
However, after a successful feasibility study, the plan stalled for years because of lack of funding.
Mwache Dam is expected to supply 186,000 cubic metres of water daily.
As the contractor moved to the site and began recruiting workers this month (December), residents have been pushing for jobs and speedy compensation.
Chairman of Mwache Dam Union Jackson Mwamvula said they are concerned that many residents have not been compensated. Mr Mwamvula said employment of 70 per cent of locals had also not been assured.
"We have two major concerns we want urgently addressed even as the government and the contractor push for the project to start. We want all persons affected by the project to be compensated first. We also want the government and contractor to ensure 70 per cent of workers in the project are locals, particularly from Kasemeni and Mwavumbo wards," he said.
Mwamvula, who has organised several meetings in the area, also said the Sh350,000 compensation per acre was low since land prices in the locality are high.
The lobby wants rates to be raised to between Sh500,000 and Sh600,000 to enable them to acquire land elsewhere.
The entire project will affect an estimated 12,000 residents and 3,200 households in 20 villages. Phase one will affect 4,000 residents.
The government has set aside Sh4 billion for compensation. Some 49 shrines and 36 graves have been relocated.
Fulugani Primary School, Nunguni Early childhood Development Education centre (ECDE), Mwache bridge, pipelines and roads will also be relocated.
A resident, Edward Nzaphila, said compensation for land has been done for Phase One and Two at the rate of Sh350,000 per acre.
He said they have heightened lobbying for the employment of 70 per cent of locals, including security guards.
"From the beginning when we agreed to relocate, we demanded that 70 per cent of jobs be given to residents. We still insist on that and we see some light at the end of the tunnel although there is some resistance. We are giving this a bit of time as we lobby," Mr Nzaphila said.
Another resident, Douglas Dzombo, said locals were not happy with the compensation rate and the recruitment exercise and want a better deal.
Kasemeni assistant county commissioner Peter ole Masaa noted that his office was coordinating the recruitment of locals with the contractor and that the exercise began the first week of December.
"My office is shortlisting youths for interviews by the contractor in collaboration with the human resource officer. The first 20 youths have been recruited and the exercise is ongoing," he said.
He said more than 98 per cent of the residents have been fully compensated in the first phase while officers from the National Land Commission are on the ground carrying out valuation for the second and third phases.
Sino Hydro's public affairs manager Wu Chao has been holding meetings with residents.
Related Topics