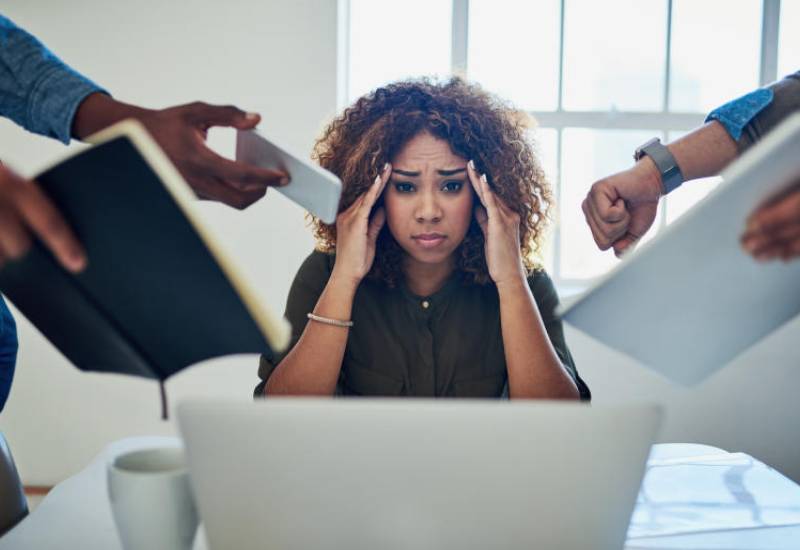 Looking forward to going to work every day to interact positively with colleagues and get things done is ideal. Even better if your work fulfils you and you also make great acquaintances and possibly friends at the workplace.
But the complexities involved, including unstable organisational structures, clashing personalities and more serious matters such as racism or tribalism mean things are not always smooth-sailing for everyone at work.
"They are a breeding ground for dysfunction due to poor communication, power struggles, negativity, and abusive leadership. Due to this, collaboration, productivity, and innovation falter while fear, manipulation, and blame grow," Forbes reports.
The Standard Digital team held a Twitter Spaces discussion tackling this issue. More than 1,000 Kenyans tuned in and participated in the forum.
An anonymous contributor said the first disconnect he has observed through experience is that of the productivity of an employee or employer.
"To avoid finding yourself in a difficult situation at work, ensure that whichever task you signed for as an employer or employee is achieved," he said.
He added that the second factor to be keen on is of managing relationships with one's colleagues.
"Ensure that the work is done. Then manage relationships because you are not working in isolation - that is why there are many departments. It means that you are working with different people from different backgrounds."
"It is best outside the office to remove the mood of inferiority and to level the field. Express your feelings to your manager, using clear examples of moments when you have felt mishandled. Then suggest how best you can work together."
A participant going by the name Ms Ndanu pointed out that having self-awareness helps one navigate relationships with colleagues better - from how close you can get as friends, to where boundaries need to be drawn.
"Once I have learnt my own personal capacities is when I have learnt how far I can go with colleagues. There are some colleagues that have become family and friends, but I have also learnt to be careful about my boundaries," Ms Ndanu said.
She said that while handling a toxic workplace, one has to put out fillers to understand the extent of the toxicity.
"It helps to have an ally. This person will help you realise you are not crazy and that you are actually dealing with things that are beyond you. Then you can start thinking of practical ways to manage the situation until you can find your exit plan."
Signs of a toxic workplace
Fuzu, a recruitment company writes on their blog that one of the signs of toxicity to look out for in an organisation is poor communication.
"Being in a workplace where you feel left out is a sign something is wrong. In a case where there is insufficient information or suppression of feedback, it is a sign of poor communication in the workplace," Fuzu reports.
Lack of supportive leadership and low work morale among staff are other red flags.
"In healthy workplace cultures, employees are encouraged to respectfully challenge processes, procedures, and anything that is not working. In a fear-based culture, employees are silenced by intimidation, abuse, gaslighting, and domination," Forbes reports.
CNBC reports that an indicator of toxic work culture is the lack of inclusivity.
"Where members across gender, race, sexual identity and orientation, disability and age do not feel they are treated fairly, welcomed or included in key decisions."
"Employees who work in toxic environments have higher levels of stress, burnout, mental health issues and other stressors that can lead to poor physical health," the news website reported.
How to handle a toxic work environment
During Standard Digital's online discussion, multiple speakers pointed out that leaving a toxic workplace is easier said than done.
It was a general consensus people need their jobs for sustenance. This, coupled with the harsh economic times and the scarcity of jobs in the country means they cannot just up and leave.
Ms Ndanu suggested evaluating an organisation's culture right from the interview process.
"Ask pertinent questions during each interview, e.g 'how do you handle conflict between employees - are there clear channels?'"
Ms Victoria, a Human Resource consultant said toxic work environments are not only brought about by the fact that people are dissatisfied but also because of certain people, their characteristics and traits.
"There could be issues of racism, tribalism and many more," she said, adding, "I have been in such a situation where the toxic employment has been about racism."
The HR consultant said when one has tried to speak out with no change, it is time to think about an exit strategy.
"A proper exit plan would be one that allows you to secure yourself first if it is possible. If things do not change, begin looking for a job while at that job," she said.
She added: "Start an emergency fund and save up in the meantime; six to nine months' worth of money would be a good place to be in. Establish where you are in the job market, and how long it will take you to secure another job."
Related Topics