Home
/
Bridal
How maths solved my singlehood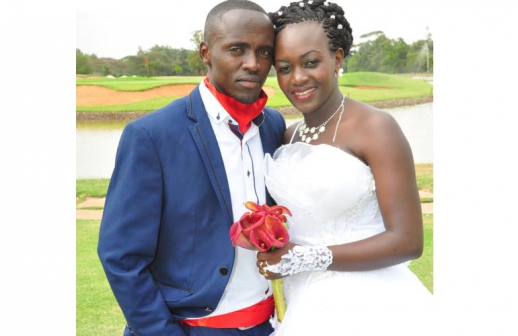 BRIDE: Fridah Mumo
GROOM: Peter Waweru Kamaku
DATE: February 14, 2015
GUESTS: 900
VENUE: KCB Sports Ground, Ruaraka
PHOTO SHOOT: Windsor Golf and Country Club
BUDGET: Sh2 million
FIRST DATE
Peter: I was a student at JKUAT undertaking my Masters in Pure Mathematics. One afternoon in 2007 while I was taking a walk in Juja town, this pretty girl crossed my path. Being very confident by nature, I said 'hi' to her. She responded hastily and walked off.
Wanting to behold her beauty again, I would wait for her at the place we met hoping she would pass by another day. After many failed attempts, I eventually saw her. I walked up to her, said hi and asked for her number.
Fridah: A month and a half after he asked for my number, we had our first date which coincided with my birthday. Though I would have preferred a dinner date, we had to settle for lunch since I had just cleared Form Four and I would not have been permitted to be out late. So we had lunch within the town. We did not talk much as we had barely gotten to know each other, but we kept in touch on phone from then on.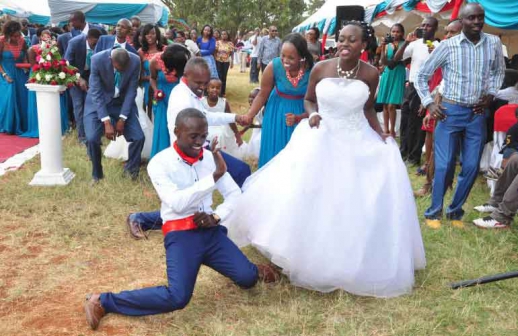 THE PROPOSAL
Fridah: We had been dating for about seven years when Peter left for Mombasa on a work-related assignment on a Tuesday in November last year. I was to join him at the end of that week. That Friday, he picked me up from the Moi International Airport and took me to town for shopping – I bought clothes – before going to Reef Hotel in Nyali where he was putting up.
Peter: I had a surprise proposal for her at the hotel and the shopping was to blind her from suspecting that I had anything planned. During dinner there was a scheduled evening acrobatic performance taking place on stage, raffle tickets were being distributed with the winner "supposedly winning" a trip to Malindi. The catch was that everyone was given a similarly coded raffle except Fridah.
As the performance was ongoing, the winner of the raffle was announced, and as it were, Fridah's number was read out and she happily jumped up and down in celebration.
She was called to the stage to be officially pronounced the winner and claim her prize, but before she could get there, some of the acrobats got in her way distracting her. As she got sidetracked, I took to the stage and knelt on the opposite side from where she was to approach.
Fridah: When I managed to get rid of the acrobats, I approached the stage shocked as on stage was Peter with a ring in hand. I was speechless.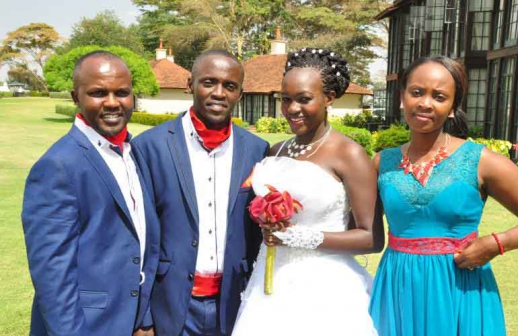 THE DRAMA
Fridah: The decor providers showed up with the wrong color scheme – a much lighter shade to teal – for the car décor. Since we did not want a confrontation, we just let it go. Ours was a garden wedding and the decision to have few tents during the morning session had us being scorched by the sun the entire one and half hours.
In addition, in an effort to beat the traffic along Kiambu Road while going for the photo session, the lead driver took the wrong route through Muthaiga, delaying us more by half an hour.
Peter: I had hired a Hummer Limousine to carry the bride from the church to the photo shoot and back, but no one had a whiff of my brilliant idea.
I and the driver made an arrangement to pretend that the Land Cruiser V8 that Fridah had been ferried with to the church had developed mechanical problems.
So, immediately she boarded the vehicle from church, the driver did his act to an extent of opening the car bonnet to check with a very disappointed look on his face. You should have seen the disappointment on the bride's face.
But priceless was her shock when the limousine came in shortly after. It was such a spectacle that even the guests who had already queued to be served lunch came back to have a look as they took photos.
WITH HINDSIGHT
Fridah: Let God run the show. To those planning to wed, as much as possible, do not let the morning session when the bride is picked from her home be delayed. The earlier the church ceremony begins, the more time you have for photography and dance, which are indeed the big moments.
Peter: Remember that it is not money that makes the event colorful. It is the people and how you plan it.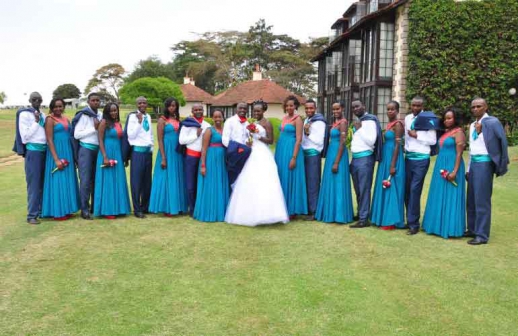 MEMORABLE MOMENTS
Fridah: I was moved by the weight and depth of taking vows.
Peter: Seeing the bride walk down the aisle made my day
Related Topics