Sylvia Wakhisi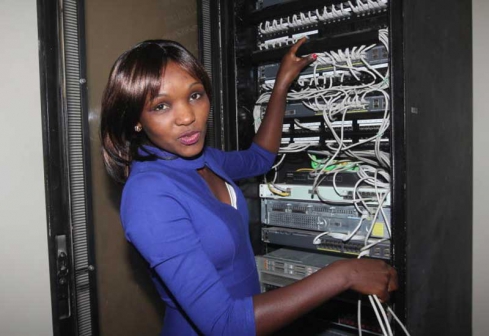 Agnes Wanjiru Mwangi,32, is the owner of Atlantis Telkoms Limited, a telecommunications company that deals in structured cabling, telecommunications , fibre optics etc.
She talks to us about how it has been venturing into a male dominated field.
ALSO READ: Achieving woman: Yvette Bonareri drafts law to compel children to care for parents
MY BACKGROUND: I was born and raised in Kerugoya, Kirinyaga County. I hold a Diploma in Information Technology from Universal College and a Cisco Certified Network Associate from Kenyatta University. I am the first born in a family of three siblings. My brother is a Valuer while my sister is currently pursuing a Bachelor of Commerce Degree at Kenyatta University. While growing up, I would say we had a comfortable life. My parents were very supportive and ensured we had all the basic needs we required.
THE IDEA: I have always been passionate about technology, and especially offering technological solutions since from the time I was in high school. And what fueled my interest even more was my uncle who is an engineer and owns a construction company. While looking for a job, I targeted companies that focused on offering telecommunication engineering and once I landed an opportunity, I worked so hard to understand the field. After working for a while, I realised that most telecommunication companies offered products yet what clients appreciated more were solutions, and that was my light bulb moment to offer what clients required. That is when I started Atlantis Telkoms, a company that is keen on giving clients end to end telecommunication solutions hence our motto 'Working with you to achieve telecommunications excellence'.
WHAT HAPPENED NEXT: I embarked on getting all the required licenses for a telecommunication contractor. The next hurdle was to convince my first client that we are competent enough to work on a big project, for which I am grateful since they gave us a chance to prove ourselves. I must say we delivered to the client's satisfaction.
RUNNING A START-UP: Honestly, running such a business is not easy. It is even harder when you are a woman in a male dominated technical field. Clients may not understand your potential until they assign you work and you deliver results. There are a number of challenges, but you have to keep your head above the challenges and focus on offering solutions as well as delivering to the client's expectations. You cannot survive in this field if you are a fraud and you keep cutting corners. You have to be honest with your work and your client. One of the biggest challenges enterpreneurs like me face is lack of funds to finance big projects. I remember walking in and out of banks to persuade them to fund my first project and most declined. I decided to approach family and friends who thankfully listened and supported me.
ALSO READ: #WCW: Auditor-General nominee Nancy Kabui Gathungu
WHERE I AM NOW: The Company has since grown in leaps and bounds and currently employs eight young people who are committed to see it succeed. Keeping the company afloat is our biggest achievement. Offering solutions to a growing list of clients from banks, private institutions, parastatals to saccos is a testament to our ability and reliability. We have also created employment for the youth in this country. I am also glad that along the way I have inspired fellow women who want to join this field. We also participated in the first Kenya ICT Innovation Forum where we showcased our solutions to His Excellency the President Uhuru Kenyatta and other investors.
MY TIP: Hard work pays. There is no field that is limiting to any particular group of people. Women in this country have been empowered to dare dream and become anyone they wish to be and also participate in any business. We are grateful to the government for the opportunities they continue to give women, youth and persons with disabilities and it is my sincere request to fellow women to take advantage of that and progress economically. I would also advice other entrepreneurs to avoid negativity and discouragement along the way. If you are passionate about something, keep going for it and God will help you achieve your dreams. Above everything else, always remember to give thanks to God for every little achievement you get and He will bless you with more.
FACTBOX
ALSO READ: Naomi Osaka, the highest paid female athlete
Launch date: December 1, 2011
Start-up cost: Sh300,000
Website: www.atlantistelkoms.com
Location: Garden Estate road, off Thika superhighway, next to Roasters Inn Hotel.