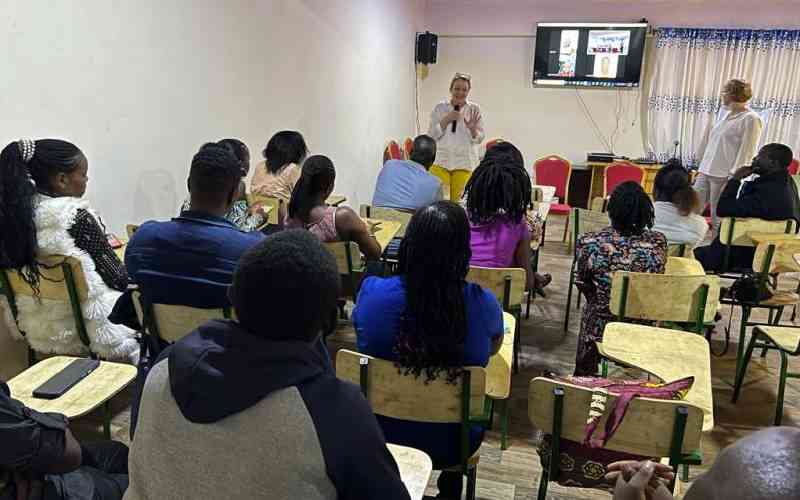 Kenyan students are flocking to Finland to pursue skills they hope will help them secure jobs.
Most of them are degree and diploma holders who failed to secure jobs locally. In Finland, they pursue courses that are hardly related to what they studied in Kenya.
The students are gaining entry into Finnish universities and colleges through private entities. But others prefer to enter Finland through counties that have signed agreements with Finnish learning institutions.
Uasin Gishu, Elgeyo Marakwet, and Nandi are among the counties sending students to Finland through what they describe as airlift programmes.
Education in Finland is free for Finnish citizens but expensive for non-citizens, who pay as high as 10 times what they pay in Kenyan Technical and Vocational Education and Training (TVET).
Caroline Jepchirchir from Iten, for instance, had done her undergraduate degree in Environmental Science at Maseno University, but she recently left for Finland to study diploma in Food Service.
Jepchirchir graduated from Maseno in 2017 but was not lucky to get employment. She is now a student at Tampere Adult Education Centre (TAKK) in Tampere City, Finland.
She paid Sh1.3 million before leaving the country for Finland, where she will spend two years studying Food Service.
"I applied for many jobs since I graduated in 2017 but never secured one and decided to fly to Finland for studies," says Jepchirchir, who flew to Finland through a private entity.
She says she secured the opportunity to study through MaxGlobal Group, a company that established linkages with some Finnish universities and technical training institutions equivalent to TVETs in Kenya.
Hosea Barkonga from Uasin Gishu is another example of students pursuing courses in Finland after discovering that the skills they acquired in Kenya aren't marketable.
He graduated with a Bachelor of Science in Chemistry from Masinde Muliro University of Science and Technology and is now studying nursing at Tampere University of Applied Sciences in Finland. "Learning in Finland is practical. Students are responsible for their learning and lecturers only guide the process. I chose to study nursing because it is highly regarded in Finland. I am also eying a job opportunity after completing my studies," he told The Saturday Standard from Finland.
Work in Finland
Calvin Kiplimo, 27, who headed to Finland to pursue a diploma in Foundry Work, says he hopes to find work in Finland after years of searching for a job in Kenya.
Kiplimo, who is from Elgeyo Marakwet County, graduated with a diploma in Plant Mechanics and Plant Operation, but he believes learning foundry in Finland is a dream come true.
Kiplimo said that in Finland, he is being trained by a company that specialises in foundry work. He says his brother who went to study in Finland early last year encouraged him to travel there to acquire skills and stay.
Margaret Chepkwony, the mother of Brian Kokwo who left the country late last year to study in Finland, says Kokwo will be joining his elder brother who went there in 2022.
"Two of my children are now doing diploma courses in Finland. I have worked hard to pay over Sh1 million for each of them. I want them to gain technical skills that will be recognised globally," says Ms Chepkwony, a resident of Turbo, Uasin Gishu County.
MaxGlobal CEO Cornelius Kiplagat said since 2018 when his group started partnering with Finnish learning institutions, counties have been involved, but more players have come in and commercialised the programme. Some 265 Kenyan and 135 Ugandan students who were enrolled through MaxGlobal are in various Finnish colleges and universities.
"We signed agreements to enrol students following strict criteria outlined by the colleges and universities. Counties have since signed separate agreements with the learning institutions. But together with the partner universities and colleges, we only take responsibility for all our programmes," Mr Kiplagat says.
He says his prefers Finland because the industry there works closely with learning institutions and understand the employment gaps.
Dr Carita Prokki, a coordinator at Tampere University of Applied Sciences, says Kenyan students going to Finland are admitted in groups, as dictated by Finnish laws.
Dr Prokki says most Kenyan students in Finland secured training that would enable them to work in any European Union country.
She says her university had signed partnerships with some counties in Kenya, which would assist them in the recruitment of cohorts of students to Finland, but the programme faced challenges following the change of leadership after last year's elections.
"We had not anticipated that change of leadership in Kenyan counties would result in unprecedented technicalities," she says.
A two-year diploma course in Kenyan TVETs costs less than Sh60,000 per year, and not more than Sh120,000 for the entire study period, but parents still choose Finland.
Related Topics