Home
/
Beauty
Curl your eyelashes with a spoon.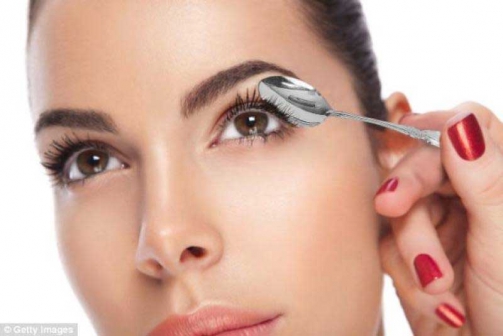 Wish you had beautifully curled eyelashes? You know, the ones that you don't need mascara to outline?
Turns out there is a special trick to achieve those perfectly curled lashes, and it's an easy one you can do at home. Do you have a teaspoon?
If so, close your eye, and place the teaspoon over your eye so that it is cupping your lid. The bottom edge of the spoon should touch the roots of your upper lashes.
With your thumb, press your lashes up against the spoon, and then push the spoon edge up to the ends of your lashes. The pressure from your thumb and the edge of the spoon will nicely curl your lashes.
After that step is complete, set the spoon aside and put on your mascara so that your beautiful lashes really stand out.
This has a really dramatic effect, and it's so easy! Caution: spoons have sharp edges, so be careful putting a teaspoon near your eye.
Further, if you want the lashes to grow longer, brushing them is the secret.
It will help get rid of dust and dirt particles to prevent clogged pores. Moreover, it will encourage blood circulation so that more nutrients reach the hair follicles.
Put a few drops of vitamin E oil or petroleum jelly on a soft-bristled eyelash brush or comb.
Use the brush to apply the oil or jelly directly on your lashes.
Continue brushing the lashes gently using upward strokes. Start from the root of the lashes and slowly move upward to the tip.
Brush for about 5 minutes twice daily until you see desired results.
Related Topics