Mirror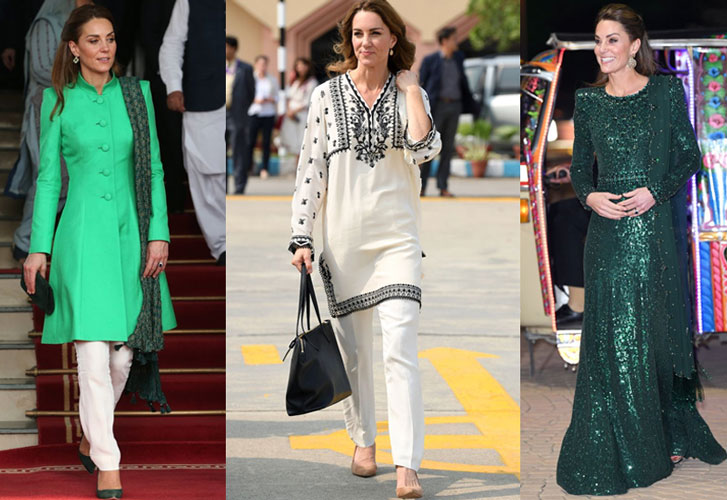 ALSO READ: Meghan Markle's bitter ex pal Jessica Mulroney 'to write tell-all book' about Duchess
Prince William walked in the footsteps of his late mother Princess Diana as he toured Pakistan with his wife Kate Middleton on a five day trip this week.
The royal couple dined with Prime Minister Imran Khan, visited children in hospital and went to an iconic mosque as they met with dignitaries and the public alike.
The Duke and Duchess of Cambridge also played cricket, watched traditional dancers and spoke with a glacier expert about climate change.
The trip included visits to Islamabad, Lahore and the countryside in the north with more than 1,000km of travelling.
In a statement released earlier this month, Kensington Palace said: "This is the most complex tour undertaken by The Duke and Duchess to date, given the logistical and security considerations.
"Pakistan hosts one of Britain's largest overseas networks, with the British High Commission in Islamabad being one of the UK's largest diplomatic missions in the world."
1. A warm welcome
ALSO READ: Meghan Markle given 'doctor' title on government website in bizarre error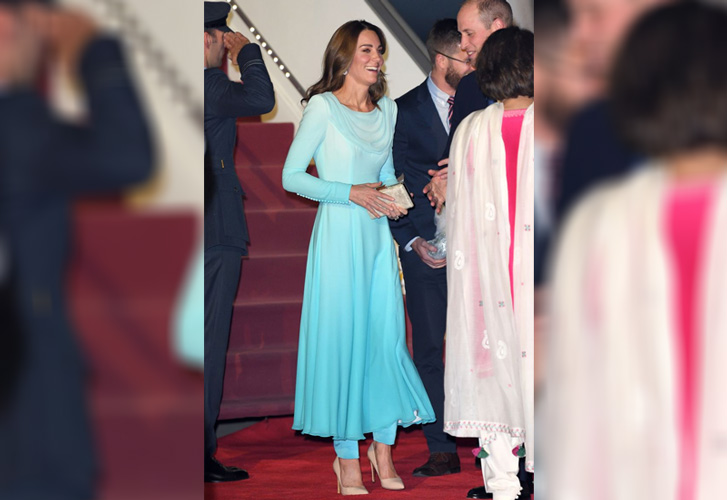 Kate and William were greeted at the Pakistani Air Force Base Nur Khan for the start of their five-day royal tour.
Stepping off in a turquoise bespoke Catherine Walker dress and trousers, Kate was met by a little girl offering her a bouquet of flowers.
(Image: WireImage)
2. Kate's New Look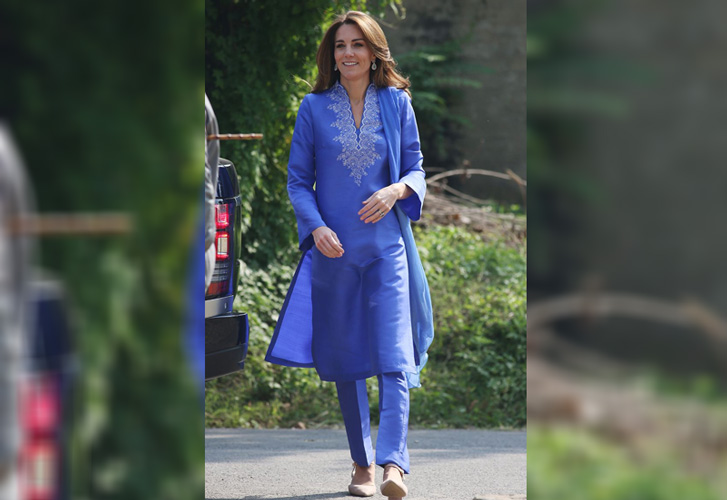 The Duchess ditched her designer, high-end brands (for her shoes at least) in favour of High Street staple, New Look.
ALSO READ: Meghan Markle 'worryingly silent' and 'struggling to cope with new LA life'
She paired her nude court shoes with trousers by Maheen Khan, a tunic by Catherine Walker, a scarf by Satrangi and earrings by Zeen for a meeting with workers and children at the Margalla Hills in the foothills of the Himalayas.
(Image: Ian Vogler / Daily Mirror)
3. Kate visits traditional village in northern Pakistan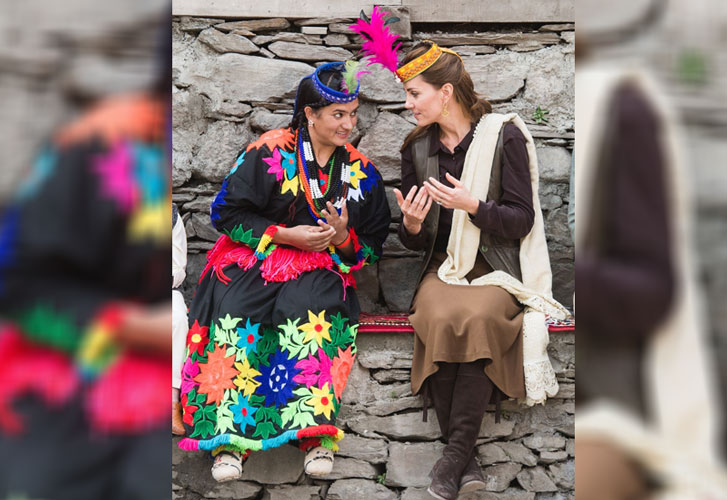 The Duchess of Cambridge wore a colourful beaded headband she'd been given as a gift by the community.
She apologised for husband William who didn't join in the dancing as they watched a performance in Bumburet, in the Chitral valley.
(Image: WireImage)
4. Kate Middleton gets to grips with Cricket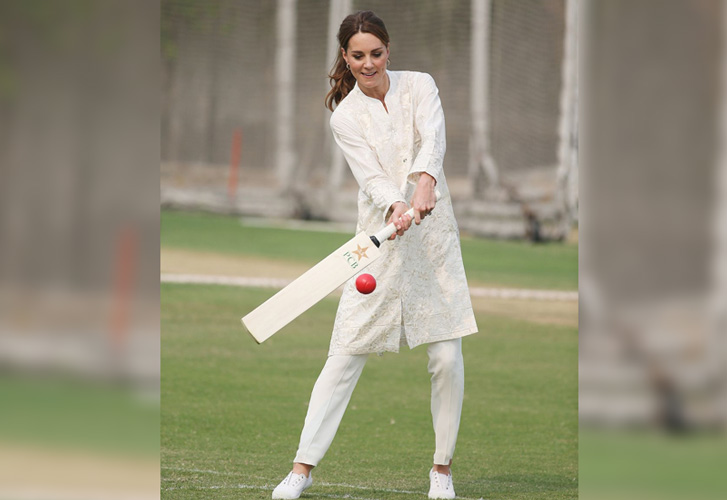 The Duchess of Cambridge wore a white shalwar kameez - a traditional long tunic and trousers.
The traditional outfit was a great choice for a sporty event, with a giggling Kate getting caught out twice in just six balls.
Prince William was better with the bat this time and managed to hit a six, which was met with cheers from the crowd and a round of applause from his wife.
(Image: Ian Vogler / Daily Mirror)
5. Kate and William meet Imran Khan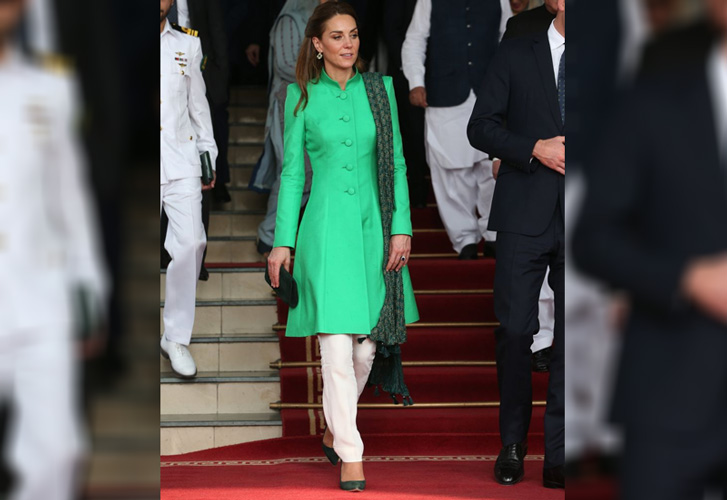 Former international cricketing star and now the country's Prime Minister, Imran Khan was a friend of William's late mother Diana, Princess of Wales.
Diana visited a cancer hospital in Lahore as a guest of Mr Khan and his then wife, Jemima Goldsmith, in May 1997 - just three months before she died.
Kate chose to wear green and white to meet Mr Khan, in a similar look to the one Diana wore more than 20 years ago.
(Image: Ian Vogler / Daily Mirror)
6. Head bows as the couple visit Mosque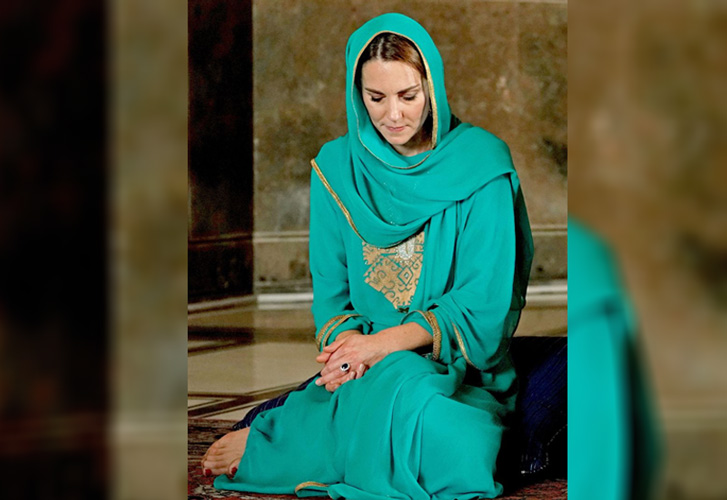 Kate and William visited the Badshahi Mosque as Princess Diana did in 1991.
Just like her late mother-in-law Kate wore green and a matching headscarf for the visit to the holy site.
The royals sat and listened to a reading from the Quran while sat cross-legged on the floor.
(Image: Getty Images)
7. Green for the British High Commissioner to Pakistan's reception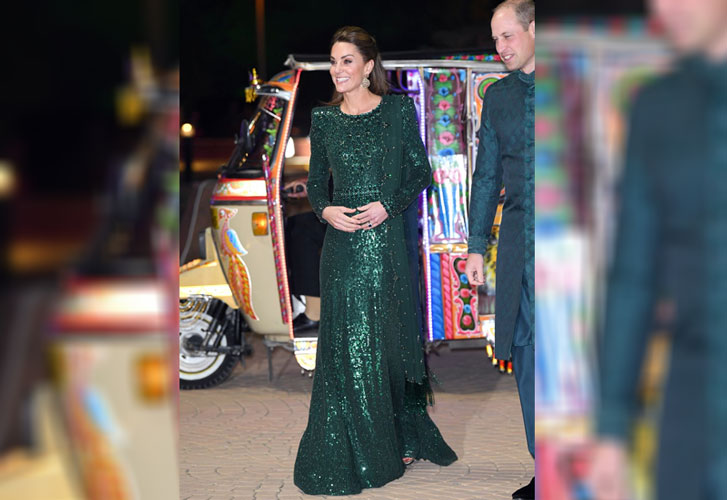 The royal couple both donned dark green as they arrived for the reception at the hilltop Pakistan Monument, in a brightly coloured tuk tuk.
Prince William gave a speech at the event aimed at highlighting Pakistani culture, with guests including government officials, business leaders as well as music and film stars.
(Image: WireImage)
8. Casual Kate gets ready to fly home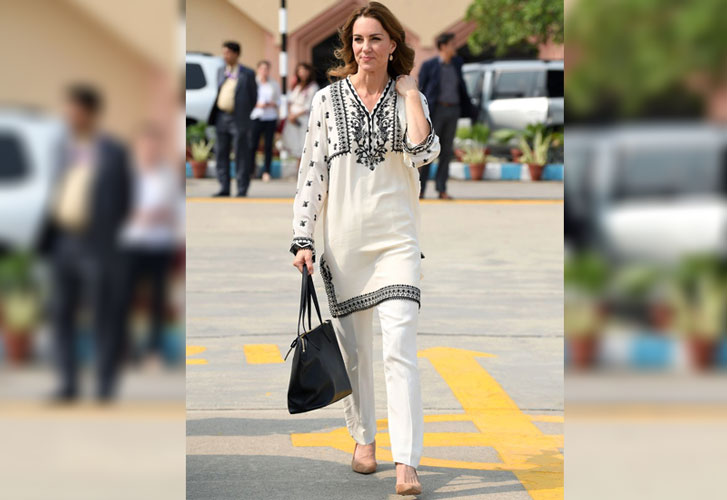 The duchess can be seen wearing black and white as she arrives at Lahore airport with the Duke to take their flight back to Islamabad on Friday.
Heavy storms prevented the RAF Voyager carrying the Duke and Duchess of Cambridge and the media from landing in Islamabad on Thursday night and they were diverted back to Lahore airport.
(Image: WireImage)