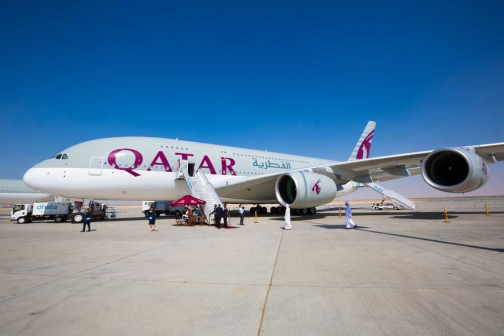 ALSO READ: Grimes unveils what baby name X Æ A-12 means after welcoming son with Tesla CEO Elon Musk
A plane was forced to make an emergency landing after a furious wife discovered her husband's affair mid-flight.
The Qatar Airways jet was en route to Bali from Doha on Sunday when it had to divert to Chennai due to the mid-air drama.
The woman is believed to have unlocked her sleeping husband's phone by placing his finger on the home button.
She is then said to have started a fight after discovering evidence he was cheating on her, the Times of India reported.
The Iranian woman, who was travelling to Indonesia with her husband and their young child, had reportedly been drinking and became unruly when flight crew tried to calm her down.
The pilot made the decision to divert to Chennai, India, where the family were removed and the plane continued on its journey to Bali.
The couple and their child later flew to Kuala Lumpur where they boarded a flight back to Doha.
ALSO READ: Victoria Beckham's plastic surgery 'exposé' after claims she's 'never been tempted'
India's Central Industrial Security Force confirmed the incident.
An official said: "A lady along with her husband and a child, all Iranian nationals, were offloaded by Qatar Airline as the lady passenger (who was intoxicated) misbehaved with crew members in-flight.
"They were sent to Kuala Lumpur by Batik Air flight 6019 for further travel to Doha."
Qatar Airways told the Times of India: "In respect of passenger privacy we do not comment on individual cases."
Do not miss out on the latest news. Join the Eve Digital Telegram channel HERE.