Gardy Chacha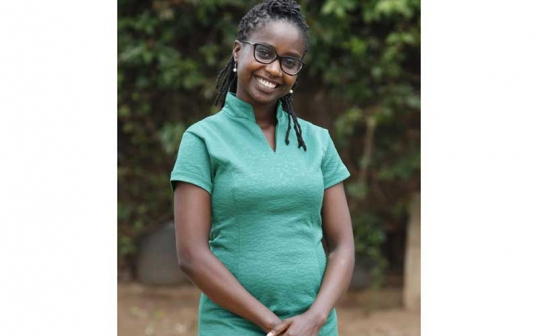 ALSO READ: Zindzi Mandela: South Africa's former first lady, apartheid heroine dies at 59
Sally Ndung'u, 27, is a medical doctor and the vice president of an advocacy group working towards world peace and nuclear disarmament around the world. How did she get there at such an early age? She tells Gardy Chacha that it wasn't by sheer luck but through focus and deliberate dreaming
If any number of people had come across Sally Ndung'u 27 years ago, few would have predicted that the she would one day be at the forefront of global advocacy for peace and nuclear disarmament.
Sally was the daughter of an army officer and a stay-at-home mother who operated small businesses. There was nothing to suggest that she had an extraordinary upbringing.
"My parents could provide for us. But we weren't rich. We were your average family that went through its fair share of struggles," Sally told Eve, shortly after the organisation she represents was nominated for Nobel Peace Prize last month.
Sally went through the 8-4-4 system of education that over the last three decades has produced successes and failures — almost in equal measure.
"I went to Our Lady of Mercy Primary School in South B. I cleared higher primary at Bellevue Academy," she says.
Today, Sally is Africa's regional vice president for International Physicians for Prevention of Nuclear Weapons (IPPNW), an advocacy group working towards world peace and nuclear disarmament around the world. On the continent, she is the highest ranking official of IPPNW.
ALSO READ: Kenya's Amina Mohamed for WTO top job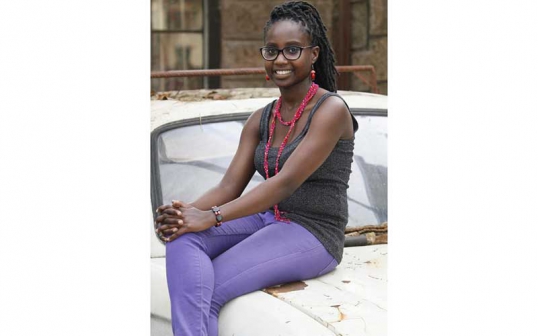 Her election took place during the organisation's Health through Peace conference at University of York in the United Kingdom — and at 27, she became the youngest ever vice president in the history of the organisation.
Don't be fooled by her small frame. On the physical scale, she may not weigh much but she has achieved more than an average woman of her age.
She is a medical doctor working as a medical officer at Karatina sub-county hospital in Nyeri.
"When I was asked to fill up nomination forms, I was not sure myself that I would be elected," she says. "But I went ahead and filled in my details."
Such is the positivity that Sally has exuded through her life. Everyone, she says, needs a dose of positive attitude if they want to achieve their goals.
"It is true that there is luck. But without a positive outlook, it becomes difficult to move forward," she says.
ALSO READ: KenGen MD Rebecca Miano joins World Bank Group's Advisory Council
Sally's boyfriend, Kamiti Muchiri, also a medical doctor, has only good things to say about her. "When she sets her mind on something she does not rest until she gets it done," he says.
That Muchiri believes Sally is beautiful is given. What would be awesome is the fact that he adores how she focuses on achieving her goals.
"If one is to achieve their goals they would have to be principled. She has her priorities right. I understand how the life of a doctor can be tiresome and that is why I am amazed at how she is able to handle everything in her life," Muchiri says.
For many of us, the life we are living today is just but another side of a rolled dice. The same may not be said about Sally.
Sally traces her journey back to the time she was 12 and in Standard Six.
"Back then I wanted to be a teacher," she says. "That dream, I believe, is still with me. I believe I will head back to the classroom someday but as a lecturer," she says.
When she was 12 she became conscious of how she would want her life to turn out. Before that, she had been a girl who loved books; a pupil who read with the sole purpose of passing her exams.
After her first year in high school, Sally, who was then a studying music as a choice subject, had imagined a career as a music therapist: the art of augmenting music for healing.
"But then very few people seemed to understand what this was. Many people thought I wanted to be a musician and this was confusing a lot of them," she says.
Music therapy is an art she became acquainted with through a professional music therapist who was adept at her work. It was fascinating for young Sally to see healing delivered through combined rhythm from poetry, notes and instruments.
By the time she was sitting her KCSE, Sally had determined that perhaps music therapy wouldn't strike the right tone with her parents.
"I wasn't giving up on music therapy but rather re-calibrating to achieve my ambitions through an alternative channel," she says.
The perception music therapy created caused her to go back to the drawing board. She needed to find something else if she was going to be successful in explaining it to her parents.
Scary matters
"At the core of music therapy was giving healing, which is what doctors seek to give to ailing patients. That is how I narrowed my choice down to medicine."
Her parents supported her choice, why wouldn't they? African parents, Sally jokes, love it when their children choose careers like medicine.
"Medicine? Yes. As for music therapy, they would be asking if I have lost my mind," she says, trailing off with a hearty laugh.
In 2009, Sally joined medical school at University of Nairobi. She first came across IPPNW in 2012.
"I got interested immediately I learnt that the organisation's objectives were peace and a call to avert nuclear crisis," she says.
Peace appealed to her because she has witnessed countries slide into anarchy. Nuclear arms frightened her because she knew too well the catastrophe they can inflict on the planet.
Nuclear agents, she says, cause cancer. The effects of Hiroshima and Nagasaki, she reckons, exist to date - mothers giving birth to deformed babies or foetuses with congenital abnormalities.
"It is scary," she says, "My work at IPPNW is advocacy towards nuclear disarmament by all countries. When I talk to people in Africa, I get shocked at times by those who believe that a nuclear war may not affect Africa. This is a fallacy," she says.
Big dreams
She explains, with precise scientific delivery, how a nuclear war may lead to nuclear winter and how that would deprive billions of food.
Today, Sally works in the paediatric unit of Karatina sub-county hospital. She plans to get married to Muchiri. She wants to be a mother to two boys and a girl.
Depending on how her marriage plans pan out, she will go back to school and enrol for a master's degree. Somewhere in the distant future, she will teach at a medical school.
"I am a planner: I don't like being caught off guard," she says.
Every girl, she says, should plan to achieve their goals. "We ought to be brave. We should manage to move towards that which we hope for ourselves. You can't just let life be and watch as it happens."
Sally does not believe that destiny is cast in stone but rather the collective result of one's own actions.
In other words: she is a doctor today because she decided to become one. If she is a vice president at IPPNW, representing Africa, at age 27, it is because she wanted to be just that.
And now she is planning her future: a future as a wife, a career woman, and a mother of three.