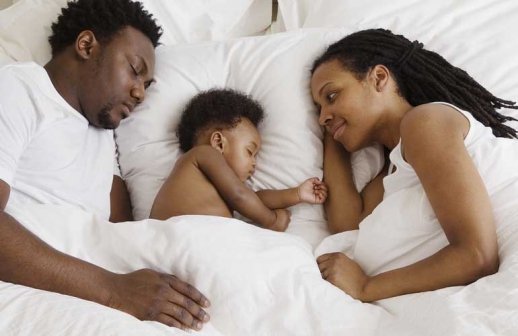 Various studies have shown that a couple's intimacy and marital satisfaction goes down after the birth of their first child.
Janet, a newly-married accountant, had looked forward to the birth of her first child. But when their bundle of joy arrived and the months went by, she found herself distressed.
"Ever since the arrival of our baby who brought so much joy. However, our marriage has suffered and intimacy has been affected greatly. The long sleepless nights, many hours of feeding, diaper changing, and general fatigue, seem to have taken toll on us.
My hormones are acting up and I am very moody, feeling depressed and unhappy, as a result my partner has chosen to stay away from home for longer hours. As a result, conflict has become common," she confesses.
Hormonal changes, physical demands of childbirth, and an abrupt shift of schedule causes high stress levels for the nursing mother. The father is not spared as he has to contend with lack of proper sleep, a fatigued wife whose attention is on the newcomer.
The new parents will inevitably go through some changes once the baby comes. As much as the baby was anticipated, the new addition to your family does come with some adjustments. The change begins long before the baby comes as pregnancy brings with it some emotional and physical challenges.
As you enjoyed the romantic stage in marriage, it was just you and your spouse where you were able to explore, experience and enjoyed each other without interruptions. It was easy to plan your time and schedule as it involves two consenting adults.
READ MORE
Previously, you could kick back and sleep for long hours over the weekend. Once the baby comes, even having a shower needs planning. The new member of the family has taken away freedom to do whatever you desire.
The stress of the new born is a major factor and, more often than not, several couples struggle with fitting in this bundle of joy without hurting their relationship. Before you adjust to your new role of wife, motherhood knocks and the demand can be overwhelming if not well prepared, and it may even affect the best of relationships.
A lack of perceived emotional support, lack of sleep, lack of sexual intimacy, stresses of the new responsibilities, increases marital conflicts, loss of energy, irritability, a shift in intimacy, unmet expectations become constantly evident and as a result, dissatisfaction and anxiety brings about constant conflict. Generally, the woman begins to have greater demands on her husband as she needs his support, presence and participation, this invites conflict if not well handled.
Mental health professionals now emphasize the importance of couples undergoing professional advice and therapy as they prepare to have a baby. The importance of being well prepared as a couple cannot be over-emphasized.
Today medical centres, medical practitioners, midwives and doulas (birth coaches), provide physical and emotional support, teaching relationship skills alongside childbirth education classes.
Here are a few tips to help you cope with the challenges:
• Child birth preparation classes may help alleviate the initial stresses of a new born and prepares you for your new role as parents.
• Structure your time with your spouse and prioritize. Work on a routine for your baby.
• Spend quality time with your spouse at home and away.
• Accept all the help you can from family and friends and ensure you have good home support.
• Be creative on enhancing intimacy; recreational, social, spiritual, emotional and intellectual. Involve your spouse, affirm them and appreciate any form of support.
Many people depend on what they have heard from friends and acquaintances concerning childbirth. We are in the information age and one cannot afford to remain ignorant.
This is not the time to hold onto romantic illusions and assumptions that you will be great parents for life; it is a time that getting it right from the beginning will help shape your marriage. Bridge the gap of expectations and reality by seeking professional help before the bundle of joy arrives.