Beryl Wanga Itindi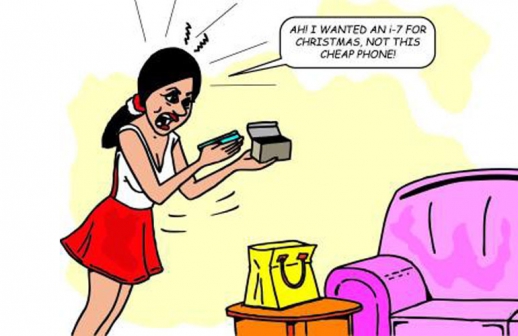 Christmas is just hours away and I am sure most people are in the process of getting gifts for others. Some have already delivered or received their gifts but some hearts are still filled with rage, not because they did not receive any gifts but because of the raw deal they believe they got.
As much as we all agree that we should receive any gifts and appreciate them, some givers have taken advantage of that thought and are out to step on other people's toes.
A good example is the 'Blind Santa' wave that has hit not just organizations but families as well. This act involves buying each other gifts blindly. For instance, people in a clique pick hidden names at random and keep them secret till the day they will be delivering their gifts.
So everyone expects a gift on a specific day though no one knows from whom. This leaves people with lots of expectations.
Now this is the saddest part about this blind Santa business. Some people are taking others for a ride. For instance why would you expect to receive more yet you are not ready to part with more?
Even if you end up picking the name of someone you are not close to, this game dictates that you put a smile on their faces. Do not bring your feelings into the game. That you walk out of it with a smile on your face while your Santa frowns all the way is an insult.
This happens mostly in organizations. In a working environment, we tend to know what you are capable of doing and what you are not, so there is no way you will buy your Santa a pair of scissors as if you saw them struggle to open a packet of milk using their teeth yet you walk away with a pair of boots!
I have been in enough groups that practice 'Blind Santa' and I have seen enough of such people who take others for a ride. They are the same reason some groups have ended up putting a price tag on a gift thus making the whole issue about giving meaningless.
A gift should have no conditions attached to it for people to feel its impact. When you get to the point of writing down rules for Christmas gifts, it loses its whole meaning. This is exactly where this crop of individuals has led us to.
If you are not going to buy your gift wholeheartedly, you should not even pick a name in the first place. Exclude yourself from the whole exercise and spare us unwanted drama during this festive season.
As we all look forward to gifting our loved ones this Christmas, let's ask ourselves whether we are doing it out of love or out of pressure.
If by chance you realise that something else other than unconditional love is driving you towards the act of giving, with all due respect, unwrap whatever it is you have wrapped and keep i8. We give not because we are forced to but because we want to.
Gift or no gift, I wish you all a Merry Christmas full of love and happiness.