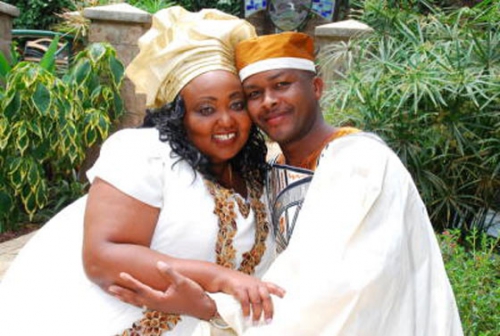 When Kariuki Maringa went online to look for a Valentine's Day date last week, his hashtag #bea4kiki ended up trending on social media. "I know how to create websites and I can play with words to create something interesting so I did it. If I was a painter, I would paint. This is my expression.
ALSO READ: How coronavirus is altering online dating
I actually designed the website Monday morning and posted it at 1:30 pm. I expected my friends to have a laugh then share it but more people than I anticipated actually shared it."
The website gave a brief biography about Kariuki, so brief it can be captured in two sentences — he is a freelancer and is looking for someone who can share his love for avacados — then he puts two funny looking pictures and a video of him pretending to sing Luther Vandross's "My Endless Love".
At the bottom of the website, he puts a countdown timer to Valentine's and a contact box where interested ladies were supposed to give their name, e-mail address and telephone number — which should be a turn off since women would normally not give their contact details to a random stranger. But Kariuki actually got more than 100 requests, some just saying, "lets do this, I love random stuff too."
As basic as this sounds, the hashtag became so popular that it attracted freebies from various companies; he was offered a concierge car and dinner at the Serena Hotel for himself and a date.
Is Kariuki looking for something that could develop into a serious relationship on the Internet? "If I was older I would probably not do it because it would be a high pressure but right now I do not feel pressure. It is not a serious thing, it was just for fun. It really does not matter. It's never that serious. This was purely for fun."
Kariuki's story leads one to ask, "Can real love be found on the Internet?" Rosemary Mutuku, certainly thinks so, she met her husband on a Kenyan dating site, "I was getting on in years and was not meeting anybody new. All my friends were married and I would sometimes hang out with them, their husbands and their younger brothers so my circle had been exhausted. I had not been on a date in a year."
Therefore, Rosemary did what any ordinary woman in her position would do, she sought divine intervention, "I went whining to my Priest and told him I did not want to get to 40 still not married. So he suggested I go online and because I am adventurous I thought why not."
ALSO READ: Woman takes ultimate revenge on date who tried using the same trick twice
Thus begun Rosemary's online dating escapades for the next three years, "I put my picture and filled out as many details as possible, of course I did not give my phone number and personal details. Then I waited.
The rules for online dating are the same as regular dating, any guy I hit on nothing came of it. Sometimes it was not even a date and even if it was a date you could see he was not interested. So I stopped pursuing. Then I began getting dates one after another. It was raining dates because there were all these men online who were also searching for somebody."
The dos and don'ts
Having an active social life killed the monotony of going to an empty house every evening after work. "After a month of having two dates a week, I got tired so I slowed it down a bit which meant I became extremely choosy as to whose profile I responded to," says Rosemary.
In the three years that Rosemary was online, she met five men – including her husband- who were dead serious about getting married but she had to sift through many men to get to the five. "Being a woman, I read a lot about online dating. I had to read about the do's and don'ts. It was very clear that online dating can be fun but it can also be very dangerous because there are crazy people out there.
Unfortunately, most people in Kenya are not looking to actually get someone. They do it for fun. Fifty per cent are young guys who just want to have sex, while only 2 per cent want a serious relationship and of that 1 per cent are not in Kenya. Half of the remaining 48 per cent are married while the other half are conmen."
Proceed with caution
For More of This Stories Subscribe to the Standard Epaper to get a copy of Eve Woman in the Standard
Rosemary came across a man who goes online to primarily prey on professional women who seem to have money so he can get into their bank account. "This guy had the most fantastic story, he was 10 years older than me – I was okay with the age gap – he told me his wife died a long time ago and raised his kids on his own.
Although he met my friends in the month we went out, I never met his family. He worked for an insurance company and at that time I was looking for a car and told him to get me a cheap one, because insurance companies normally sell cheap cars. Then I changed my mind because it ceased to be a priority, and immediately I said that, he stopped calling me."
Online dating in Kenya is a Pandora's box, Rosemary says, "Do not be too quick to give your number. Give them a hard time. Play hard to get. Because men love the chase, something's are just natural. I have heard my younger brothers saying they like women who hit on them but they married women who they hit on. So play hard to get, tell him you want to chat a little bit."
Rosemary recommends moving the conversation from the dating site to email, once you have known the man for a while. But suggests getting another email address specifically for the online dating site, "first I gave myself a name, I called myself Tausi, then created an e-mail address with another name not my real name because I did not know who I was dealing with.
Then proceed to get to know the person by chatting with them, initially, I had to be so disciplined when logged in because could be online chatting forever instead of working. It's was the beginning of a relationship so it was a lot of fun.
Once I felt comfortable and 100 percent sure he was not married – especially men over 40 years I asked them several times if they were married before meeting them and they did not want sex. Then I would meet them. In those 3 years I did not do online dating continuously because I got fed up with meeting men who were making sexual advances."
OK with desperation
When Rosemary told her friends, she had gone virtual in her quest for love, "they told me I was desperate. Then I would get defensive, until I came to the realisation that it was true – I did want to get married. So I guess you could have categorised me as desperate. But what is wrong about wanting to get married?
There is nothing bad about it, so one should not beat themselves up, it's what you do about it that makes it wrong. If you go for the first man who comes near you, or cohabit with a married man, perhaps go as far as stealing a friend's boyfriend even for a night that is wrong," she says.
"I feel society condemns women for being desperate to get married, yet when one is getting old and no one in sight that is a very desperate situation, especially because women cannot chase men. The word – desperate- was thrown at me –until I accepted that I was and did something about it, which was go online. So I would advise women to go online telling God to send them that person but also being very careful."
Once the conversations moved to a face to face meeting Rosemary came up with a couple of ground rules, "I would tell someone where I was going, like my best friend. She needed to know where I was going, what time I was meeting the guy, she also had his number and finally I gave her a specific time that I would call her. Just for safety. And if I did not pick the call she would come to the venue. "
Rosemary goes on to say, "you must meet in a public place and not enter his car. Also meet him in the restaurant and do not let him drive your car. Then the golden rule do not be too quick to have sex with this guy, in fact wait until marriage.
Be a lady do not use swear words even online, if he does tell him you do not like it. Also, this is a stranger so do not leave your drink unattended even if you have to go to the toilet. Furthermore you can go with a girlfriend on your first date who will chaperone the date from a distance."
A breakthrough
After various ups and downs that helped Rosemary draw her rule book for internet dating,
"I actually wanted to cancel the date with my husband (because I was fed up with online dating) but my husband had pursued me online for 2 months before we met, so decided to meet him. What surprised me about that first meeting is that my husband asked me if he could tip the watchman who was looking after my car."
"The date was over but that single action made me look at him twice. Because it showed me that he thinks about people, which is true to this day. He is a generous tipper. He thanks people who serve him, even at home he is considerate to the house help, and he will offer to take care of the baby if she takes the day off and I have to work. Also another big plus for me is he never talked about sex even once while we were dating," she narrates.
After the first date things moved fairly quickly for Rosemary, "our courtship was very fast, we met in February he engaged me in June and then a year later we were married. He says he knew immediately he met and started talking me that we would get married. He proposed in the middle of a quarrel but I did not register then I got a phone call and that gave him a chance to pull the box from his pocket," Rosemary says.
"Then I continued quarrelling, not looking at his hands. 'I was telling him Jackson you never listen, you never listen to me,' then he changed the subject and said - will you marry me. He was holding the ring but I was looking at him not his hands. So I did not notice the box and said, 'You see Jackson you do not listen", then he repeated, "Will you marry me?' and lifted the box. I screamed the restaurant down," she says.
Happily ever after
Rosemary and Jackson have been happily married for two and a half years with a daughter, "I knew he was going to ask me to marry him because he talked about marrying and living with me all the time from our second date.
Also I met his parents on our second date. Then when I met his parents, they realised they knew my parents, we used to live in the same neighborhood as children although we cannot remember. We usually say probably we used to play, unknowingly, chamama na chababa together."
Rosemary says, "marriage has turned out to be exactly what I thought it would be. The top thing being I am not lonely anymore – I have a husband and a child to go to, who would not want that. If you put the proper mechanism in place during online dating it can be fun if you remove the stigma from it and you are careful it is fun.
Online is just one way of meeting somebody. So we should stop being scared of it and start looking at it as an avenue of very happy families in the future."
As for Kariuki, "It's been a hectic week because I have to respond to e-mail carefully, if I say something off, then someone could take a screen shot so I look forward to next week with no hashtags."
Do not miss out on the latest news. Join the Eve Digital Telegram channel HERE.