Elvis Ogina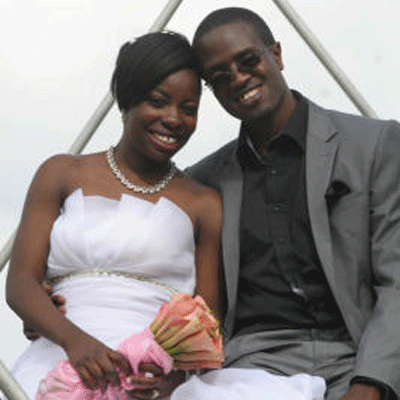 ALSO READ: Tie the knot in style: You can now apply online for marriage services
GROOM: Jesse Kimani, 29
BRIDE: Claire Eboi, 25
DATE OF WEDDING: October 19, 2014
CEREMONY: PCEA Muteero Church, Karen
ALSO READ: Women who lift: Elizabeth Akinwale
RECEPTION: Jockey Club, The Ngong' Racecourse
INVITED GUESTS: 800
BUDGET: Sh1 million
ALSO READ: Woman, 29, had world's second longest pair of legs - and loves showing them off
PHOTOS AND TEXT: Elvis Ogina
HOW THEY MET
Jesse: I met Claire at USIU when I was in charge of 'Choose Life' programme, which was running in colleges and universities in 2009. I was studying Marketing and Claire was studying HR Management. I then recruited her to be one of the supervisors of the programme. We bonded and became friends. Later, I invited her for dinner at a friend's place. It was supervisors' dinner, my friends knew that I liked Claire, so they planned the seating so that I would sit next to her. During the dinner, I asked her if we could be more than friends. She kept quiet for a while, then accepted later.
THE PROPOSAL
Claire: He tagged me along to Naivasha's Cray Fish Camp. He was going to check out on preparations for the next supervisors' retreat.
Jesse: That's where I finally told Claire that I love her, and I would like to marry her. She was shocked though she had expected it.
Claire: I didn't know that was the day Jesse he was going to propose. We ended up spending a lot of time bonding. He didn't even get a chance to do the site check.
THE DRAMA
Claire: We didn't have a wedding planner, so I just took care of the planning myself. One thing we didn't consider though, was the hawks at the reception. Those who sat by the terraces opposite the main tent, had to hold on to their food tight as the hawks kept on swooping down to claw chicken and chapatis from their plates. Let's just say everyone had to be hawk-eyed!
MEMORABLE MOMENTS
The entertainment at the wedding by Kayamba Africa was great. The singing and dancing carried the day. Also, a friend named Benedict who works for a water bottler branded the water bottles that each guest got. We had our picture on every bottle. We also looked forward to our honeymoon in Dubai.
IN HINDSIGHT
The hawks - that caught us unaware.