Home
/
Achieving Woman
Meet Carole Okoth, hockey player and medical doctor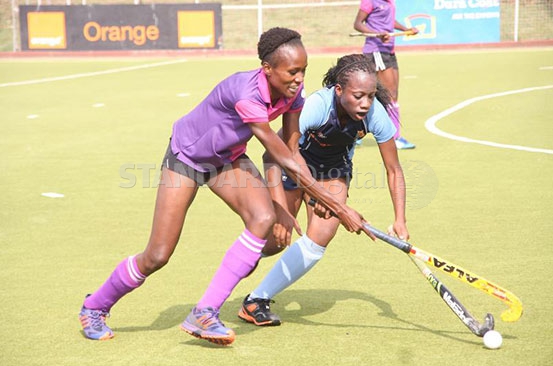 For over a decade, former Kenya international Carole Okoth has created a place in the hearts of hockey players and is a treasure at City Park Stadium.
Armed with her sticks bag and a medical kit, her arrival is always anticipated not just by her Vikings Club teammates but also other players she attends to whenever they need assistance.
Carole, who is popularly known as Daktari in sports circles, has selflessly served others without expecting anything in return.
As great Greek physician Hippocrates said that wherever the art of medicine is loved, there is also a love of humanity and she has been true to her calling.
With most clubs lacking proper structures and finances to acquire the services of team doctors, Carole always saves the day.
Passionate about hockey, she resolved to give back to the sport she loves after graduating from medical school despite her career's demanding nature.
Aspiring to walk in her father's footsteps and a dream to play at the Olympics set young Carole on the path to success as she strived to excel in both academics and sports.
Her sister Angela is also a sportsperson, playing basketball so she uses Carole instead of Okoth to differentiate her from the sister.
She remembers with nostalgia her primary school years at Loreto Convent Valley Road where she started out as a sprinter.
"I loved sports and I always dreamt of representing Kenya at the Olympics. Kenyan runners were shining in global events and it ignited my interest because I believed that running would get me to the Olympics and make my dream come true," Carole said.
As a child, she never shied away from taking up new challenge and it was while in class five that a teacher introduced hockey in the school.
"I was fortunate to have been introduced to hockey while in primary school because until now it is only played in secondary. I gained interest when I saw a lady who was on teaching practice train my schoolmates and I decided to give it a try," she added.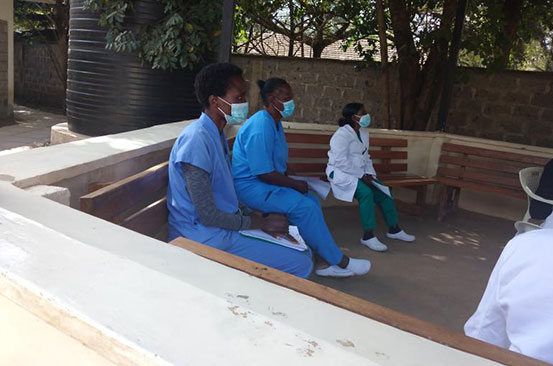 Even though there were no competitions for primary schools, they would play friendly matches with Loreto Msongari and Cutchi Gujarati Hindu Union (CGHU) School.
She fell in love with hockey and played as a forward before switching to defence.
"I loved hockey from the onset and I think it is because of my running abilities because I could outpace everyone on the pitch.
"I also came from a family that loved sports and we would watch matches on television, because of my brothers we watched more football but also had time for other disciplines," she added.
In 1998, she joined Precious Blood Girls High School Riruta but didn't take to the pitch until the Third Term. "In school, I also played volleyball and athletics but hockey was always my first love."
Upon returning to hockey, she switched positions from attack to defence leading her school to the 2000 and 2001 national secondary school games.
"Our school had never qualified for the national games and I was very happy to be part of the history making team for two years."
After the 2001 Term One games, she concentrated on academics with the aim of qualifying for university.
"My school was an academic giant and my family expected nothing short of excellence from me. I grew up admiring my father who is also a doctor and having made medicine my first career choice, I worked hard to meet the requirements for medical school," Carole said.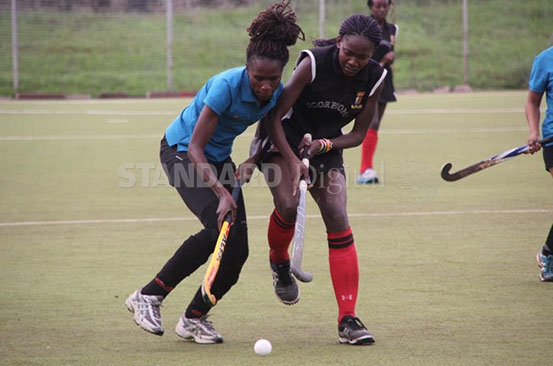 Her efforts paid off and she joined the University of Nairobi School of Medicine in 2002. Prior to that Carole had accepted an offer by Tony Raposo and Marie Aran to play for Vikings Hockey Club.
"They (Raposo and Aran) had coached me in Form One and Form Two and also followed my progress over the years, so after Form Four they asked me to play for Vikings and I accepted."
The same year she was included in the Kenya Select side that played a visiting India team.
"I enjoyed club hockey because playing against sides like Telkom, Blue Eaglets and Sliders in the women's league was an achievement for me. Being considered for the Select side made me feel closer to my dreams of playing for the country."
However, trouble started when she started chasing her medical degree because her father wanted her to concentrate on her studies.
"I used to carry my hockey stick to class and one day I asked my father to drop me at the training. He told me that I should concentrate on studies and stop playing. He reluctantly allowed me to play on condition that my studies don't suffer after I convinced him that I will work hard."
Despite yearning to play for the national team, Carole was forced to shelf her desires and only played club hockey.
"The medical course was very demanding and I had to sacrifice one dream to achieve another and so I played only at club level so I could focus on my studies."
After graduating in 2007, she embarked on achieving her hockey goals.
"I felt that I had a chance to play for Kenya after earning my first degree. I have a strong religious background and I prayed to get an internship in Nairobi. God answered my prayers and I was posted to Kenyatta National Hospital which made it easy for me to train with the national team."
She earned her first cap and was also named the team's vice captain for the 2008 Beijing Olympic Qualifiers held in Azerbaijan.
Nonetheless, being on internship would mean that she could not leave until she had served for a year. Not ready to give up on her aspirations, she requested to be allowed to travel and in turn she would extend her period.
Carole was permitted to travel as both player and team doctor.
"It was a memorable moment for me, I was just an intern and being appointed team doctor made it worth the wait. We didn't qualify for the Olympics but I gained exposure and also discovered that there was a role for medics in sports," she said.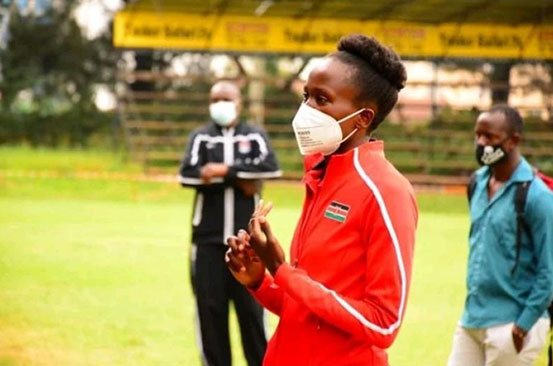 In Azerbaijan, Carole sprained her ankle.
"I got a lot of support from the physiotherapist and the tournament doctor, it was a fantastic experience."
She proved herself on her first assignment and it opened doors for her. In 2009 she was appointed the Africa Cup of Club Championships tournament doctor.
Carole was selected as a doping control officer for the 2010 Africa Senior Athletics Championships held in Nairobi, KASS and Standard Chartered marathons. She was also appointed the national Under-17 Youth Olympic qualifiers team doctor in the same year and traveled with the team to London.
"I was humbled following the London assignment because it was great vision from the Kenya Hockey Union to give such an opportunity to a female doctor to work with the upcoming players, more so the young girls because I believed that they needed a fellow woman to articulate their issues," Carole said.
On her return from London, Carole knew that she wanted to serve sports longer but not as a player. She decided to retire from international duty after the 2011 All Africa Games having achieved her wish to play for Kenya.
"I learnt a lot in London from other doctors and I wanted to apply the same back home. I wanted to sign off on a high and so, winning silver in Bulawayo, Zimbabwe was a good exit for me."
She returned to post-graduate school but would honour appointments as team doctor for the national hockey national teams in 2013, 2014 and 2015.
"I'm very grateful to my colleagues who supported me and helped me succeed."
Her star kept shining and in 2015 she was among the Team Kenya doctors who travelled to Brazzaville for All Africa Games.
"This was the first time I was attached to a larger contingent from different sports disciplines. I got a chance to interact with other doctors who were very supportive," Carole added.
She graduated in 2017 and was later registered as a physician after fulfilling all the requirements including two years of practice.
In 2018, she travelled with Kenya's team to the East Africa Community Games in Burundi and in 2019 she was with the Under-20 team to ANOCA and the Beach games.
She says that her interest became stronger after her first job placement at Mbagathi Hospital.
"I met two doctors who were also working with the national teams and they encouraged me, pointing out that sports needed female doctors. They walked the journey and guided me."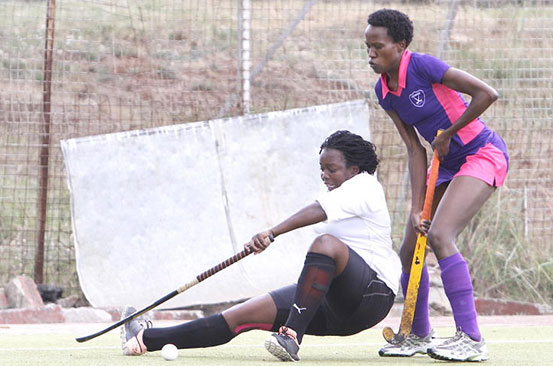 In 2018, her mentor Dr Julius Ogeto urged her to apply for a place on the National Olympic Committee of Kenya (NOC-K) Medical Commission and she was accepted.
Having missed a place on the Rio 2016 team, Carole never gave up and kept hoping that she would get another chance to go to the Olympic Games.
She was close to achieving her dream after she was appointed the Chief Medical Officer for the Tokyo 2020 games but was forced to wait longer after the games were called off due to the Covid-19 pandemic.
"I always wanted to represent Kenya at the Olympics, even though I always desired to go as a player now I have a chance to represent my country as a medic and I look forward to the Games in spite of the delay."
Carole works at the Spinal Injury Unit and is now part of the Ministry of Health Covid-19 response team.
"Right now, I have decided to stop playing and focus on my calling as a medic, I doubt I will return soon to action but in future, I will play in the Masters league. Kenyans need my support and services now and I want to give my best to them."
Being on the frontline of the battle against the coronavirus, she urges all to keep safe and avoid unnecessary movements which would expose them to the virus.
To upcoming players, Carole says that they should take their academics seriously because playing careers are short-lived and they will need something to fall back.
"One must strike a perfect balance between sports and academics. It is very sad that some of our sportsmen struggle to survive beyond their playing years.
"One should think of what they can offer sports when they can no longer play."
Would you rather see the future or change the past?
Related Topics