Israeli connection in Westgate Mall terror attack
THE COUNTIES
Was Kenya paying the cost for its Israeli connection? That was the question many were left asking when terrorists killed more than 60 people and injured hundreds at Westgate shopping mall on September 21.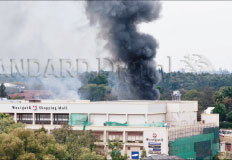 By - PROTUS ONYANGO | 8 years ago
Slain poet: Ghana's Kofi Awoonor, cut down in Westgate Mall terror attack
Kofi Awoonor was attending a literary festival in Nairobi when he was killed in a siege at a Kenyan shopping centre. Ghanaian journalist Elizabeth Ohene looks back at the life of one of Ghana's most prominent men of letters:
BBC | 8 years ago
Let Westgate horror open our eyes to rebuild Kenya
On Monday morning, there was a single tweet that finally brought me to tears, in an anguish that, as the now dead-at-Westgate Ghanian poet Kofi Awoonor once wrote, had seen the tears out of reach on something just too big.
Jenny Luesby | 8 years ago
Ghanaian poet, TV anchor die in attack
On Sunday, top celebrities, media personalities and hundreds of fans across Africa joined family members in mourning the deaths of celebrated Kiss TV presenter Ruhila Adatia and Ghanaian poet and diplomat, Kofi Awoonor, who were caught up in the Westgate Mall attack on Saturday.
By STEVENS MUENDO | 8 years ago