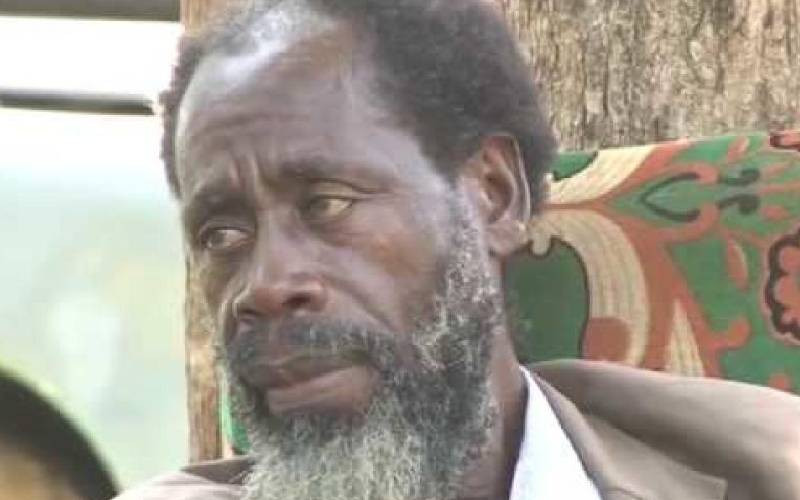 A man who claims to be a reincarnated John the Baptist has been summoned by the Directorate of Criminal Investigations (DCI).
Ronald Wanyama, the self-proclaimed Nabii Yohana V from Nandolia village in Kanduyi, is required to shed light on his Muungano Church of All Nations.
"I'm not harassing anybody. I'm only enforcing the government's mandate to ensure churches operating in this region are doing the right thing," said County police commander Francis Kooli.
The 82-year-old claims he has 46 wives and 289 children. He said his youngest wife is 24 years old.
Kooli has directed Wanyama to present what he uses to teach his followers.
"I have politely asked Nabii to present himself before the DCI on Friday in Bungoma so we can have a chat with him. I also requested him to carry his tools of work," Kooli said.
The police are interested in a bible the man claims to have written.
During the county police commander's impromptu visit to the Wanyama's home on Monday, the man was not present but his tenth wife, Catherine Nalonja, assured the police that he would present himself.
Wanyama claims to have powers to heal an array of ailments, including HIV and Aids, cancer and witchcraft, and to help politicians win elections. His neighbours claim he can heal even mad people.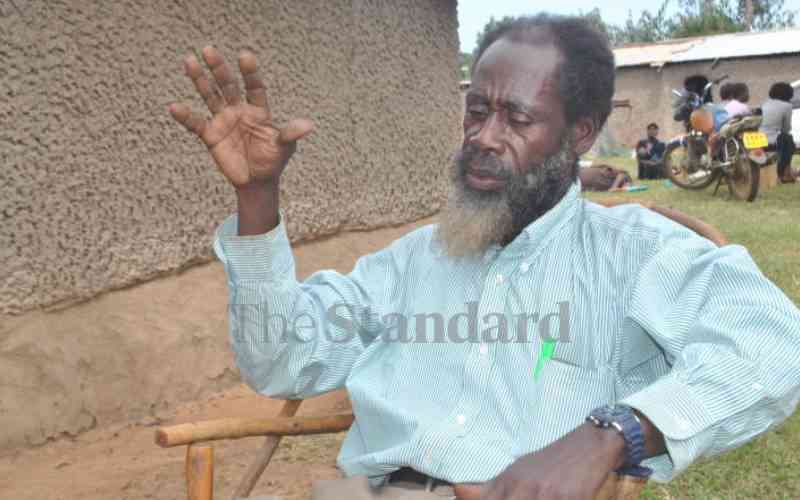 He says he wrote his bible containing 93 books, which he uses it to preach at his church. Outside the said church, he has a flag that is surrounded by 12 stones.
"I was born in Egypt and after five years, I went to Israel where I lived for 230 years. I later went back to my creator. I prepared the way for Jesus. I was 203-year-old the time Jesus came. I consecrated him to begin his work before I went to heaven," claims Nabii.
"I am the way, the truth and the last prophet sent by God to save mankind from corruption, homosexuality and bad governance. When Jesus Chris was crucified, he gave me the power to raise the dead."
In a past interview with The Standard, Wanyama claimed Jesus had been sent to preach and save human beings from sin for 109 years, but he had not finished his work when he was crucified.
He claims God later sent him, on February 15, 1941, to complete the work of Jesus and bring light to Africa.
The self-styled prophet alleges that God commanded him to marry 48 wives, and he is keen to obey that instruction.
"I have attended to over 70,000 people from all over the world who come to me with different problems that I have solved," he says.
He adds: "I do not charge anything for my services here. When one is healed and feels like rewarding me, then I accept but I don't demand any payments. All my teachings are linked to the bible. I am the only man of God who is set to change the gospel of this world."
After praying for the sick, he takes them to a nearby river and baptizes them, signifying the washing away of their sins.
Related Topics