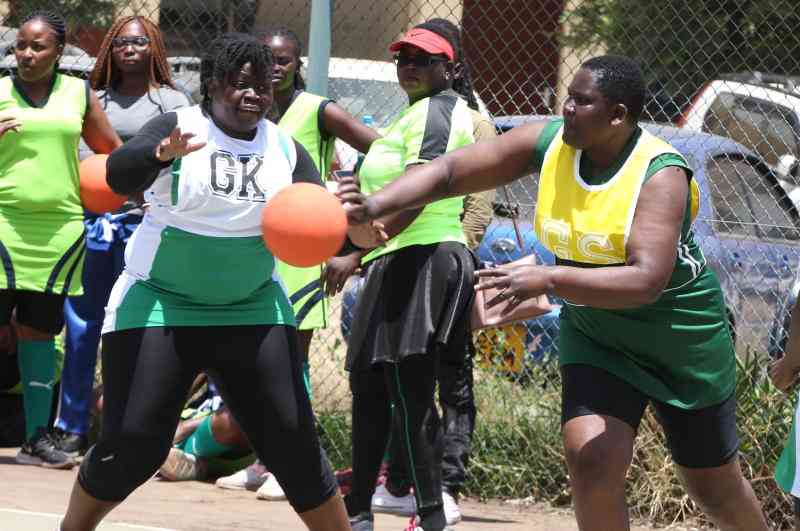 If consistency was a person, then Agricultural Finance Corporation (AFC) would have been their name.
The AFC women's netball team has been on a winning streak in the Kenya Institute of Bankers Interbank Sports since the time of our Lord.
Currently, the Games are in their 36th edition and AFC, composed of veteran players mostly in their 40s and 50s, are still the women's netball defending champions.
Actually, a chunk of the players have aged together with the outfit.
"I joined AFC in 1994 from Kenya Airways netball team, only once did we lose the netball title to Equity Bank, we have always been the queens of the game in the Interbank Sports," AFC captain Beatrice Awuor said.
To prove that old is gold, the senior citizens put NCBA Bank in their rightful place, demolishing the latter 32-2 in their opening encounter of this season's fixtures currently ongoing at the Kenya School of Monetary Studies in Nairobi.
"That sounding victory is a way to announce to our rivals that we are still here to retain the title," Awuor said.
The captain says it's only Equity that might be a thorn in their flesh in the eight-team round-robin encounter, but their mission is to repeat their invincible performance of last season where they won all their encounters unscathed.
Other sides looking for glory in the tournament are Co-Op Bank, Post Bank, Absa and Central Bank of Kenya.
"We are confident of successfully defending this cup," said Awuor.
The 50-year-old centre player said they stepped up training for three weeks at their Lady of Mercy Shauri Moyo base ahead of the tournament.
"Since we are all experienced in the game, we mostly did speed and ball work. Our ball handling skills are in order," added the captain.
In order to give the outfit a gradual transition since age is catching up with most of the dependable players, Awuor says five new players have been recruited into the team.
The legendary AFC squad is composed of goal attacker Eunice Omollo, goal shooter Florence Akinyi, wing defender Roslyn Atieno, centre player Awuor, wing attacker Hildah Akinyi, goal defender Harriet Shidambasi and goalkeeper Judith Ekaka.
On the reserved list are Elizabeth Mutunga, Ruth Kemboi, Julie Awuor, Lucy Kaptito and Dorcas Wanja. Josephine Muli is the team manager. Apart from playing, Awuor is also a netball referee, an umpire, a trainer and coach.
Even though she encourages Kenyans to embrace netball for fitness reasons, Awuor is honest to say the game has little financial rewards in Kenya as compared to other sports.
"We have only two teams in the Kenya Netball League; Ulinzi and the Kenya Prisons. The rest who were there were disbanded due to lack finances. I urge corporates to come forward and support netball which has great potential to market Kenya globally."
Related Topics