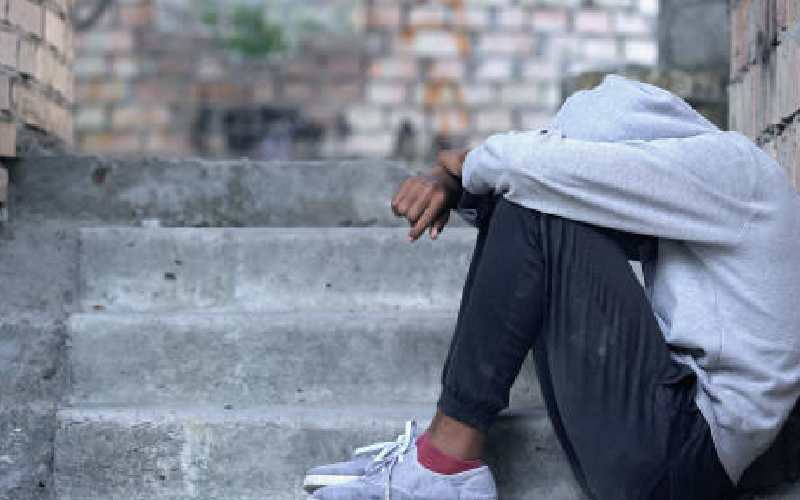 A Kenyan adolescent boy suffers more from inattention and hyperactivity disorder compared to girls, a health survey has revealed.
On the contrary, adolescent girls suffer more from anxiety, depression, and post-traumatic stress. A majority of adolescent children suffering mental health issues also preferred seeking help from "religious/faith leaders (34.2 per cent) and school staff (31.9 per cent), while only 10 per cent had accessed services from doctors and nurses," noted the study carried out last year.
Among those involved in conducting the Kenya National Adolescent Mental Health Survey (K-NAMHS) is the African Population and Health Research Center (APHRC), the University of Queensland (Australia) and Johns Hopkins Bloomberg School of Public Health.
They established that mental health remains a concern among adolescents.
The study, which included local partners, also revealed that the prevalence of inattention and hyperactivity in males was 20.1 per cent compared to 16.4 per cent in female adolescents.
Both males and females had a high prevalence of anxiety, at 26.7 and 27.2 per cent, respectively.
"Of the mental health problems assessed, anxiety was the most prevalent (26.7 per cent), followed by problems with inattention and/or hyperactivity representing 18.2 per cent," reads the study.
The study done in 2021 was aimed at determining the prevalence of mental disorders in adolescents aged between 10 and 17 years, a measure associated with risk and protective factors for adolescent mental health, and examining the use of mental health services.
A total of 5,155 pairs of adolescents and their primary caregivers were successfully interviewed.
Common mental health disorders reported among adolescents were anxiety disorders (inclusive of social phobia and generalised anxiety disorder), major depressive disorder, conduct disorder, post-traumatic stress disorder (PTSD), and attention-deficit/hyperactivity disorder (ADHD).
The disorders were assessed using a diagnostic measure specifically designed for children and adolescents, the Diagnostic Interview Schedule for Children, Version 5 (DISC-5).
"Over two-fifths (44.3 per cent) of adolescents had a mental health problem in the past 12 months," added the report.
The average age of adolescent participants was 13.3 years, with younger adolescents aged 10-13 years constituting more than half (54.6 per cent) of the adolescent sample.
Further, it was found that younger adolescents aged 10 to 13 years had a higher prevalence of problems with inattention and/or hyperactivity, representing 21.3 per cent, compared to older adolescents of ages 14 and 17 years.
Older adolescents had a higher prevalence of depression, representing 9.9 per cent, and post-traumatic stress disorder (7.1 per cent) as compared to younger adolescents at 4.6 and 4.4 per cent, respectively.
"Of the 44.3 per cent of adolescents with mental health problems, two out of three experienced some level of impairment such as personal distress, problems in relationships with caregivers, difficulties spending time with family or with peers, and difficulties with school or work," noted the survey.
The findings also indicated a large unmet need for mental health services, while showing areas where efforts could be most effective.
For example, over a third of primary caregivers who accessed services for their adolescents' emotional and behavioral problems did so from religious, and faith leaders.
In addition, almost a quarter of primary caregivers whose adolescents needed help for emotional and behavioral problems reported that they were unsure where to get help.
In the study, scientists observed the need to improve the availability and quality of mental health services for adolescents, as well as taking steps to increase help-seeking behaviors.
Related Topics