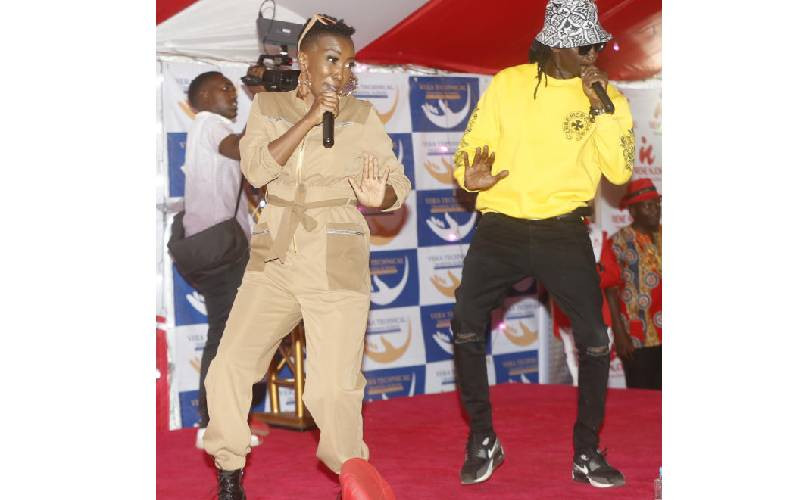 Exuding a youthful charge and allure, David Mathenge aka Nameless walks into the office to everyone's obsessive attention. For the over 20 years, he has been in the music industry, only his signature durag has changed shades. Just that.
His charisma and bubbling personality remains as magnetic as his hit songs, and so does his star look. On this day, he looks the part in a floral half-buttoned shirt, a fitting ripped pair of jeans, black Nike kicks, a cool silver chain, and camouflaging dark shades.
Boomba Train, Deadly, Ninanoki, Why Lie the three mega hits that separated him from the rest of the park start to play in my mind. Then it hits me; this was the year 2003. Then, his firstborn, the 16-year-old daughter who represents the new generation dancing to these songs now was not even born.
As we settle down for the interview, my colleague Charles Otieno, who is about to interview Nameless for the KTN News Saturday History Makers show, breaks the ice and takes him down memory lane.
They are joking about the September 2005, Nameless and Wahu's wedding at Lake Naivasha as if it was yesterday. Njeri Gikonyo, the millennial in the room cannot relate. She of course relates well with Nameless' songs that have transected through generations.
As she teases him with 'quick fire', the room comes alive. This is how naturally infectious and relevant the music legend and multiple award-winning star has remained over the years, succeeding tremendously where others failed. Musically talking, he is the genius with the Midas touch.
In the last three years or so, the former Ogopa Deejays music icon has had his music career in a metamorphosis. First, he went ham on Instagram and Twitter - a space he had hardly utilised – building a huge new fan base on social media where the numbers are in this musical era.
He went overdrive recording dance challenge videos with his wife and daughter and sharing the same on Tiktok. Fans started joining in and before anyone knew it, Nameless was the new kid on the social media creative block.
"Over time, we realised we have to move with the times and find our identity with new generations and trends. Tiktok is driven by music and it speaks to our brand and that is why we deliberately adapted it as a stream where we would drive the music conversation. First, we had to understand how the app operates as we started those fun family bonding videos," says Nameless, noting that he is excited about the new generation of fans he has been able to adapt online.
"Going into TikTok truly enlarged my fan base. This also came with another opportunity for us and even workwise, it gave us new perspectives on creating content. Many people in Tiktok are indeed young but at the same time, this is an app where all generations are. As an artiste, you have to be dynamic and quick to adapt to change," he says.
He adds, "Talent is just a small dimension. That instinct to move and be with the times is important. Doing TikTok videos with my wife and daughters is like having a family build-up session. It keeps the brand relevant."
Nameless notes that for an artiste to remain relevant, one has to employ a learner mentality. He says that even as people, including upcoming artistes look up to him as a role model and a mentor, he says he is always sitting back to pick tips from upcoming stars.
"As much as I do a lot of mentorship classes, sometimes I sit there and do reverse mentorship. I am here to learn. Like a teacher, I also learn from my students. I inquire about where the industry is going. Again, you have to have that instinct and self-awareness. You also have to be adaptive and innovative. Those are some of the aspects one has to employ to ensure relevance and longevity as an artiste," he says.
Ten minutes into the interview, celebrated singer Hubert Nakitare aka Nonini, who is in the US joins us on a video link.
Nonini, yet another big star did a mega collaboration with Nameless in 2007. Then Furahiday was the biggest song in the region.
"I recall I had just gotten married when we started recording Furahiday. Nonini was asking me to remove my wedding ring for us to shoot the video and I am thinking… I just got married. This guy wants me to get divorced," he says.
Just like Nameless, Nonini has just released a new jam, One Day at a Time, a mantra he has been living since his formative days at Calif Records.
Rebranding himself, too, has been an art he has been employing since he went into the music business back in the early 2000s.
To his confession, Nonini found the going tough about four years ago as the music industry went into an unprecedented lull. He then relocated to the US to rethink his life as he sought new pastures. Music was not putting food on the table and his popularity too, for that matter, was going down.
Last year, Nonini hit the jackpot with his merchandise brand, the Mgenge2Ru apparel which gained ground in the US, buoyed by the concerts he had started hosting in different states.
A pair of his limited edition leather shoes was retailing at Sh24,000, while his other merchandise which includes designer caps, suits, hoodies, and wooden frame watches caught momentum.
Now, his latest design shoe wear is a collaborative idea with Italian master-crafts AliveShoes – that after the label's founder and CEO, Luca Botticelli, certified Nonini's designer shoes for distribution and sale.
This is a different Nonini from the one we knew during those Furahiday, Mtoto Mzuri, Keroro, and Nimetoka Mbali days. His apparel brand is now the one making way for his music, his new hits such as the just-released One Day at a Time making him mega concert buys across the US.
He is partnering with young people, whom he is working collaborations with as he also keeps himself visible through social media platforms.
"In this game, you must keep relevant. You have to adapt to the new trends and also be willing to let go of the old ways of transacting business that no longer works. We started when we were selling cassettes and CDs and when one's popularity would be measured through the number of copies you sold. Now, online numbers determine your fan base and your sales," says Nonini.
The musician notes that going digital and adapting to technology is the new norm for any artiste making sense of their business.
In his new song, One Day at a Time, Nonini features Kevin Brown a young star whom he is mentoring and who is helping him capture the mood of the current generation of fans.
"There is no vacuum in this industry. You are either in or out. You have to keep on pushing your art. You must remain relevant and open to adapt to change," he says.
Major Nameye Khadija aka Mejja, and Nyamari Ongegu aka Nyashinski are the other two male solo artistes who have been able to remain relevant in a cutthroat industry that has seen many go under.
While Nyashinski had to find a lifeline after his original rap group Kleptomaniax fizzled and a career abroad proved impossible – before relaunching himself back at home in 2016 to an emphatic success with hits such as Mungu Pekee, Malaika, Marathon Runner, Mejja's is a different story altogether.
The new king of collaborations, who launched his debut album Lucky You in 2020, has been the darling of millions thanks to the simplicity in his lyrics and his conformation to the trendy new Gengetone genre.
From Siskii, Gin Ama Whiskey, Tabia za Wakenya, Usherati, Kanairo Dating, and Usiniharibie Mood, the former Calif Records star has been releasing hit after hit and working collaborations with almost every new young star in town.
This has helped him maintain his old fan base, as well as get new fans who find his unique act irresistible.
Mejja has mastered his demographic, young fans who are looking for music and lyrics they can connect with. It is like he speaks their language through his music.
He also seems updated on current trends, as the lyrics in his songs speak mostly about what is currently happening in the local social scene. He has also put himself out there, unlike many artistes who hardly make a public show.
"As an artiste, you have to create your brand and grow your art by learning through others. One should also be consistent in their art and be able to cut their niche so as to stand out from the crowd. The reason why many Kenyan artistes go down is that they are not flexible and are not ready to adjust to the times. They are also not business-minded, neither do they see opportunities beyond their set localities," says Alfred Mukeku, an image consultant and promoter.
Related Topics