It is a shame that record Kenyan champions Gor Mahia will not play in the 2023-2024 Confederation of African Football (CAF) Champions League despite being the Football Kenya Federation (FKF) Premier League champions.
While many local fans were happy with K'Ogalo's return to the top and looking forward to playing in the CAF Champions League, nobody foresaw that they would be bundled out without even kicking a ball.
CAF kicked out Gor from the 2023-2024 CAF Champions League.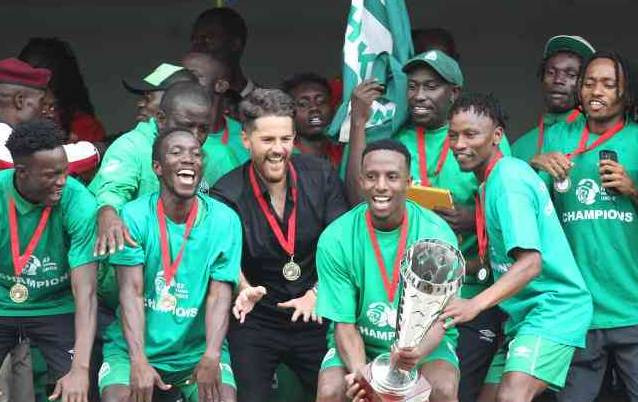 What started as rumours on social media became a reality when the Football Kenya Federation (FKF) served the 20-time Kenyan champions with a notice of revocation of the Gor Mahia FC Club Licensing Certificate.
"We regret to inform you that the FKF Club Licensing First Instance Body (FIB) on the advice of CAF has revoked Gor Mahia's Club Licensing Certificate for being in breach of Article 60 of the Caf Men's Club Licensing Regulation.
"The painful decision has been arrived by the FIB after former Gor Mahia players reached out to CAF due to breach of payment agreements and overdue payables," said a letter signed by FKF CEO Barry Otieno.
Despite chairman Ambrose Rachier petitioning FKF to be reinstated to CAF Champions League, CAF did not listen to any pleas.
"We wish to inform the parties that a ban from registering new players internationally has been implemented by FIFA as of today," communication from FIFA read in part.
The players in question are Congolese striker Yangayay Sando Sando, Burundian attacker Jules Ulimwengu, and Malian goalkeeper Adama Keita. The trio are owed millions in salary arrears and fines from the termination of contracts.
Financial constraints
Both Gor Mahia and AFC Leopards have been grappling with serious financial constraints that have hampered them from running club activities smoothly, among them paying their players and staff on time, resulting in conflicts.
In 2021, Ugandan Shafik Batambuze, Dickson Ambundo from Tanzania, and coach Steven Polack took Gor Mahia to FIFA over their pending salaries and the Kenyan giants were banned from bringing in new faces until they fully settled the trio financially.
In the process, the Football Kenya Federation was as well not left off the hook. FIFA took action after Kenya's FA cleared Gor Mahia's new signings without getting approval from the world football governing body. It was fined Sh6 million.
Gor also found itself in trouble for failing to pay Sh3.3 million ((US$30,000) to Ghana's Jackson Owusu.
As per FIFA's Dispute Resolution Chamber (DRC) directives, Gor Mahia were to transfer the pending funds to Owusu in a decision issued on June 30, 2021 but the club ignored the order.
The 20-time record Kenyan Premier League champions had failed to convince FIFA that a mutual termination of the Ghanaian ace's contract had been reached. Consequently, the club was banned for two transfer windows despite the side being reported to have tried to appeal the decision to the Court of Arbitration for Sports in Switzerland.
However, after lifting the particular ban in March 2023, FIFA through its Senior Judicial Bodies Manager Jorge Herrero confirmed the development in his communication to Gor Mahia and FKF.
In Article 60 of the CAF Men's Club Licensing Regulations, clubs applying for a license must demonstrate that they have no overdue payables towards current and former employees as of March 31st, the year in which the CAF club competitions commence.
On July 18 CAF notified Gor Mahia and FKF of a complaint in relation to a case that had been determined by FIFA. The complaint had been raised by Yangayay, who cited the club's "failure to honour overdue payments" as per the agreement.
CAF invalidated Gor's license and suspended Gor's participation in CAF's interclub tournaments unless Gor settled the amounts owed to the player within 24 hours. CAF also directed the FIB - an independent decision-making body set up by all CAF's Member Associations to review clubs' license applications – to investigate the breach and any other overdue payables.
Excluded from competition
But it is now clear, despite frantic efforts to have themselves cleared, the Kenyan champions will not be part of the Champions League contingent after CAF published the list of teams to be featured in the draw.
This will come as a blow to players who fought hard to win the Premier League title and consequently booked a ticket to the continental competition.
Gor Mahia managed to wrestle the league title back from Tusker on the final day of the 2022–23 season and were destined for a return to Champions League football.
Kenya would be returning to the Champions League fold after missing out last season as no club from the country featured because the country was serving a suspension from FIFA.
In the previous season, Tusker represented the country but did not make much progress given that they were eliminated in the preliminary round.
Kenya will have a representative in the Women's Champions League and CAF Confederation Cup. Kakamega Homeboyz, the winners of the FKF Cup, are set to feature in the Confederation Cup, which will also be their maiden appearance in a continental competition.
Vihiga Queens, the winners of the Kenya Women's Premier League, will represent the country in the Women's Champions League.
Meanwhile, Kenyan league champions Gor Mahia will not sign any foreign players in future, the club's chairman said.
Gor Mahia chairman Ambrose Rachier said late Sunday the club would not sign any foreign players for the foreseeable future.
"It looks like many of the foreign-based players we have been signing only come here to cause us problems and take money without giving us value," Rachier told a Nairobi-based radio station.
"We've had a discussion as the top leadership of the club, and for now we are not going to sign any foreign player," he added.
Gor Mahia was sanctioned by Fifa in 2021 after Congolese striker Sando Yangayay and Malian goalkeeper Adama Keita complained about breaches of contract and the club was barred from signing and registering new players for two years.
However, the transfer ban was lifted early this year after the club reached an agreement with the two players to pay their outstanding dues by May 31.
"At the moment you will see that some of our foreign players have taken us to FIFA. Apart from having left, they are making sure that they make us bleed. We are not saying that all foreign players are bad but we are saying that we need to take a break. Apparently, we cannot afford them."
Rachier said the decision to slam the door against foreign players was not long overdue despite previous cases at FIFA which turned costly.
"I don't think the decision was long overdue because this rush of foreign players trying to block us from playing at CAF happened only last week."
The renowned lawyer also revealed that Gor Mahia depends on YouTube videos and agents as the only convenient way in signing foreign players, thus denying them a chance for thorough securitization of player profiles before signing for the club. He said the club initially organized for a two-week close monitoring of their foreign players but the travel and accommodation costs became unbearable, forcing the side to rely on online platforms in their recruitment of foreign players.
"There is no way we counter-check because these people are usually brought to us by agents and most of the time YouTube videos are used. It is difficult because the videos are recorded deliberately, so you will not know if the person talking to you purports to know the player."
Related Topics